The best affordable mattresses to buy now to transform your sleep for the better
Say goodbye to sleepless nights for good...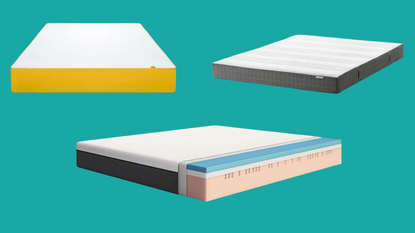 Say goodbye to sleepless nights for good...
If you are struggling to get a good night's sleep, your mattress may be to blame. Having the right one can transform your sleep for the better, but knowing what to go for can be tricky, not to mention expensive. That's why we've put together an in-depth guide to help you make the right choice when it comes to purchasing one of the best affordable mattresses.
There are lots of things to consider. From different sizes, different fillings and even different decorative effects, we've got all the information you need. Whilst you're here, why not check out our guides to the best silk pillowcases and the best weighted blankets to take your sleep to the next level. If you struggle to wake up in the mornings, we've also got a guide to the best sunrise alarm clocks for you to try.
How often should I replace my mattress?
According to Sleep Foundation, somewhere around six to eight years is the average lifespan for a mattress. However, there are many factors that can influence when you should change your mattress. If you notice that it has become damaged in certain areas, it's making more noise than normal or you regularly wake up with muscle stiffness or allergies, then it's probably time to replace it.
If your mattress is made from low-quality materials, this can also shorten its lifespan, which is why we recommended going for a high-quality option. After doing so, make sure you take care of your mattress by rotating it every 3 months or so and using a mattress protector.
What is the best type of mattress to buy?
When thinking about the best mattress to buy, it's important to consider your individual needs. How firm would you like your mattress? Do you like memory foam? Will you be sharing it with your partner? These are all important questions to consider. Luckily, we've included all these details and more in our roundup of the best affordable mattresses, so all you have to do is keep on scrolling. Just remember to order the right size for your bed and check it is suitable for your chosen base.
Generally speaking, mattresses with spring interiors will provide good support, while foam mattresses can vary in density and depth for people that like a more cushioned feel. Hybrid mattresses, which are often a mix of foam and spring coils, can give you the best of both worlds if you still want that springy feeling when you get into bed. A lot of brands even offer a trial period, so that you can try the mattress out in your home and see what you think.
What is the best way to get rid of my old mattress?
Ready to invest in a new mattress? Sometimes the hardest part is knowing what to do with the old one. The National Bed Federation recommends checking with your local council, as some offer mattress collections or services for recycling. If you are buying a new mattress, then some retailers may even offer to take away your old one for you.
The best affordable mattresses to buy now:
Casper Hybrid Mattress, from £375 | Amazon
Best overall mattress:
Amazon has an amazing selection of mattresses, and the Casper Hybrid is our favourite. It has everything you need for an unbeatable night's sleep.
Pros:
One of the main things we love about this mattress is that it comes delivered in a box, so it's easy to move into your bedroom. It features zoned pocket springs and three foam layers, with medium firmness for incredible support.
Cons:
Although the mattress does come with a ten year guarantee, Amazon does not offer a trial period.
Original Mattress, from £249.50 | Emma
Best foam mattress:
If a foam mattress is what you're after, then this is the one for you.
Pros:
This mattress has three layers of pressure relieving foam, alongside temperature regulating technology so you won't get hot in the night. It is ideal for all body types and sleeping positions, and comes with a 200 night trial. Handy, right?
Cons:
If you fancy a springier mattress, then keep scrolling.
ANYDAY Pocket 1000 Luxury Pocket Spring Mattress, £209 | John Lewis
Best spring mattress:
If you prefer a spring mattress, then John Lewis has got you covered.
Pros:
This mattress combines a responsive pocket spring system with a deep layer of soft polyester and extra polyester fillings, offering a medium level of support. It also has an anti-allergenic, stretch-knit quilted cover for a smooth finish, as well as vertical quilting around the border.
Cons:
This mattress doesn't include any memory foam, so it won't have such a cushioned feel when sleeping.
Aura Hybrid Mattress, from £274.99 | OTTY
Best hybrid mattress:
For the best of both worlds, go for a hybrid mattress.
Pros:
OTTY's Aura Hybrid Mattress uses a combination of 70/30% springs to foam, resulting in a medium-firm finish that suits many needs. The 16cm pocket spring technology ensure your body is perfectly supported throughout the night, and the leading foam technology enhances comfort levels.
Cons:
This mattress doesn't have many cons, however, it isn't delivered in a box, so it's worth baring that in mind when purchasing.
The Original Mattress, from £440 | Eve
Best mattress for all sleeping positions:
Can't decide whether to sleep on your side or your back? This mattress is perfect for all sleeping positions.
Pros:
This mattress is made out of three layers of breathable next generation foam with unique contour zones to support your body. It offers medium to firm support, as the brand found that this sweet spot suits all types of sleeping positions. The best news? It comes with a one year trial and they will even take your old mattress away for you.
Cons:
This mattress is slightly more expensive than the other options, but it's not hard to see why.
Silentnight Firm Miracoil Orthopaedic Mattress, from £179 | Dunelm
Best mattress for back pain:
If you suffer from back pain, then a firm, spring mattress may be the way to go.
Pros:
This mattress is made with Miracoil springs, which makes it ideal for anyone requiring the additional support of an orthopaedic mattress. It is covered with a thick layer of soft supportive fillings for extra comfort and boasts enhanced hip support, too.
Cons:
This mattress does not contain any memory foam layers, so it might not have that cushioned feel.
Studio by Silentnight Eco Hybrid Mattress, from £319 | Silentnight
Best eco-friendly mattress:
Want a good quality mattress that is eco-friendly too? You've come to the right place.
Pros:
This 100% recyclable mattress is made from Eco Comfort Fibres™. These fibres are kinder to the planet, and also create a breathable layer, so you don't overheat in the night. They work alongside high-tech 3D fabric that provides extra ventilation and moisture regulation. The mattress also comes with the Mirapocket zoned support system, which adjusts to your weight for tailored support.
Cons:
This mattress also doesn't feature any memory foam, but it sounds pretty comfortable to us.
Morgedal Mattress, from £229 | Ikea
Best Ikea mattress:
Taking a trip to Ikea soon? Say hello to the Morgedal mattress.
Pros:
This mattress is made from memory foam with a medium to firm feel. It comes roll packed making it easy to transport, and has a washable cover to keep it clean.
Cons:
We're struggling to find a con with this one. Besides, who doesn't love a trip to Ikea?
Celebrity news, beauty, fashion advice, and fascinating features, delivered straight to your inbox!
Grace Lindsay is currently Junior Beauty Editor at Who What Wear UK and previously was Marie Claire UK's E-Commerce Writer. With over three years of experience in the fashion and beauty industry, she covers everything from the best make-up and skincare deals to how to shop the stand out trends of the season. When she's not typing away at her laptop, Grace can be found shopping her favourite vintage markets IRL, or catching up on her never-ending list of books to read.