The world's first womb transplant
A British business woman is preparing to become the first to donate her uterus to her daughter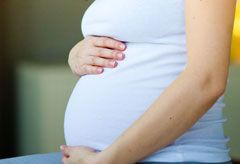 (Image credit: Rex Features)
A British business woman is preparing to become the first to donate her uterus to her daughter
A Nottingham based businesswoman will be a part of a groundbreaking medical procedure next year when a womb transplant is carried out.
Reports have revealed that Eva Ottosson, 56, is preparing to be the first person in the world to donate her womb to her daughter, who is unable to have children naturally.
Ottosson's daughter, Sara, has a condition called Mayer Rokitansky Kuster Hauser (MRKH) syndrome, which means she was born without a uterus. The condition was only realised in her teens when she failed to start menstruating.
The pioneering surgery, which will hopefully take place in Sweden next spring, will allow the 25-year-old biology teacher to carry her baby after she is artificially inseminated.
The procedure, however, is complex says Dr Mats Brannstrom, who is leading the medical team.
'The difficulty with it is avoiding haemorrhage and making sure you have long enough blood vessels to connect the womb.'
The only previous womb transplant took place in Saudi Arabia in 2000, but the recipient later developed complications and the organ had to be removed after 99 days.
Mother and daughter are optimistic though and Sara is unfazed by the thought that she will be carrying her baby in the same uterus that carried her.
'I haven't really thought about that. I'm a biology teacher and it's just an organ like any other organ,' she says.
Her mother is more than happy to help her daughter though. 'She needs the womb and if I'm the best donor for her, well, go on,' she says. 'She needs it more than me. I've had two daughters so it's served me well.'
They both hope talking about the operation will bring attention to Sara's condition MRKH. For more information, visit: MRKH.org.uk
Celebrity news, beauty, fashion advice, and fascinating features, delivered straight to your inbox!
Natalia is a health journalist with 14 years experience in the publishing industry. She has worked for a number of well known magazines and websites including Marie Claire, Woman&Home, Top Sante, Boots and The Telegraph. She likes to think she practices what she preaches when it comes to health and fitness. Her athletic prowess began early. A keen fencer for 13 years, she wielded an epée for Olympic Team GB during her teenage years. She likes to think she made sword-fighting cool before Game of Thrones came along! While working on her sporting performance with the team, she also participated in a lot of nutrition and psychology training, When it comes to time off, you'll most likely find her up a mountain somewhere. It seems holidays have become a time for climbing several thousand feet, rather than chilling out. She's now hiked eight of the major mountain ranges across four continents – including the Appalachians, the Smokies, the Sierra Nevadas (she spent her honeymoon hiking to the top of Half Dome), as well as hitting the summits of Snowdon, Pen-Y-Fan (Brecon Beacons), Table Mountain in South Africa, the Blue Mountains in Australia and the Atlas Mountains in Morocco. She's also passionate about all things health, particularly vaccinations, and will happily jump on her soap box at any given opportunity to talk about their benefits to anyone who will listen!