The ALS Ice Bucket Challenge? This Is Why It's So Important
What is ALS?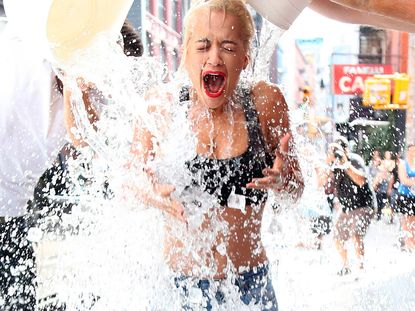 (Image credit: Rex)
What is ALS?
You can't so much as switch on your iPad without seeing an A-lister doing the Ice Bucket Challenge. Victoria Beckham, Bill Gates, Anna Wintour, George Bush, Gwyneth Paltrow, Kristen Stewart, Mark Zuckerberg, Tom Cruise, even Robert 'I Don't Do Social Media' Pattinson, have all willingly been drenched with freezing water. But why?
It's all to raise funds and awareness for the ALS Association. ALS stands for amyotrophic lateral sclerosis and is the American term used to describe Motor Neurone Disease.
Motor Neurone Disease is incurable and occurs when parts of the nervous system become damaged, affecting a person's ability to grip, walk, talk, swallow and breath.
MND, or ALS, shortens life dramatically and people with the condition tend to only live for about three or four years after symptoms first kick in, but that's not always the case, look at Professor Stephen Hawking, who's lived with the disease for over 50 years.
Over the last month the Ice Bucket Challenge (which began after a baseball player with MND, Pete Frates, had it done to him) has gone viral, raising awareness and, more importantly, funds. The ALS Association say its received $41.8 million in donations (compared to $2.1 million during the same time period last year) thanks to the Ice Bucket Challenge.
So, while it may be a little annoying to see famous people posing by their LA pools getting soaked in water then name-checking their famous friends, it is all for a very good cause.
If you'd like to donate, the main UK charity researching cures for Motor Neurone Disease is the MND Association.
Celebrity news, beauty, fashion advice, and fascinating features, delivered straight to your inbox!