Tested: Balance Box home delivery meal plan
We put the Balance Box meal plan through its paces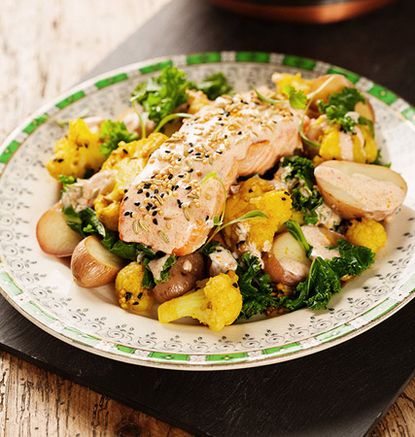 We put the Balance Box meal plan through its paces
From the founders of The Pure Package, comes a more budget-friendly, but no less delicious, gourmet food delivery service called Balance Box.
Starting at £16.99 per day for three freshly prepared meals and two snacks, the Balance Box comes with a choice of two meal plans - the Market Menu (1,200 calories) and Super Market Menu (1,800, for those with a slightly larger appetite.) I, opted for the Super Market Menu, naturally.
The week-long menu starts with all the meals (Monday - Thursday) being delivered straight to your door on the Monday morning. Each tub of food is labelled according to which day it should be eaten and a menu is included providing details about each meal and heating instructions. So far so simple.
Breakfast ranged from roasted peach muesli to prune and vanilla bircher, while lunch was a much more colourful and satisfying affair than my ususal cheese and pickle sandwiches. Two meals which stand out are the smoked trout salad and the leek and mozzarella frittata.
Dinner was always something to look forward to with my favourite of all four meals being the delicious chicken laksa. I'm still thinking about it days later.
Made with fresh and ethically-sourced ingredients from the New Covent Garden Market each meal is bursting with nutrition, and yet, unlike many other weight loss programmes I've tried, I never felt hungry.
Large portions for a smaller budget? It's meal plan we can all get on board with!
Balance Box is delivered straight to your door throughout England (excluding Wales and Scotland) and prices start at £16.99 per day.
For more information visit the Balance Box website
Celebrity news, beauty, fashion advice, and fascinating features, delivered straight to your inbox!