Tuberculosis cases reach 30-year high in UK
Startling figures revealed today that Tuberculosis rates have been rising since 1980's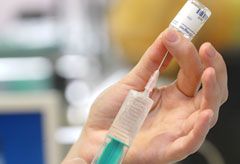 Startling figures revealed today that Tuberculosis rates have been rising since 1980's
Thought to be a disease of the past, tuberculosis (TB) is making a dramatic comeback. New figures reveal that more than 9,000 cases were diagnosed last year in the UK - the highest for nearly 30 years.
TB is an infectious bacterial disease of the lungs, causing symptoms such as coughing, chest pains and weight loss and is responsible for the death of around 300 people each year.
Dr Ibrahim Abubakar, head of TB surveillance at the HPA said: 'We are concerned. TB is a preventable and treatable condition, but if left untreated can be life-threatening.'
The Health Protection Agency, which released the figures, said more efforts must be made to curb the problem with figures almost doubling since 2000. But there are fears that the number of drug resistant cases are growing rapidly.
Dr Paul Cosford, executive director of health protection services at the HPA said: 'Although drug-resistant and multi-drug resistant cases of infection represent only a small proportion of TB cases overall, each resistant case requires careful and often prolonged treatment and care.'
Health experts say urban areas tend to be the worst affected, and the disease is particularly common among the homeless and drug users, with London responsible for nearly half of the total number of cases for England.
The HPA said it was important that local health managers put steps in place to diagnose and treat TB in the areas where it is most prominent.
Celebrity news, beauty, fashion advice, and fascinating features, delivered straight to your inbox!