Spicing up your broccoli could help fight cancer
Adding a spot of wasabi or a spoonful of horseradish to your broccoli enhances the vegetables cancer-fighting properties, according to new research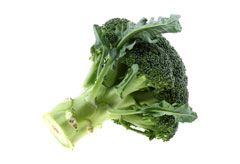 (Image credit: Rex Features)
Adding a spot of wasabi or a spoonful of horseradish to your broccoli enhances the vegetables cancer-fighting properties, according to new research
Scientists claim overcooking broccoli destroys it's cancer-busting properties, but these can be revived by adding spice in the form of japanese wasabi or horseradish, which both contain the enzyme myrosinase.
Nutritionist Professor Elizabeth Jeffery says spicing up broccoli increases absorption in the upper part of the digestive system and therefore boosting it's impact. 'Spice up your broccoli with mustard, horseradish or wasabi - the spicier the better.'
Scientists measured bioactive compounds - found naturally in food with a health benefit beyond nutritional value - in the blood after participants had consumed broccoli sprouts with broccoli powder. They found that levels were much higher when the foods were eaten together rather than seperately.
Jenna Cramer, lead author of the study which is due to be published in the British Journal of Nutrition, says urine samples also corroborated the blood results.
'It's no secret that many people cook the benefits right out of broccoli instead of steaming it lightly for two to four minutes to protect its healthful properties,' she says.
'However, this study shows that even if broccoli is overcooked, you can still boost its benefits by pairing it with another food that contains myrosinase.'
Other foods that will boost broccoli's benefits if paired together include radishes, cabbage, arugula, watercress and Brussels sprouts, and scientists say as little as three to five servings of broccoli a week provide a cancer-protective benefit.
CLICK HERE FRO MORE HEALTH NEWS
Celebrity news, beauty, fashion advice, and fascinating features, delivered straight to your inbox!