Slice of bread more salty than crisps
One in four loaves of bread sold on supermarket shelves contain half a gram of salt per slice - more than a standard bag of crisps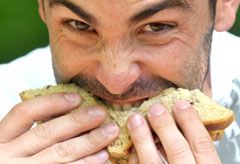 (Image credit: Rex Features)
One in four loaves of bread sold on supermarket shelves contain half a gram of salt per slice - more than a standard bag of crisps
Shocking findings suggest that popluar loaves of bread found on supermarket shelves across the country contain as much salt per slice as a standard packet of crisps, with some revealing a salt content similar to sea water.
Campaign group Consensus Action on Salt and Health (CASH) surveyed the salt content of 294 popular loaves of bread from supermarkets and high street bakeries. It found 28 per cent of loaves contain the same if not more salt than a bag of crisps.
'Most people don't realise that bread contains so much salt as it doesn't actually taste salty,' says CASH campaign director Katharine Jenner. 'It is scandalous that there is no labelling on fresh bread, without it, how are we supposed to know where salt is hidden and cut our intake to less than 6g a day?'
The findings come off the back of the Department of Health's announcement that bread is the largest contributor of salt to our diet, responsible for 18 per cent of our current daily intake of approximately 8.6g in the UK.
'It is the very high levels of salt that is hidden in everyday food, such as bread, that puts up both adults and children's blood pressure,' says CASH chairman Professor Graham MacGregor.
'If all manufacturers cut the salt in their breads by a half, it would reduce our salt intakes by half a gram per day, which is predicted to prevent over 3,000 deaths from strokes and heart attacks a year,' says Britsh Retail Consortium food director Andrew Opie.
Celebrity news, beauty, fashion advice, and fascinating features, delivered straight to your inbox!