Meet the female entrepreneur who's taking the stress out of booking GP appointments
'You are number ten in the call queue….'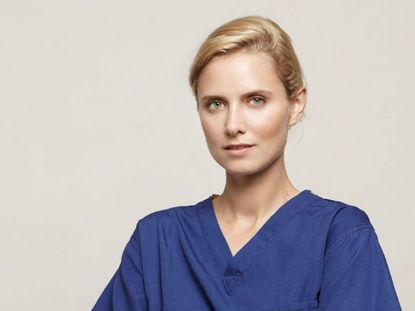 'You are number ten in the call queue….'
We've all been there. A throat infection that just won't do one, unexplained stomach cramps, or a headache that's making you want to lie down in a dark room. Problem is, there's only one thing worse than being sick: trying to get a GP appointment to diagnose the issue and get yourself back on track.
Recent research has revealed that 14.2 million patients waited a week to see their doctor or did not manage to get an appointment at all last year. But there could be hope in sight, in the shape of new healthcare platform, Doctify.
The brainchild of entrepreneur Dr Stephanie Eltz, Doctify is a web tool that enables patients to search, compare and book an appointment with the right specialist, by providing step-by-step guidance, reviews and information before, during and after their treatment. Doctify enables NHS patients to curate their own health care, and choose between NHS services and private, pay-as-you-go doctors for their specific needs. It also offers complete transparency on prices of private procedures and honest reviews from other patients – like Air BnB, but for your health.
'Very rarely does anybody criticise their doctor, it's more often the booking procedure or frustrations with admin,' Dr Eltz tells Marie Claire. 'But in a world where you can compare prices and services of everything from hotels to restaurants and taxis, I thought it was crazy that patients didn't have this option for their healthcare.'
That's why Eltz, along with her co-founder Dr Suman Saha – both still practicing surgeons – set up Doctify a year ago. They now split their time between their NHS duties and their work on the start-up. 'I first came up with the idea two years ago when I was trying to find a doctor to look at a mole I was concerned about because I'd had pre-cancerous moles before,' explains Eltz. 'Even with my contacts as a doctor, some GP recommendations and a thorough Google search I couldn't find the right person to see me quickly. So I thought, let's create something.'
Doctify now lists almost 1,000 specialists in its database and the traffic to the site is growing by the month. 'Most commonly, women will use the service if they want to pay for a second opinion on a health issue,' says Eltz. 'Whereas you may have had to go to A&E for an out of hours opinion on, say, a gynecological issue, you can now find and book an appointment with the right specialist in a day. That takes the anxiety out of caring for your health, by bringing together doctors and patients in a straightforward way.'
So, what can we expect in the future? 'The aim is to use technology to enhance the relationship between patients and health specialists, to make patients' lives easier and doctors' interactions more fulfilling,' says Eltz. 'My dream is for total transparency in healthcare, enabling everybody to curate treatment that works for them – for example if somebody broke their ankle and would have to wait three weeks for an MRI scan, they have the option to get the scan privately and then have treatment on the NHS quicker because of this. I hope it transforms the way we see doctors forever.'
Celebrity news, beauty, fashion advice, and fascinating features, delivered straight to your inbox!