Healthy eating: what you need to know
Eating right to look and feel your best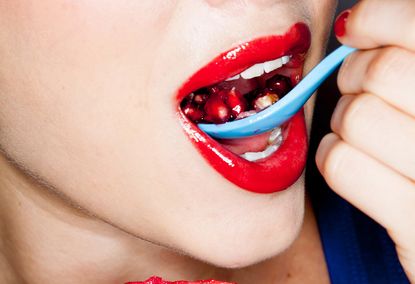 (Image credit: REX)
Eating right to look and feel your best
Healthy eating gives you energy, maintains your weight, supports your mood and keeps you looking your best.
We all know that the type of food you eat has a major influence on your health, but despite government warnings that we are turning into a nation of couch potatoes, our waistlines keep growing with around 60% of the UK population now deemed overweight.
BEST TIPS FOR A SUPER HUMAN BODY
Fighting the fat is a struggle most women are faced with on a daily basis, but with regular exercise, healthy eating and a positive outlook, it's an issue we have the power to change.
Healthy eating doesn't have to be a blend of expensive pulses and exotic joices, more about making sure you eat smart. Taking simple steps like switching to the low-calorie options or passing on the bread basket means that healthy eating doesn't have to be a diet chore, more a lifestyle choice.
Your body, your skin and your mind will all be thankful for it.
What are your favourite tips for healthy eating? Share your thoughts/ recipes/ suggestions in the box below...
Celebrity news, beauty, fashion advice, and fascinating features, delivered straight to your inbox!