Is fruit juice damaging your health?
Fruit juice should not be counted as one of our five-a-day, according to health guidelines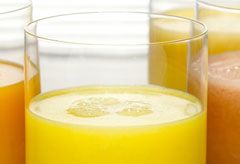 Fruit juice should not be counted as one of our five-a-day, according to health guidelines
Do you regularly reach for the juice carton in the morning to kick-start your five-a-day? Think again, as new health guidelines insist that fruit juice should not be counted as one of you daily fruit and veg portions as it contains too much sugar.
Until recently, it was thought that consuming apple or orange juice was a healthy way of achieving your five-a-day. But now reports are suggesting that the amount of sugar in one glass – a staggering five teaspoons – could cause obesity and affect blood sugar levels.
There are worries that regularly drinking fruit juices could make people develop a sweet tooth and lead to eating further sugary foods, causing health problems later in life.
'I'd question the wisdom of including fruit juice in the five-a-day message,' said Dr Hans-Peter Kubis, from Bangor University in North Wales. 'The problem is people often substitute them for real fruit which is mistake,' he added.
Instead, the findings of two British researchers are encouraging parents to give their children water to drink and for people to eat more whole fruits and vegetables.
They even suggest that fruit juice, which contains two thirds of the amount of sugar found in a fizzy drink, should be taken off the five-a-day recommendations altogether. Instead, people should be snacking on bananas or a whole apple.
Dried fruit is also being cited as a healthy addition to your diet. Researchers at Leeds University have found that the dried version contains just as many antioxidants, polyphenols and nutrients as fresh fruit.
Dried fruit can also help fight against cancer, metabolic disease and heart problems.
THE GET HEALTHY QUICK LIST: TOP TIPS
Celebrity news, beauty, fashion advice, and fascinating features, delivered straight to your inbox!
Natalia is a health journalist with 14 years experience in the publishing industry. She has worked for a number of well known magazines and websites including Marie Claire, Woman&Home, Top Sante, Boots and The Telegraph. She likes to think she practices what she preaches when it comes to health and fitness. Her athletic prowess began early. A keen fencer for 13 years, she wielded an epée for Olympic Team GB during her teenage years. She likes to think she made sword-fighting cool before Game of Thrones came along! While working on her sporting performance with the team, she also participated in a lot of nutrition and psychology training, When it comes to time off, you'll most likely find her up a mountain somewhere. It seems holidays have become a time for climbing several thousand feet, rather than chilling out. She's now hiked eight of the major mountain ranges across four continents – including the Appalachians, the Smokies, the Sierra Nevadas (she spent her honeymoon hiking to the top of Half Dome), as well as hitting the summits of Snowdon, Pen-Y-Fan (Brecon Beacons), Table Mountain in South Africa, the Blue Mountains in Australia and the Atlas Mountains in Morocco. She's also passionate about all things health, particularly vaccinations, and will happily jump on her soap box at any given opportunity to talk about their benefits to anyone who will listen!