Calls for a ban on cosmetic surgery ads
Plastic surgeons are joining women's rights activists to urge the government to crack down on cosmetic surgery advertising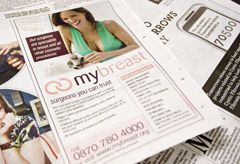 (Image credit: REX)
Plastic surgeons are joining women's rights activists to urge the government to crack down on cosmetic surgery advertising
Feminist campaigners are urging the government to ban advertisements for cosmetic surgery, claiming they prey on women's body insecurities.
Plastic surgeons are joining the campaign, which warns that unrestricted advertising of cosmetic procedures by private clinics is not in the interests of public health.
In a letter, women's right's activists say: 'At present people have no choice but to be exposed to the aggressive marketing tactics of some cosmetic clinics, whether they be in the public spaces, in magazines, on the internet or the TV.'
'Just as rules prevent prescription medicines being advertised in the interest of public health, we urge the government to prohibit the advertising of cosmetic surgery,' argue the signatories for the ban including feminist writer Natasha Walter.
In January the British Association of Aesthetic Plastic Surgeons called for a ban on advertisements for procedures such as tummy tucks and breast enlargements as part of a review of the industry, which it argued has become as unregulated as the wild west.
Banyard, whose organisation has launched a campaign against advertising says: 'Cosmetic surgery adverts are a public health hazard.'
'By portraying surgery as quick and easy they are recklessly trivialise risks that include post-operative infection, blood clots and in rare cases, death.'
The argument follows that cosmetic surgery advertising targets vulnerable women and preys on their widespread dissatisfaction with their bodies.
Do you think cosmetic surgery advertising poses a public health risk? Let Marie Claire know your thoughts below.
Celebrity news, beauty, fashion advice, and fascinating features, delivered straight to your inbox!