'Diet' fizzy drinks could make you fatter
A study revealed that drinking 'diet' fizzy drinks daily could be making you pile on the pounds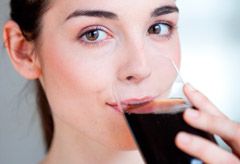 (Image credit: Rex Features)
A study revealed that drinking 'diet' fizzy drinks daily could be making you pile on the pounds
Monday, 4pm, and you're craving that sweet treat. You take a sip from your diet drink can, thinking of it as a slimming way to combat your sugar craving. Think again! Diet fizzy drinks could actually be making you fatter...
Research carried out has revealed that 'diet' or 'sugar-free' drinks may not be helping you shed those unwanted pounds, but in fact, may be piling them on.
The study, which followed 500 men and women over a ten-year period, found that those who guzzled diet soda on a regular basis - even if it was as little as one or two cans a day - saw their waistlines expand five times more than those who avoided drinking it.
Shockingly, those described as 'frequent users' saw a staggering 500% increase in their waist measurements, even when external factors, such as exercise, smoking and social class, were taken into account.
People often assume that no calories means no harm done. However, they couldn't be more wrong, assures Helen Hazuda, Professor of Clinical Epidemiology at the Texas University School of Medicine. 'They may be free of calories, but not of consequences,' she warned.
'Therefore to promote diet pop as a healthy alternative is seriously 'ill-advised', added Hazuda.
The artificial sweeteners, which replace natural sucrose, may not only encourage a sweet tooth, but they may also alter appetite and even damage brain cells.
It is believed that the sweeteners are leaving people craving extra-sugary and unhealthy junk food, which could add on further pounds. The lack of real sugar could also prevent us from achieving that full feeling.
'Artificial sweeteners could have the effect of triggering appetite but unlike regular sugars they don't deliver something will squelch the appetite,' said Sharon Fowler, who was involved in the research.
With increasing waistlines being linked to several diseases including heart diseases, diabetes and cancer, researchers are advising people to stay away from diet cola and lemonade drinks.
Instead people are being encouraged to drink water to quench their thirst. Or for those who are desperate for that sugar rush on a Monday afternoon, they may be better off indulging in a normal full-sugar drink.
Celebrity news, beauty, fashion advice, and fascinating features, delivered straight to your inbox!
Natalia is a health journalist with 14 years experience in the publishing industry. She has worked for a number of well known magazines and websites including Marie Claire, Woman&Home, Top Sante, Boots and The Telegraph. She likes to think she practices what she preaches when it comes to health and fitness. Her athletic prowess began early. A keen fencer for 13 years, she wielded an epée for Olympic Team GB during her teenage years. She likes to think she made sword-fighting cool before Game of Thrones came along! While working on her sporting performance with the team, she also participated in a lot of nutrition and psychology training, When it comes to time off, you'll most likely find her up a mountain somewhere. It seems holidays have become a time for climbing several thousand feet, rather than chilling out. She's now hiked eight of the major mountain ranges across four continents – including the Appalachians, the Smokies, the Sierra Nevadas (she spent her honeymoon hiking to the top of Half Dome), as well as hitting the summits of Snowdon, Pen-Y-Fan (Brecon Beacons), Table Mountain in South Africa, the Blue Mountains in Australia and the Atlas Mountains in Morocco. She's also passionate about all things health, particularly vaccinations, and will happily jump on her soap box at any given opportunity to talk about their benefits to anyone who will listen!