Deadly skin cancer soars among baby boomers
The number of people suffering skin cancer has soared by more than five times in a single generation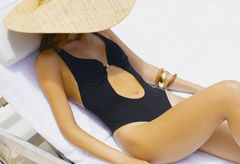 (Image credit: Rex Features)
The number of people suffering skin cancer has soared by more than five times in a single generation
We all understand the important of protecting our skin in the sun, but sadly it hasn't always been this way. New figures show that people in their 60s and 70s are now five times more likely to be diagnosed with deadly skin cancer due to the arrival of cheap foreign holidays and sun beds 30 years ago.
The charity Cancer Research UK, which released the analysis, says many of these older people now experiencing skin cancer would have been enjoying cheap package holidays in the 1970s and 1980s.
Caroline Cerny, the charity's SunSmart manager, said: 'Back then we knew less about sunburn and how closely it's linked to the development of skin cancer. We thought it was part of getting a tan and nothing to worry about.
'Now we know that's not true. We know sunburn is a serious sign that your skin has been damaged, that your DNA has been damaged, and getting sunburn really increases your risk of getting malignant melanoma.'
To put the damage into harsh perspective, back in the 1970s just seven in every 100,000 older people developed skin cancer. That figure has now risen to 36 in every 100,000.
Out of the 10,000 people a year who are diagnosed with skin cancer, around 2,000 die.
'We must continue to try and stop this pattern of behaviour or melanoma rates in future generations will hit an all time high,' continues Caroline Cerny.
She says that a high factor sunscreen should be worn in the sun at all times, and insists that people must not be tempted to burn their skin to get a tan.
Those with fair skin, moles or freckles should take extra care in the sun.
Celebrity news, beauty, fashion advice, and fascinating features, delivered straight to your inbox!