Cuddle chemical pill could stop postnatal depression
Almost one in five new mothers suffer from postnatal depression in the UK, but research suggests a 'cuddle chemical' released during lovemaking and breastfeeding could stop women experiencing the disorder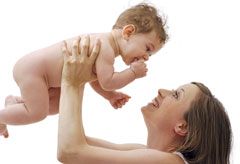 Almost one in five new mothers suffer from postnatal depression in the UK, but research suggests a 'cuddle chemical' released during lovemaking and breastfeeding could stop women experiencing the disorder
Post-natal depression affects almost 20 per cent of new mothers, but promising research suggests that increasing the levels of the bonding hormone oxytocin - aka the 'cuddle chemical' - could put an end to the debilitating disorder.
Scientists have discovered that women with low levels of oxytocin, during pregnancy are more likely to become depressed after their baby is born. By increasing this chemical, which fosters love, trust and affection, medics believe they can prevent post-natal depression.
'The study confirms the notion that depression in the perinatal period
often starts in pregnancy, and has profound effects on the mother-child
relationship by disturbing key biological mechanisms underlying this relationship,' says Dr Camine Pariante, from the Institute of Psychiatry, Kings College London.
The findings raise the possibility of producing a pill to top up oxytocin supplies in women at high risk of developing the disorder.
Dr Gunther Meinlschmidt, of the University of Basel, says early identification of women at risk of post-natal depression could allow for early preventative interventions and minimise adverse effects for the wellbeing of mother and child.
Post-natal depression is a debilitating disorder, which can last more than a year in severe cases. Gwyneth Paltrow, who suffered with the condition after her son Moses was born in 2006, describes the period as one of the darkest and most painful times of her life.
REPORT: GWYNETH PALTROW TALKS ABOUT HER POST-NATAL EXPERIENCE
Celebrity news, beauty, fashion advice, and fascinating features, delivered straight to your inbox!