6 of the best celebrity first date stories
The good, the bad and the really quite painful...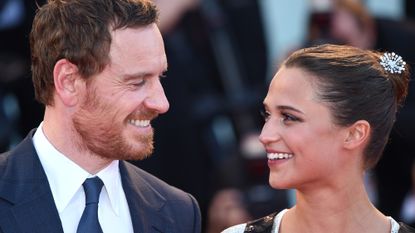 (Image credit: David Fisher/REX/Shutterstock)
The good, the bad and the really quite painful...
It's nice to think that even our favourite Hollywood golden couples had to sit through an ultra-cringe, nerve-wracking first date together, isn't it? That Victoria Beckham just couldn't choose what to wear when she first met David, or that Beyoncé made Jay Z beg for two years before agreeing to go out with him.
Here, our favourite celebrity couples share their first date stories...
Alicia Vikander & Michael Fassbender Alicia and Michael, who play lighthouse keeper Tom and wife Isabel Sherbourne in the new film The Light Between Oceans, met on a dance floor.Whilst it wasn't an official date per se, the chemistry was there straight away. 'Alicia told press yesterday 'We had met at Toronto Film Festival and just on the dance floor.' Michael then added: "I thought [I was a good dancer] until she started dancing and then I felt like I had two left feet. "[The chemistry] was sort of there from the beginning.' Kim Kardashian and Kanye West Kimye had been friends for 9 years before they actually realised they were meant for each other in 2012. While they'd been to hundreds of events in the past, the first time they were seen together after Kim divorced Kris Humphries was at a go-kart track, after Kanye's Paris Fashion Week show in March 2012. A few week's later, Kim posted on twitter that she was a 'proud girlfriend' and Kanye released a new song, dedicated to her, called 'Perfect bitch'. Sweet, ay?
Today, Kim shared a video of the couple's first private date together - making sweet music at New York's FAO Schwarz. 'This video was from when Kanye and I went to FAO Schwarz and played piano together,' she wrote.
Blake Lively and Ryan Reynolds Although they met filming Green Lantern together in 2006, Blake and Ryan's first date was actually a bit of a disaster – because they were actually on a double date with other people. 'About a year after Green Lantern had come and gone and we were both single we went on a double date – she was on a date with another guy and I was on a date with another girl,' Ryan explained to Entertainment Weekly. 'It was like the most awkward date for the respective parties because we were just like fireworks coming across.'
David and Victoria Beckham We all know that a first date outfit is, well, almost as important as a wedding gown. And back in 1997, when she was just a Spice Girl and he was Manchester United's hot young signing, Miss Victoria Adams had to make the big sartorial choice before her first dinner date with David. She obviously picked well, and VB still has the little suede dress to prove it. 'Look what I found' she wrote on Instagram, explaining that she's saving it for Harper to one day inherit. 'The dress I wore on my first date with David!! X so cute!! X vb' David obviously loved Posh's pins, as he famously got in contact with Victoria after seeing her in a music video and telling a friend, 'See the girl in the dark short dress? I'm going to marry her.'
Beyoncé and Jay Z Exactly when Queen Bey and Jay Z started dating is a little hazy – friends first, they spent two years talking on the phone before making things official around 2001. 'We were just beginning to try to date each other,' Jay Z says of the time. 'Well, you know, you've got to try first. You got to dazzle ... wine and dine. She's a charming Southern girl, you know, she's not impressed ... But I would have definitely had to be this cool.'
Gisele Bundchen and Tom Brady It was love at first sight for Gisele and Tom Brady, who were set up on a blind dinner date by a mutual friend in 2006. 'I knew it straightaway,' the supermodel would later say. 'I could see it in his eyes that he was a man with integrity who believes in the same things I do.'
Celebrity news, beauty, fashion advice, and fascinating features, delivered straight to your inbox!