Britain 'obsessed' with Twitter
All Twittered out? Have you succumbed to the craze?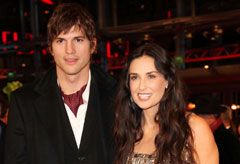 All Twittered out? Have you succumbed to the craze?
It's official: Britain has gone Twittering mad as 60% of Brits admit to being addicted to social networking, while a further 30% confess the urge to chat online anywhere and anytime, according to research by Vodaphone.
Dubbed Twitterphilia, society's new addiction carries symptoms including uncontrollable urges to update your status and getting overly excited when a new follower is recruited.
Twitter first gained attention due to its applications for news organisations. However, the phenomenon is now dominated by big name celebs such as Jonathan Ross and Lily Allen - both renowned for their regular Tweets - who have cultivated religious followings.
A-listers Ashton Kutcher and wife Demi Moore have admitted being addicted to the craze, hitting the headlines twice, thanks to their prolific Tweeting. On one occasion the pair were left red-faced after Tweeting about their neighbours' noisy construction work, resulting in an extremely public row and Kutcher posting a video apology.
More recently Kutcher made history by beating CNN to be the first Tweeter to gain a million followers and posted a video victory dance of him and Demi celebrating to Kool and The Gang's Celebration.
While it seems the world has gone Twitter mad, one good thing to come of the addiction? Kutcher and CNN have promised to donate 10,000 bed nets to the charity Nothing But Nets following their battle. The charity is currently attempting to dispatch 275,000 to protect vulnerable refugees in Africa.
FOR MORE ASHTON KUTCHER PHOTOS CLICK HERE
ARE YOU A TWITTERER? FOLLOW US HERE
Celebrity news, beauty, fashion advice, and fascinating features, delivered straight to your inbox!
Natalia is a health journalist with 14 years experience in the publishing industry. She has worked for a number of well known magazines and websites including Marie Claire, Woman&Home, Top Sante, Boots and The Telegraph. She likes to think she practices what she preaches when it comes to health and fitness. Her athletic prowess began early. A keen fencer for 13 years, she wielded an epée for Olympic Team GB during her teenage years. She likes to think she made sword-fighting cool before Game of Thrones came along! While working on her sporting performance with the team, she also participated in a lot of nutrition and psychology training, When it comes to time off, you'll most likely find her up a mountain somewhere. It seems holidays have become a time for climbing several thousand feet, rather than chilling out. She's now hiked eight of the major mountain ranges across four continents – including the Appalachians, the Smokies, the Sierra Nevadas (she spent her honeymoon hiking to the top of Half Dome), as well as hitting the summits of Snowdon, Pen-Y-Fan (Brecon Beacons), Table Mountain in South Africa, the Blue Mountains in Australia and the Atlas Mountains in Morocco. She's also passionate about all things health, particularly vaccinations, and will happily jump on her soap box at any given opportunity to talk about their benefits to anyone who will listen!