Breast cancer death rate drops 10 per cent
The number of women dying from breast cancer has fallen due to improved treatments for the disease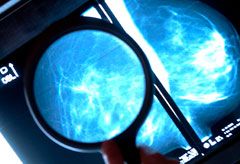 (Image credit: Rex Features)
The number of women dying from breast cancer has fallen due to improved treatments for the disease
Scientists claim the proportion of women losing their lives to breast cancer has fallen by more than 10 per cent thanks to new medicines and improved treatment.
The findings mark a radical change from a decade ago when Britain had the highest breast cancer death rates out of six major European countries, including France and Germany.
'Whilst we know breast cancer incidence is on the increase, it's reassuring to see positive indications that the rate of breast cancer deaths could decrease in 2012,' says Dr Rachel Greig, of charity Breakthrough Breast Cancer.
'We know better awareness and treatment are leading to more people than ever surviving the disease.'
Italian and Swiss researchers studied World Health Organisation statistics and found breast cancer death rates in Britain are predicted to fall by 13 per cent in 2012.
Improvements in treatment seem to be the force behind the rapid decline. The country, however, still lags behind the European average.
12,000 women are still dying every year from the disease in the UK but a Department of Health spokesman says: 'We are investing more than £750 million to make sure people are diagnosed with cancer earlier and have better access to the latest treatments.
'Our aim is to save 5,000 more lives every year by 2015, closing the gap in cancer survival between us and the best-performing countries in the world.'
Celebrity news, beauty, fashion advice, and fascinating features, delivered straight to your inbox!