Apples top 'Dirty Dozen' pesticides list
New reports have revealed apples as the biggest carrier of pesticides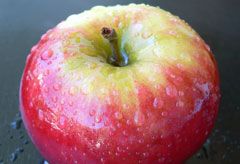 (Image credit: Rex Features)
New reports have revealed apples as the biggest carrier of pesticides
An apple a day keeps the doctor away…or maybe not according new reports from an American environmental group, which show that apples carry the most pesticides.
The apple has long been a five-a-day favourite, however, new studies carried out by Environmental Working Group in the US, have revealed that apples are the biggest offender when it comes to containing pesticides.
In the seventh annual Shopper's Guide to Pesticides in Produce, which ranks 53 fruit and veg according to their shocking pesticide score, apples have topped the list, knocking previous holder of the title, celery, down into second place, with strawberries placed in third
From information gathered from the US Department of Agriculture and the Food and Drug Administration, the list aims to highlight the most offensive fruit and vegetables as well as pointing out the cleanest, to help people make informed decisions when they are filling up their supermarket trolleys.
'The Dirty Dozen', as one of the lists has been dubbed, includes summer favourites strawberries, nectarines and blueberries, while the 'Clean15' boasts the humble onion, corn and avocado.
Eating five portions a day of the most contaminated fruit and vegetables is equivalent to consuming 14 different pesticides. While the chemicals may keep the bugs and bacteria at bay, they have also been associated with numerous health complications, including nervous systems disorder and cancer.
'Pesticides are toxic. They are designed to kill things and most are not good for you,' said Sonya Lunder, a senior analyst at Environmental Working Group.
To get around the problem of consuming numerous chemicals every day, researchers are now encouraging people to move towards eating more organic fruit and vegetables.
However, the recent E.coli outbreak in Germany, show that organic produce may not always the safest choice.
Celebrity news, beauty, fashion advice, and fascinating features, delivered straight to your inbox!
Natalia is a health journalist with 14 years experience in the publishing industry. She has worked for a number of well known magazines and websites including Marie Claire, Woman&Home, Top Sante, Boots and The Telegraph. She likes to think she practices what she preaches when it comes to health and fitness. Her athletic prowess began early. A keen fencer for 13 years, she wielded an epée for Olympic Team GB during her teenage years. She likes to think she made sword-fighting cool before Game of Thrones came along! While working on her sporting performance with the team, she also participated in a lot of nutrition and psychology training, When it comes to time off, you'll most likely find her up a mountain somewhere. It seems holidays have become a time for climbing several thousand feet, rather than chilling out. She's now hiked eight of the major mountain ranges across four continents – including the Appalachians, the Smokies, the Sierra Nevadas (she spent her honeymoon hiking to the top of Half Dome), as well as hitting the summits of Snowdon, Pen-Y-Fan (Brecon Beacons), Table Mountain in South Africa, the Blue Mountains in Australia and the Atlas Mountains in Morocco. She's also passionate about all things health, particularly vaccinations, and will happily jump on her soap box at any given opportunity to talk about their benefits to anyone who will listen!