5 surprising ways to help beat thrush
The lifestyle changes that can help you avoid this uncomfortable infection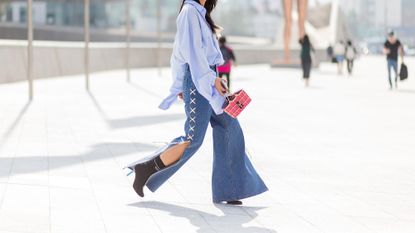 (Image credit: Getty Images)
The lifestyle changes that can help you avoid this uncomfortable infection
Promotional Feature
If you've had thrush, you'll know how just horrid this fungal infection can be, causing irritation and inflammation to your vagina, as well as a thick white discharge.
Many women are embarrassed by the problem, but it's actually very common, with 75% of us suffering from thrush at least once in our lifetimes.*
Thrush is caused by an increase of Candida albicans in the vagina. Although this is a naturally occurring fungus, it can grow unchecked when good bacteria can't keep it under control. As well as itchiness, the symptoms may include pain when you pee, and sex can also be uncomfortable.
Thankfully thrush can be resolved quickly with treatments from Canesten, which are easily available in pharmacies or your local store and includes creams, pessaries and capsules, so you can choose from a variety of treatments according to what you prefer. You might find it easiest to choose Canesten Thrush Duo Oral Capsule & External Cream, which includes a cream to relieve external itching, and a single-dose capsule you swallow to treat the infection simply and conveniently.
Buy now: Canestan Thrush Duo Oral Capsule & External Cream from Boots for £13.99
It's not always obvious what's caused thrush, so here are five ways to steer clear of triggers that could lead to an episode...
1. Loose clothing is king
Tight trousers and Lycra leggings provide a warm, moist environment that's perfect for yeast to multiply and lead to thrush. Choose loose-fitting clothing and cotton undies that allow air to circulate. Fortunately this season's denim silhouettes are relaxed and slouchy, so you can put those skinnies away…
2. De-stress
Being stressed weakens your immune system, which eventually makes you more prone to illness – including thrush. Reduce your stress levels whenever possible. Don't know where to start? Log out of social media and do some head-clearing exercise like yoga or swimming.
3. Keep it plain
Some say the best cure for stress is a relaxing bubble bath, but scented soaps and washes can aggravate thrush by altering the natural acidity levels of your vagina. Keep it simple and wash with plain water or Canesfresh Feminine Wash, which contains glycine, an amino acid known for its calming properties to helo soothe discomfort.
Videos you may like:
Video you may like:
4. Restore the balance
Maintaining a natural balance of micro-organisms in your vagina provides a natural defence against vaginal infections like thrush. Canesflor Probiotics for Vaginal Use creates a protective barrier against harmful micro-organisms that may cause vaginal infections. It helps to prevent recurrences of thrush and can be bought over-the-counter or from the self-selection area of larger pharmacies.
5. Sweet talk
Love sugar? Well, if you're eating lots of it in sweets, fizzy drinks, cakes, chocolate or 'healthy' fruit, be aware that all that sugar helps to feed the fungus that causes thrush.
* For more info, visit canesten.co.uk
** Find more common risk factors.
Canesten Thrush Pessary, Canesten Thrush External Cream, Canesten Thrush Combi Pessary & External Cream contain Clotrimazole. Canesten Thrush Oral Capsule contains Fluconazole. Canesten Thrush Duo contains Clotrimazole and Fluconazole. Always read the label.
Celebrity news, beauty, fashion advice, and fascinating features, delivered straight to your inbox!