5 Supplements You Need To Be Taking To Start The Year Right
Day 16 of 2014 and feeling bleugh already? Meet the superfood pills worth popping to keep you on your A-game.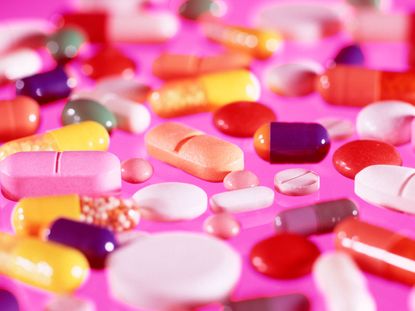 (Image credit: Rex Features)
Day 16 of 2014 and feeling bleugh already? Meet the superfood pills worth popping to keep you on your A-game.
Zero sun, minus zero temperatures, city smog and a detox you're only just clinging to by your malnourished fingernails - it's no wonder we all get sick in January. But get yourself into a regular regime of boosting supplements and you'll feel wide-eyed and ready for whatever 2014 has instore. Promise (ish).
1. Sun Chlorella A, £21.95 for 300 tablets Oh, Vitamin D how we miss you. Let's face it, you're not going to be getting it from the sky anytime soon, so getting it from this million-year-old green algae seems a wise bet. Team that with pretty much every other vitamin your body needs, you'll be wondering what to do with all that excess energy. (Plus Miranda Kerr swears by Chlorella which is motivation enough for us.)
2. The Organic Pharmacy Detox, £29.50 for 60 tablets The perfect partner for your new-found healthy eating plan. Burdock root cleans the blood and eliminates toxins from the skin, backed up by colon cleansing and gut repairing Alfalfa for when you occasionally slip off the wagon. 3. Imedeen Derma One, £35.23 for 60 tablets Thanks to blustery winds and freezing temps, skin loses half its water content in the winter months, so you need to double your hydration intake just to keep at a steady level. These beauty pills work deep down in the dermal layer, where few topical creams can reach, to replace lost moisture and bring you from raw back to radiant.
4. Solgar Advanced Antioxidant Formula, £36.70 for 30 tablets Happy to be back in the bustling city? Well your skin's not. The daily bombardment of pollution and carbon traffic fog makes skin produce nasty little chemicals called free radicals that speed up the ageing process. Repeat after me: anti-oxidants will change my life. If you only remember to take one supplement, make it this one. 5. Bio-Kult 14 Strain Probiotic, £7.10 for 30 tablets Dedicated to the fellow train passenger, who coughed on my neck this morning, who should have taken these. You've seen the adverts for 'good bacteria'? Well it's true and probiotics are awesome. This one has 14 strains of them that back up your body's natural defences by repopulating your gut with good bacteria in order to kick bad bacteria's ass.
Celebrity news, beauty, fashion advice, and fascinating features, delivered straight to your inbox!