Hard labour: is this the most difficult place in the world to give birth ?
Imagine going into labour then having to walk ten hours through the mountains to give birth. Photographer Francesco Brembati meets the Nepali girls risking their lives to start a family.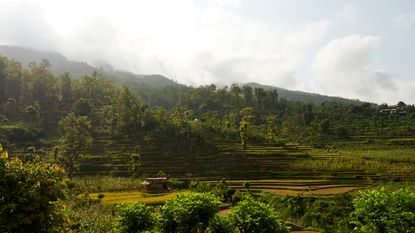 (Image credit: Francesco Brembati)
Imagine going into labour then having to walk ten hours through the mountains to give birth. Photographer Francesco Brembati meets the Nepali girls risking their lives to start a family.
Words and photographs by Francesco Brembati
The town is less than 100 miles west from Kathmandu, at the foot of the Nepali Himalayas, but the drive takes seven hours. Roads that start off cracked and uneven as you leave the city soon narrow and climb; tarmac tapering off into the distance as our driver zigzags his way around hairpin bends, sending small piles of dust and rocks tumbling over the cliff edge below. Soon, the road disappears altogether, and our 4x4 is forced to make its own track as our phone signal fades and we head towards the mountains.
For hundreds of pregnant women and girls across Nepal every year, the route we're driving – or one much like it – is one that they'll inevitably have to walk when time comes to give birth. Without roads or vehicles, their communities are cut off and inaccessible. When a woman's waters break, she starts the slow descent to the nearest health centre or medical clinic, sometimes walking for over ten hours at a time.
The dangers can't be underestimated: girls miscarry in the middle of the mountains. Others choose instead to give birth at home – away from the presence of skilled birth attendants or emergency care. Every day, approximately 34 babies will die before reaching the end of their first month.
Efforts are being made to make giving birth safer in Nepal. An American non-governmental organization One Heart Worldwide has established 345 birthing centres in some of the country's most cut-off communities since 2010. They have brought in volunteers to spread word about the importance of professional medical care, aiming to reduce the numbers of women in labour forced to hike through the hillside before giving birth. They estimate they've supported 147,000 pregnancies across 15 districts over the past nine years.
But challenges remain. "For the women who live really far away, they still have to walk, or men have to carry them on a stretcher," explains Dhana Narayan Shrestha, Assistant Officer for One Heart Worldwide. "It takes several hours, often at night, through very steep hills. I still hear of many women who deliver on the side of the road."
Their personal stories speak for themselves.
Sobita Tamang, 24 years old, mother of two
'The first time I gave birth, I had to be carried to a medical centre on a stretcher. It was about 2am, and my husband had to round up a group of men from the village to help me because I couldn't walk. As they carried me, I felt scared. I didn't know what was going to happen to me. But I needn't have worried – everything was easy, and by 9am, my son was born.
Labour wasn't so straightforward the second time. My husband was away for work, so when the first contractions started at 5pm, I called someone I know who has a vehicle which serves as the village ambulance, but I couldn't reach him. So my sister, my sister-in-law and our next-door neighbour began walking. I had to stop and rest every couple of steps because I was in so much pain and I couldn't breathe properly. It was pitch black, and none of us knew what to do, but eventually the pain got so bad that I had to lie down. My baby was born like that – in the middle of nowhere. We wrapped him in some of our clothes, to keep him warm. Luckily we'd brought a razor blade, so we could cut the umbilical cord.
Later, we made it to the birthing centre for a check up, and the nurse told me I'd been very lucky. When they told me my baby was healthy, I started laughing. It wasn't funny, but I was so relieved, I couldn't stop.'
Sobita Kumal, 15 years old, 5 months pregnant with her first child
'Being pregnant here is hard. I wake up, sweep the floor, wash the dishes and then I start cooking. My husband runs a restaurant, so we serve the customers all day and then I prepare dinner. If my husband is busy, I have to fetch and carry the water. I want to give birth in the health centre here, I'm lucky because it's really close by. I wouldn't want to have to walk.
I'm very nervous about being pregnant and giving birth. Before it happened, I didn't know what it would really involve. I still don't. One day my now-husband just approached me and told me that he had feelings for me, and within a month we were married. There wasn't a ceremony – both of our families accepted his proposal, and so I stopped going to school and started to live at his house.
I miss my friends a lot. We used to play hide and seek, and a game that involves throwing stones in the air. I'd like to still play those games, but I don't think my husband would like it. I'm afraid of what he would think of me if I was to do that.
I've never thought what I would like do differently, or what I could be in the future. This is the only kind of life I've ever known. If I had a choice, I wouldn't be a mother, but now it's too late. If I have a daughter, I want her to have a better life. I feel like being pregnant right now is not the right thing for me.'
Kabita Kumal, 20 years old, 9 months pregnant
'I had a miscarriage last year. I went into labour and gave birth, but my baby had already died inside me. Nobody told me why. I don't think anyone told me anything.
When I found out that I was pregnant again, I felt emotionless. Sometimes I'm scared that this pregnancy will end like the last one, but I don't know what to do differently. I still have to wake up at 5am, sweep the house and fetch water, make food, feed the cattle and collect firewood. Then I work in the fields until the evening, before cooking dinner for everybody and eventually going to sleep. Carrying manure and firewood on my back are definitely the most exhausting tasks. Sometimes I feel dizzy and my shoulders ache. I've had medical check ups, and the nurses told me not to lift heavy things, but I have to. Being pregnant isn't an excuse here. There's nobody else to do this but me.
Last time that I was pregnant, I was in the forest cutting grass when the pain in my stomach got stronger and stronger. Eventually I went back to our house, and some relatives carried me to the health post on stretches. When the doctor told me my baby was dead, I felt sad. I still feel sad about it. When my husband found out, he cried too, then he said things would be normal again soon. I'm not sure if I'll ever be normal again.'
Gita Kumal, 22 years old, 8 months pregnant with her third child
'Pregnancy is really hard here. I have so much work to do every day – I carry huge baskets of manure on my back for six hours in the sun every afternoon, until I feel dizzy and out of breath. I'm not allowed to take a break, because there's nobody else to do the work except me. My husband works in construction, and sometimes I have to help him out too. He needs me to carry stones and mud on my back, then mix it all to make cement. Luckily, I haven't blacked out and fainted yet, but often I do feel a really heavy, deep pain in my stomach. When that happens, I just have to take a deep breath, pause for a minute, and then carry on. But I worry. I can't stop worrying about my baby, and about me. As my pregnancy progresses, the pain seems to be getting worse.
I feel weaker in this pregnancy than I did for the previous two, but there's nothing I can do. I did have pain before though. During my second pregnancy, I was having to work really hard, and the ache in my stomach became so bad that I was sure something was wrong. In the end, I went into labour while I was working in the field. My husband and his friends carried me to the health centre on a stretcher, and then three hours after the delivery they carried me home again. I was back at work within a couple of days.
I would like this baby to be a girl, but there's no way that my daughter will live a life like mine. I will make sure that we will give her an education so she doesn't have to work like me. I want my children to do things differently.'
Celebrity news, beauty, fashion advice, and fascinating features, delivered straight to your inbox!
The leading destination for fashion, beauty, shopping and finger-on-the-pulse views on the latest issues. Marie Claire's travel content helps you delight in discovering new destinations around the globe, offering a unique – and sometimes unchartered – travel experience. From new hotel openings to the destinations tipped to take over our travel calendars, this iconic name has it covered.