Gin, tapas and vinyl at The Distillery on Portobello Road
PA to Editor-in-Chief Caroline Garland signs up to Portobello Gin's Ginstitute for the colourful history of gin, create a personalised blend to take home, dines in their tapas restaurant GinTonica and stays at their boutique hotel.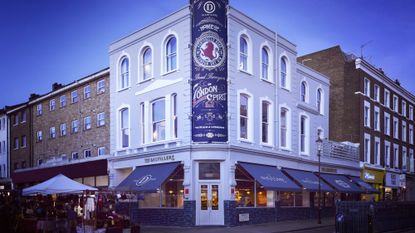 PA to Editor-in-Chief Caroline Garland signs up to Portobello Gin's Ginstitute for the colourful history of gin, create a personalised blend to take home, dines in their tapas restaurant GinTonica and stays at their boutique hotel.
Arriving a little early at The Distillery, Portobello Gin's new bar on Portobello Road, it was maybe a brave move ordering a G&T before my Ginstitute session but my date was running late and if you could see the pretty Copa De Balon (huge fish bowl like) glasses in hand around the bar I'm sure you could have been tempted too!
A full glass in hand I was ushered down by the lovely Lauren to the history room in the cellar which has been designed to emulate a traditional Victorian gin palace. Adorned with artefacts – first ever English cocktail book and first edition bottles of now legendary gin brands it's a very fitting place for an education in all things Gin. Our host for the first part of the evening is Del, who takes us through the 300 year journey from it's creation in Holland, the introduction to the UK and the demise of society as a result, artwork capturing scenes of crazed debauchery making a Saturday night out in Cardiff look like an afternoon tea. With every 75 years or so a new drink is mixed and handed out (4 in total) . After the fascinating history (round of applause to all involved) we moved next door to meet Jack in the blending room to create a personalised bottle to take home. Choosing between 4 and 8 botanicals, sipping (teeny tiny) glasses of each one I choose cardamom, rose, black pepper and pomelo and gave it the worst name ever – East Western – hmmm a bit trainy isn't it and so not representative of my heady fragrant gift to myself. If you do indeed love your personal blend The Distillery keep your recipe on file so you can order more bottles of your East Western (pah) for years to come at £35 a bottle.
I have to say this was so much fun, it's been so well researched you can feel the love Portobello Gin has for it's product and industry in general. At £110 per person you come away with many a tale to dine out on from the history, a little merry from the drinks and with two 70cl bottles of gin, one of your own blend and a classic Portobello Gin. One tip - maybe eat in advance but if happy to feel a little fizzy headed post session you can head to one of their restaurants which is exactly what we did.
Next up we skip up the stairs, past the in-house off license, selling 150 different gins as well as other spirits such as tequila, vermouth and beers to the wonderful GinTonica on the first floor. A room designed like a European grand apartment it's a relaxed space with the kitchen in full view serving Basque inspired dishes, importing the finest seasonal Spanish ingredients.
With it's creative British twist it's far beyond your standard tapas menu, we unashamedly ordered a feast – Iberico lardo on toast with apple puree (£3.90), premium anchovies with sour dough bread (£4.90), artisan choriza, shallots and cider (£6.90), free range chicken salad, lemon watercress and Alioli £7.90, inka grilled tiger prawns (£9.90 for 6), fried squid with ink alioli (£6.90), patatas bravas in chilli sauce with alioli (£3.90) and classic tomato bread with garlic oil and sea salty (£2.90).
Every dish hitting our gin heightened senses, we polish off round after round of plates, all perfectly served by our friendly and happy to recommend waitress. One underlying theme of this evening is that everything has been done so well, thoroughly researched and delivered for us to enjoy. It may sound an obvious thing to say but when you put that much passion into something it always always shows.
To round off the night we had the luxury of not having to Uber or force brollies up into the rain, but stay in one of the three hotel rooms on the second floor. A cool mix of modern and mid century décor overlooking Portobello Road was the perfect place to land. With a cocktail mixed and left in the fridge, we sliced limes found glasses and choose from the selection of records supplied by neighbours Rough Trade. At £150 per night it's well worth the money just for the standard of accommodation but with the added bonus of such a great location and surely the breakfast is a banquet to rival all local options – I didn't find out this time as ran off to MC HQ first thing, but a very good reason to go back. To sum up, we loved everything from beginning to end.
Celebrity news, beauty, fashion advice, and fascinating features, delivered straight to your inbox!