Planning a summer BBQ? Here's how to keep it eco-friendly
We all have a part to play in conserving the planet – so let's start with the small steps we can all take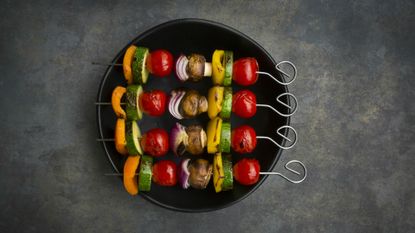 We all have a part to play in conserving the planet – so let's start with the small steps we can all take
Words by Chantel Pereira
Light blue skies, the balmy breeze and long-awaited sunshine can only mean one thing – it's just about hot enough to fire up the barbeque grill and host a BBQ (socially-distanced, of course) for your family and friends. But are you aware of how harmful BBQs can be for the environment?
Other than the obvious gas emissions from the grill itself (which release as much greenhouse gases into the atmosphere as a 90-mile long car journey), a lot of plastic waste builds up from the plastic bottles of fizzy drinks or any side dishes.
In fact, reports state that the River Thames had the highest recorded levels of microplastic waste than any river in the world, with the bulk of these plastics from food packaging and bottles. We need to be more aware of the impact of our actions and take responsibility - so the best way to start is by making sure that BBQ is a sustainable one.
Here are fives ways to enjoy a eco-friendly BBQ:
1. Veggie delights
Swap your staple BBQ meats with some plant-based goodies instead to cut your carbon footprint almost in half. Veggie skewers and meat-free burgers could make for healthy additions to your menu.
2. Reduce cook time
Try and cut down on how long you have the barbeque grill running for by slicing your meat finely to allow for even and efficient cooking.
3. Say no to plastics
Consider cooking food that does not require plates to cut down on plastic waste. Vegan hot dogs and veggie kebabs can be served with a napkin. You could also serve your guests refreshing sparkling water with a SodaStream sparkling water maker, rather than buying bottles of sparkling water, cola or mixers.
4. Keep the top on
Remember to shut the lid on your grill during cooking time to conserve as much heat and energy as possible. This method also maintains the moisture allowing for a more even cook. If you're using gas, be sure to switch it off when you're not using it to reduce your CO2 output as well. Or if you're using a coal BBQ, consider using lump coal rather than traditional briquettes for a more eco-friendly BBQ option.
5. Waste not
Reduce your food waste by raiding your fridge for leftovers to repurpose for your BBQ. Any frozen food could also do the trick. Offering your guests the leftovers from the BBQ in Tupperware containers could also be a nifty way to reduce food waste.
Celebrity news, beauty, fashion advice, and fascinating features, delivered straight to your inbox!
Niamh McCollum is Features Assistant at Marie Claire UK, and specialises in entertainment, female empowerment, mental health, social development and careers. Tackling both news and features, she's covered everything from the rise of feminist audio porn platforms to the latest campaigns protecting human rights.
Niamh has also contributed to our Women Who Win series by interviewing ridiculously inspiring females, including forensic scientist Ruth Morgan, Labour MP Stella Creasy and ITV's former Home Affairs Editor Jennifer Nadel.
Niamh studied Law in Trinity College Dublin. It was after enrolling in a Law & Literature class on her year abroad in Toronto that her love of writing was reignited. In no particular order, her big likes are Caleb Followill, hoops, red wine, sea swimming, shakshuka and long train journeys.