What you can do to support the people of Aleppo right now
This humanitarian crisis needs us all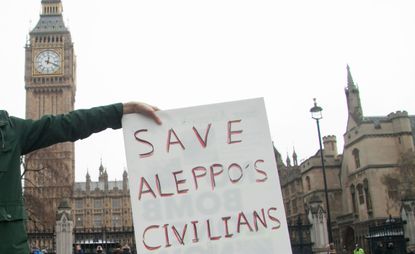 (Image credit: Amer Ghazzal/REX/Shutterstock)
This humanitarian crisis needs us all
Five years ago, 2.3 million inhabitants of the stunning city of Aleppo (which was formerly a UNESCO World Heritage Site) had their lives turned completely upside down.
The country of Syria has been in crisis since 2011 when the civil war between President Basha al-Assad and Western-backed rebels attempting to overthrow him began.
A seven-year-old girl tweeting her experiences from rebel-held eastern Aleppo already caught the attention of hundreds of thousands of people around the globe, but it's now more than ever, that the world has to help.
As of December 12th, the pro-government militia closed in on the city's [former] largest city, Aleppo, and it was believed that the fighting was finally over with a deal by Turkey and Russia to allow any remaining rebels and their families, as well as civilians, to head to safety the day after.
But, heartbreakingly, this was not the case as the ceasefire collapsed when pro-government forces resumed airstrikes and shooting, killing at least 82 civilians (according to The U.N.), and now the last of the people in rebel-held pockets of Aleppo, believed to be around 50,000 - 100,000 are begging to be allowed to leave.
'We want to leave, we don't want more massacres, let us leave,' one activist said.
And now is not the time for us over in the UK to feel helpless or to shake our heads sadly at the situation, we can physically help. Here's how...
Donate
Since July, the Syrian government have blocked UN aid shipments into entering Aleppo so it's important to research where you're giving your money, and if it's actually going to be able to reach anyone. The Center for International Disaster have made a list of trusted NGOs.
Other organisations to know about The United Nations High Commissioner For Refugees who focus on getting displaced communities essentials like hygiene kits and sleeping bags, while The White Helmets volunteers (AKA The Syrian Civil Defense) search recently bombed locations for any trapped or injured survivors.
Volunteer
US-based Syrian American Medical Society (SAMS) has called on medical professionals around the world to help doctors and nurses in Aleppo by giving them support and advice over Skype. If you're not a medical professional but can speak Arabic, volunteer your services as a translator by getting in touch.
Contact your local MP
Demand that our government does more, from giving aid to Aleppo, to actively condemning what's happening there by asking that they discuss sanctions on Syrian and Russian governments. And, you can ask them to agree to take in more refugees. Despite agreeing to take on 20,000 Syrian refugees by 2020, we're far from that target.
Protest
London-based demonstrations keep popping up around 10 Downing Street and outside the Syrian Embassy, as well as in other UK cities using the hashtag #StandWithAleppo.
Spread the word
Nonviolent activist organisation Planet Syria are asking the world to spread information about everything that's happening in Syria in hopes of encouraging peace talks. 'Slowly, with the support of our real allies,' they say, 'we hope to reconnect with the tolerance and coexistence we have known for millennia and build a Syria better than before.'
Foster a child or family
Unaccompanied Syrian refugee children currently need homes so if you have the resources, this could be an option for you to help. If you're interested in helping with refugee resettlement, contact your local government, or check out Homes for Syrians.
#StandWithAleppo
Celebrity news, beauty, fashion advice, and fascinating features, delivered straight to your inbox!