5 Things To Consider Before Saying Yes To IVF
Tru Spencer, author of Twin Stars and a Mother from Mars – Heartache and Joy in an IVF World, talks us through the key things you need to know if you're planning, or even thinking about going through IVF.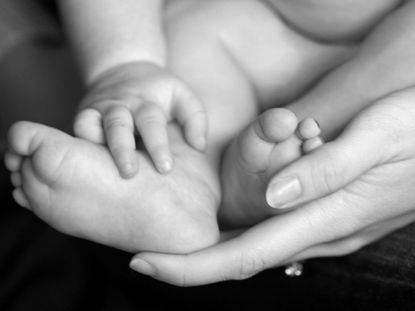 (Image credit: Rex Features)
Tru Spencer, author of Twin Stars and a Mother from Mars – Heartache and Joy in an IVF World, talks us through the key things you need to know if you're planning, or even thinking about going through IVF.
1. Have you investigated all the other options? IVF is the 'last chance saloon' of treatments for infertility. If your doctor or consultant believes there are other options that you haven't investigated yet such as fertility medicines alone, surgical procedures i.e. to correct blocked fallopian tubes or epididymis, or IUI (intrauterine insemination), you should think about doing those first. Whilst IVF is not necessarily considered very high risk, it is the most invasive of all fertility treatments and involves many different stages and hurdles in succession to be in with a chance of a positive outcome. It is not something to be considered lightly, so take your time and make sure you're comfortable and understand everything about the procedure itself, its risks, and the impact it could have on your life both during and after treatment.
2. What is the likelihood of success for you? You may have read about IVF success rates from various clinics around the country, or seen the league tables published by the HFEA . However, an individual couple's chances of success vary widely depending on the nature of their particular fertility issue, along with their ages. It's wise to view league tables as a general guide as some clinics may only treat certain issues or causes of infertility that stand a better chance of a positive outcome. Also, the data may be several years old so may not accurately reflect the current situation. It's important to know too that your chances increase with each completed cycle - the more you do, the higher the possibility of success. Your chances of a multiple pregnancy and birth are also increased, and it's wise to bear this in mind when deciding how many embryos to transfer.
3. Can you afford it? For most people the likelihood of their treatment being funded on the NHS is pretty slim. Knowing the financial costs before you sign up for any procedure is an absolute must. Private clinics' fees are not regulated but you'll probably find that they all charge very similar rates. The fees are usually split into consultations, diagnostic, screening and blood tests, drugs, any genetic tests you may choose to do, and the treatment procedure itself. Make sure you get a breakdown of what exactly is covered and at what point you need to pay each element. Don't forget to cost in any additional refreshments, travel expenses and accommodation such as overnight hotels if your chosen clinic isn't close to home.
4. What will you do in the event of spare embryos? You may be so focused on getting through the treatment cycle itself, and hoping for a positive pregnancy test, that you may forget to consider what to do in the event of having any embryos left over. Currently, there is a limit of a two embryo transfer in women under the age of 40, and three in those over 40. Depending on how many eggs are retrieved and are subsequently fertilised, you may find yourself in the position of having several embryos to freeze. This can cause an ethical dilemma for many women as it raises issues of what to do with the 'spare' embryos in the case of a successful current cycle. It isn't necessary to decide what you would do regarding any frozen embryos before you go through with IVF, but you should be conscious of the fact that at some point you may have to make a difficult decision about what to do if you find you have more than you need.
5. Are you ready - emotionally and physically? Ask anyone who's been through IVF and they'll probably tell you it's the most stressful life event they've ever experienced. Whilst everyone will view the process uniquely depending on their character, there's no getting away from the fact that it will have a significant impact on your life. You should get yourself into the best shape before you start: eating healthily, restricting alcohol and junk food, and exercising in moderation several times per week. The process itself is very demanding and it can leave you exhausted both physically and emotionally. You will probably go through a cycle of feeling high one minute and desperately low the next on a regular basis. As the effects of the drugs and hormones kick in these feelings can be enhanced making you irritable and upset for no apparent reason. The 'two week wait' can be torturous, with any small twinge or pain being attributed to being pregnant, or not pregnant. Finally, if the all-important test at the end turns out to be negative you may feel a type of grief as you try to deal with your feelings when the realisation dawns that it's either the end of your dreams, or that you have to go through it all over again. But if that pregnancy test turns out positive, it's the most ecstatic feeling in the world.
Twin Stars and a Mother from Mars – Heartache and Joy in an IVF World, by Tru Spencer, is out now and coincides with Infertility Awareness Week (28 October – 3 November 2013).
When does your biological clock REALLY start ticking?
Celebrity news, beauty, fashion advice, and fascinating features, delivered straight to your inbox!
The leading destination for fashion, beauty, shopping and finger-on-the-pulse views on the latest issues. Marie Claire's travel content helps you delight in discovering new destinations around the globe, offering a unique – and sometimes unchartered – travel experience. From new hotel openings to the destinations tipped to take over our travel calendars, this iconic name has it covered.