Just Why Do We Love Shoes So Much? Charlotte Olympia Weighs Up The Pleasure Versus The Pain
As the V&A's new exhibition Shoes: Pleasure And Pain, gets set to open on the 13th June we're examining our love affair with shoes from every angle...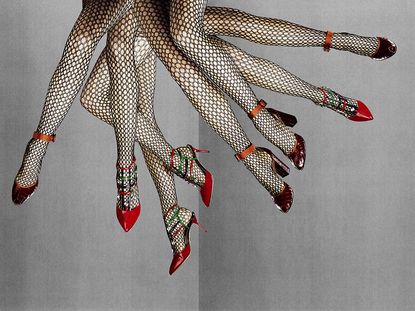 As the V&A's new exhibition Shoes: Pleasure And Pain, gets set to open on the 13th June we're examining our love affair with shoes from every angle...
Kicking things off is designer Charlotte Olympia, who is as famous for her towering Island platforms as she is for her covetable kitty flats. As she talks us through the two sides of her shoe addiction, we want to hear from you. Flats or heels, pleasure or pain? Tweet us @MarieClaireUK.
The Ecstasy 'There's a sign on the door to my office that says 'the higher the heel the better you feel' and I really believe that, whether they're making you feel taller, sexier, more confident, powerful, or glamorous. Carmen Miranda is my shoe pin-up – she's an advocate for super high platforms and always looked like she was having the most fun out partying in them.'
Image: Charlotte Olympia pre-fall 2015 collection
'The first contact I had with high heels was in my mother's [Andrea Dellal's] wardrobe as a little girl. Fortunately for me, she was a Manolos woman, so watching her get dressed and trying on her shoes was a pretty fabulous introduction to my future obsession. I always wanted to be taller (I'm not even very short but have always had tall best friends) so finding the highest pair out there became my goal.'
'Women love heels because they can transform your outfit and lift your mood. It's a confidence thing - the same feeling as when you have a new haircut. You feel good about your look. Because shoes are accessories, we dare to try styles that are more decorative and expressive than we might with clothes.' Image: Designer Charlotte Olympia Dellal in a rather amazing pair of her own design.
'Beautifully designed shoes are wearable objects. When I was 16, my mum gave me one of my first special pairs. I'd had my eye on them for ages and must have talked about them so much that she just gave in. They were super high metallic platforms by Tom Ford for Gucci - they just felt like actual gold.'
'I've now got two shoe archives in my home, one is a glass cabinet full of sentimental shoes and then I've got all of my own collections on file. I conveniently sample every style I make in my size so that I can try them on for fit, which means I have access to every pair I've ever made.'
'My design ethos comes from the idea that heels can be like sculptures and my clients enjoy that their shoes are a talking point. There's no better feeling than watching other people in my shops enjoying the shoes, trying them on and seeing themselves in the mirror for the first time in that special new pair.'
The Agony 'Mastering heels is as much about mental comfort as it is physical. I've always put them on with the confident attitude that I can walk in them, but, of course, there have been limits. Before I made my own shoes, I once wore a beautiful pair that were the highest I'd ever seen in my life. They were over seven inches and breaking them in essentially meant breaking in my feet. Some styles out there are ridiculously high, but if you're thinking that you can't walk in them before you've even tried them on, you've already lost the battle.'
'The last thing I would ever want to be known as is the female shoe designer who makes women wear painful shoes, and I don't think people need to accept that all high heels are uncomfortable. I personally test every pair of shoes that I make. You can immediately tell if something feels wrong, even if it's just off by millimetres. There are so many different foot types out there - my own feet are wide so I'm always conscious about squashing toes in sharp points or low cuts.'
'When I launched my brand it was all about my signature six inch island platforms, but now even I need comfort days when my feet just want flats. I always make sure that the designs are as special as my heels, but the process is quite different. My Tutti Fruiti pumps are still one of my favourite ever shoe styles - I started with 5 pairs and have worn through 3 now. When it comes to comfort, I've also recently started doing trainers. They're not exactly Nike-style for the gym – they're special low tops and high tops in velvets and satins with my signatures like a cat face on the tongue.'
'I don't personally wear heels every day anymore either – partly because I know it's not the best thing for me, but also running around after three young children, I just couldn't do it. I definitely couldn't walk away from them for good, though, even if a doctor told me to! It's like I try to eat healthily, but I still love to indulge on chocolate bars. Everything in moderation, right?'
Read all about Charlotte's ABC collection, here, and shop her designs on www.charlotteolympia.com
Celebrity news, beauty, fashion advice, and fascinating features, delivered straight to your inbox!