Exclusive: Olivia Palermo Talks Personal Style, Boyz II Men And THAT Amazing Wedding Dress
Everyone gushes when they meet Olivia Palermo for the first time. The waitress, the doorman, me...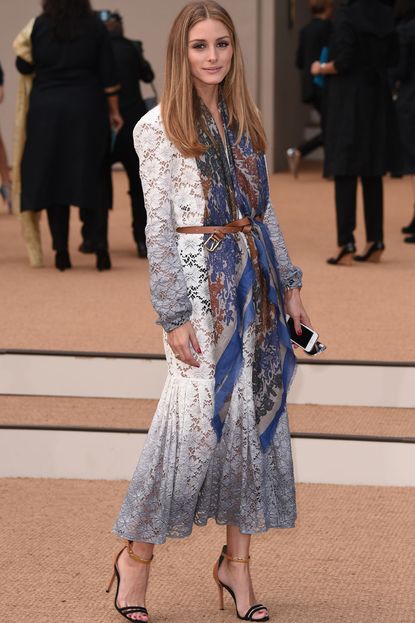 Everyone gushes when they meet Olivia Palermo for the first time. The waitress, the doorman, me...
Doe-eye pretty and oh so polite, her reputation as a style maven precedes her and the anticipation as to what she might possibly choose to wear for our mid-LFW drinks date leaves me panicking about my own wardrobe's serious shortcomings.
And OP's outfit doesn't disappoint. She arrives at the St Martins Lane Hotel (her fashion week retreat of choice) in a pitch-perfect Burberry ensemble, complete with signature shades, on-trend scarf layers and a fresh blow dry.
Olivia has literally built a business empire off the back of what's on her back (surely there's no better way to showcase that keen eye for product?) and this fashion month she's been working double time, reviewing collections for her eponymous website and curating boards of the best looks for Pinterest in between.
Want to know what she was like as a kid, how she picked her wedding dress, or just why she always looks so good? Here, Olivia tells all….
You always look so well put together, what's your style formula? 'I'm very organised. My closet is never messy. Thank God for my parents, they gave me structure at a very early age and that has served me well in all aspects of my life. I wouldn't say I put that much thought into a look before getting dressed, I spin things out of whatever I have on my rack on the day. For me, it's all about re-styling what you have. My wardrobe is built around great staples – trousers, jeans shirts and sweaters, then for anything more 'trendy' I tend to grab from the high street on the go. '
Have you always looked so polished? Even as a teen? 'My mother always taught me that you don't leave the house until you're fully dressed – make-up and everything. [Olivia's mother is interior designer Lynn Hutchings]. That's how you start your day, it's like you get up and make your bed, first thing. Even when I was young I enjoyed fashion – I didn't have a grunge phase or anything like that, I didn't even have posters as a kid. I rode horses every day, that was my focus and probably reflected in my style back then.'
So who were your childhood style icons? 'Growing up between New York, Connecticut and Florida, the people that really were inspiring were my parents' friends, the elders. I built my foundation off of those women and their amazing sense of style. And I know that sounds very odd, but really it is the case.'
What pieces in your wardrobe hold the most sentimental value to you? 'The gold Rolex that my mother gave me on my 21st birthday is really special. I've collected lots of beautiful vintage costume jewellery from her over the years and whenever I'm in London I go to Portobello Market to weed through and find more. I grew up going to antique tradeshows and meeting the vendors so from an early age I was really educated in [jewellery] styles. I always got new pieces for Christmases and birthdays.'
Tell us about your wedding outfit? 'It was wonderful. It was a three piece, I worked with Carolina [Herrera]'s team to put the idea together from different elements of her collections. I always like to have my own take on things and I was just so lucky that I was able to work with her on it. I love a pop of colour, even in bridal, so those [Manolo Blahnik] shoes were my something blue. I've had them for such a long time and they were perfect to run around on the grass in as I didn't have to worry about them getting stained!'
(Olivia with Caroline Herrera, pictured below)
How many pairs of shoes do you own? 'I couldn't even tell you – I actually don't know. My real weakness though is Smythson. The stationery, the bags… everything. Most of my money gets spent in there.'
What are your beauty essentials? 'Clarisonic has changed my entire world. You think you have awesome skin and then that happens and you realise there's a whole level to it. My skin is stuck in its ways. I've been seeing my dermatologist, Dr Dennis Gross and using his products since I was 14 and any time I try something new, my face rejects it.'
'I do my own make up, but listen to the experts when it comes to things like getting your foundation colour right and knowing what your skin needs in different seasons. Also nothing beats a fresh set of Bobbi Brown brushes and a red Essie nail polish.'
(Olivia with her husband Johannes Huebl, pictured below)
How do you do your hair each day? 'There is a high maintenance aspect to my hair, but I think the effort is worth it because if you're having a bad hair day you feel slightly off in general. I wash and blow dry my hair every day and I always carry a little can of Elnett with me.'
How do you feel about the paparazzi attention that your job encourages? 'I don't hate anything that I do, it definitely comes with the territory and I am really fortunate. Sometimes at a fashion show though, I think, this is not my fashion show, it's the designer's. That's why we're there.'
What gets you on the dance floor at a fashion party? 'I don't go out too much – when I'm in London I tend to just go to Roka or E&O for dinner. But I don't know… if I had to say? Boyz II Men or a Motown soundtrack. Now that's a sure thing.'
Celebrity news, beauty, fashion advice, and fascinating features, delivered straight to your inbox!