Let's Take A Minute To Discuss The VERY Different Styles Of Beyoncé And Solange Knowles...
One is a bling-loving global megastar, the other is a quirky hipster who is just as at home in East London as a 5-star hotel in Manhattan, but who wins in the style wars? Beyoncé Vs. Solange: it's on!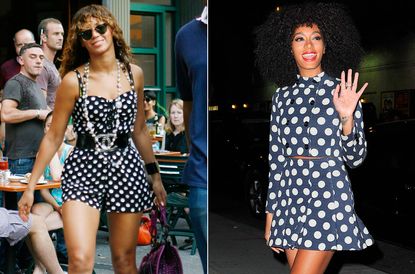 (Image credit: Rex Features)
One is a bling-loving global megastar, the other is a quirky hipster who is just as at home in East London as a 5-star hotel in Manhattan, but who wins in the style wars? Beyoncé Vs. Solange: it's on!
There ain't no doubt about it, Beyoncé and Solange Knowles are savvy dressers, but at completely different ends of the style spectrum. With Beyoncé's curve-accentuating high end looks to Solange's gorgeous clashing print suits, join us as we compare the fashion credentials of these gorgeous siblings.
Seeing spots Beyoncé's decision to team her polka dot playsuit with an oversized blinging necklace and a statement Chanel belt turned heads in New York City back in 2009, but it's Solange's high-waisted, flared, biker skirt and matching, cropped, double breasted, jacket that gets our fashion pulses racing.
Sitting FROW Beyoncé is always going to cause a scene when she sits front row and it was no exception when the pregnant singer took her seat at the Vera Wang spring/summer 2012 at New York Fashion Week wearing a puffball skirt and matching nude leather jacket. Maternity wear had never looked so fierce. Solange stuck to the clashing natty prints that she does so well for Diane Von Furstenberg autumn/winter 2012 show.
Taking centre stage Solange dressed to impress for her performance at this year's Field Day festival in London. Rocking the monochrome trend, and her ongoing love affair with clashing prints, Solange cut a chic shape in Victoria Park. When Beyoncé headlined Glastonbury in 2011, she didn't even entertain the idea of taking her glamourpuss styling down a notch, and so it was that she performed for thousands upon thousands of muddy, sweaty festival-goers in a sparkling gold top and knickers. We love a lady who doesn't compromise her style.
Taking it to the max The Knowles sisters love a maxi skirt as much as the rest of us. While Beyoncé likes her loud prints on the bottom (and most attention-grabbing half). Solange preferred to team her plain yellow skirt with a bold tribal print crop top. Both are winners in our eyes.
Walking on the wild side Solange kept things chic and sensible with her leopard print ensemble, toning it down with an orange tee and sensible nude pumps. Beyoncé, on the other hand, is cool personified in her neon pink stilettos and fedora hat. Love.
Loving leather Sorry, Queen B, but your head-to-toe leather look is too much for our delicate eyes, Solange wins this one with her detail-perfect styling. Monochrone turban? We love. Leopard print bra and white vest? To die. The metallic heels? A winning touch.
Not so mellow yellow Both Bey and Solange are fans of yellow. Be it lovely lemon or banging butter, these ladies go wild for the hue. Beyoncé opted for classic hollywood glamour at a pre-Grammy party back in 2008, while Solange rocked a sparkling canary yellow number by Emilio Pucci at the Oscars in 2013. Both are beautiful in their own different ways.
Love for the LBD Just add a touch of frosting and Bey is good to go, while it wouldn't be Solange if she didn't zest up her body-skimming LBD with a vibrant print.
A head for hats Bey's feather-adorned trilby or Solange's straw floppy? We can't decide. Please don't make us.
Festival style When they're not performing the Knowles ladies love to take in the sights and sounds of the summer festivals. While Solange opts for vibrant hues and neon touches, Beyoncé is an all-black style champion with a little bit of bling thrown in for good measure. Bey, we love you, but it was Solange's Coachella pic we printed off for 2013's festival inspiration.
The bold blouse Perhaps not feeling brave enough to experiment with the clashing print trend her younger sister is so fond of, Bey teams her brash blouse with plain black skinnies. Solange, though, has gone to mismatched heaven and back with her cacophony of prints. Amazing.
Colour blocking blazer Mint green or blinding yellow, both sisters know how to work a bold blazer to full effect. We think Beyoncé's careful coordination pips Solange to the post on this occasion.
The perfect pencil Clearly wanting to convey an image of professionalism for this shot, Bey chose a conservative (and by conservative, we mean boring) citrus skirt-suit back in 2004. Solange got our world rocking with this Burberry ensemble in 2011. No contest.
All white on the night Neither Knowles is afraid of making a dramatic red carpet statement. Case in point: both sisters rocking Stephane Rolland. It's no surprise that Bey chose to accessory her look with sleek tresses and lashings of bling, while Solange went for clean lines and a simple gold cuff.
The Met Ball On the biggest fashion night of the year, the differences in the style of sisters Beyoncé and Solange couldn't have been more clear. Each had a different take on 2013 theme of punk. Bey made a bulb-flashing entrance in black and gold Givenchy dress, while Solange kept things relatively understated in a printed Kenzo frock.
Whose style do you prefer? Do you go wild for Solange's clever clashing prints and hipster fashion, or is it Bey's no-nonsence, megawatt glamour that gets you going? Let us know in the comment box below.
Celebrity news, beauty, fashion advice, and fascinating features, delivered straight to your inbox!