5 Reasons Why Everyone's STILL Talking About Chanel SS14
The beautiful arty eye make-up, the Chanel No.5 robot, Cara Delevingne (again) and Miranda Kerr (erm, again)... see why we're all still obsessed with Chanel's incredible SS14 collection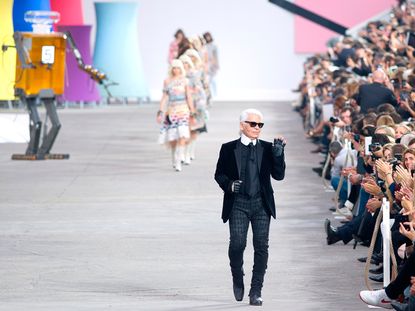 (Image credit: Rex)
The beautiful arty eye make-up, the Chanel No.5 robot, Cara Delevingne (again) and Miranda Kerr (erm, again)... see why we're all still obsessed with Chanel's incredible SS14 collection
---
1. It was one hell of an arty party
Chanel No.5 reworked as a giant robot, an impressionist version of the Chanel camelia – there wasn't just one art movement here – there were dozens. Mr Lagerfeld certainly knows his art history and created 75 'artworks' for his 'gallery' in the Grand Palais. Guests snacked on canapés and snapped endless selfies – a show before the show indeed.
2. The graffiti bags were Karl at his cleverest From the rucksacks to the totes – these artsy little numbers had 'hipster' written all over them (not quite literally). We know a few who'll be sporting them come January.
3. The paint pallette dresses These were definitely our favourite take-out from KL's hugely varied collection. With what looked like daubs of rainbow coloured paint striped across them – this was when the artpack theme really came into its own.
4. The token boy Striding along the runway with paint brushes in his hand and a rucksack on his back. It was certainly the first time we'd seen a painter this young and handsome dressed head-to-toe in Chanel.
5. Karl's walk the walk Not quite dancing (but almost) to Jay Z's pounding soundtrack, jubilant King Karl walked the entire run of the front row in time to the music. This was Chanel's leading man in a super-confident mood – and why wouldn't he be after that fantastic show?
We also loved... Spotting Miranda Kerr, Lindsay Wixon and Cara Delevingne beneath the eery green and blue eye decorations, Sam McKnight's latest version of the robo-wig, the giant pearl neckwear and the super-cool pink coat that looked like paint-splashed mohair.
Chanel SS14 – see all the incredible pictures here
Latest from Paris Fashion Week
Celebrity news, beauty, fashion advice, and fascinating features, delivered straight to your inbox!