Girls: Which One Are You?
So, are you a Hannah, Marnie, Jessa or a Shoshanna?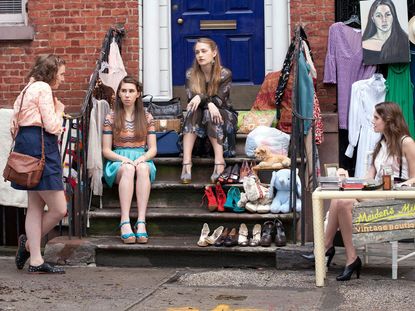 (Image credit: Rex)
So, are you a Hannah, Marnie, Jessa or a Shoshanna?
I hope I'm like Jessa (cool and free-spirited). I'm probably more like Hannah (would-be-writer with issues). I'd be lying if I said I wasn't like Marnie (total control freak) and I definitely have days like Shoshanna (impressionable, naïve, ditsy). Just like when Sex and The City launched back in 1998, this is the conversation you'll be inevitably having, whether you've been watching Girls on Sky Atlantic the whole time or not. It's not one that inspires us to spend our rent on designer shoes or go to the hippest restaurants or try out the hottest new yoga classes to keep our size eight figures in check – because, let's face it, who has the money/time/inclination? As fabulous as it all sounds, it's just not realistic. We have moved on – and luckily we have four (lovable and brilliant each in their own right) TV heroines to spur us on. I interviewed the show's 26-year-old creator and star, Lena Dunham last year, when she was promoting her first indie film, Tiny Furniture (if you love Girls, go watch this now) and putting the finishing touches to her ten-part series – I was itching to see it back then. I think she puts it best: 'I'm a Sex and The City fan, but I think a lot of women moving to New York after watching the series had different expectations about what their lives would be like. This show is for those women.'
Here are the things we've learnt from Girls so far… Real bodies make us feel so much better The sex scenes can be a little on the cringe side, but how refreshing for women everywhere to see a normal-sized girl struggling to get her tights off, lying face down on her would-be-boyfriend's skanky sofa. It's far cry from Samantha's confident sexual acrobatics. And we've all (depressingly) been there. It's OK to be skint When Hannah's parents announce they can't keep 'bank rolling' her 'groovy lifestyle', our hearts went out to her. Unpaid internships suck, but again, we've all been there. 'I've calculated I can last 5 more days in New York – 7 if I don't eat.' Love doesn't always equal happiness 'How does it even feel to be loved that much?' Hannah asks her housemate, a doted on, but bored/frustrated Marnie, who has spent the night in her room to avoid her own boyfriend (sleeping next door). Girl, get out, NOW.
Boho chic is back No, we're not talking about Sienna-style gypsy belts, but our new autumn crush: Jessa (Jemima Kirke) a laid-back hippy chick who wades in late for dinner (obvs) and is so clearly going to be a bad influence… but she's so pretty and cool, who cares? Listen to the nerd Shoshanna to Jessa, on hearing that she's never heard of SATC: 'But that's like saying you're not on Facebook!' Jessa: 'I'm not.' Shoshanna: 'You are so f**king classy.' Yep, it's official, we heart Shoshanna, who on first impression, in her pink velour tracksuit, should be the naïve, annoying one. Something tells us she's the wittiest and wisest gal of all… We cannot wait for season three.
12 Hannah from Girls quotes that rocked our world
Celebrity news, beauty, fashion advice, and fascinating features, delivered straight to your inbox!