Hollywood has a gender and diversity problem. An Arab female director scholarship sets to put that right.
'I [have] learned to trust my voice and appreciate that it will be always unique if I listened closely.'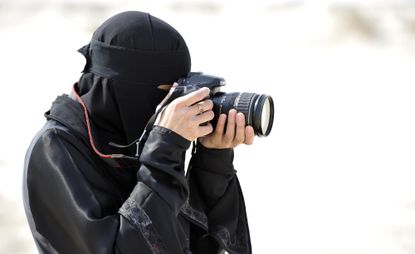 (Image credit: Michael Weber/imageBROKER/REX/Shutterstock)
'I [have] learned to trust my voice and appreciate that it will be always unique if I listened closely.'
Just a tenth of all films (7.3%) were directed by women last year, despite the lauded successes of the Oscar-nominated Greta Gerwigs, Ava DuVernays and box-office-smashing Patty Jenkins of the world. Less than 1% of all films hire more than ten women to work in production. Although Hollywood is gradually spinning in the right direction as the #MeToo movement ousts sexist monsters and Oscar-winners insist on inclusion riders, gender parity is a long way away - especially for Arab female film directors.
Cherien Dabis, the Palestininan-Jordanian director of May in Summer, admitted in 2015, 'It is challenging, opening those doors. Making the leap from an independent international filmmaker to a commercial one is hard enough, but add female filmmaker to that, and then add Arab female filmmaker, and it becomes infinitely more challenging.'
However a new scholarship seeks to close the gap and elevate Middle Eastern female cinematic voices, in the hopes of smashing through stereotypes and bringing authentic Arab experiences to the big screen. Founded by Saudi-Egyptian entrepreneur Hani Farsi and the dean of UCLA's School of Theatre, Film and Television Teri Schwartz, the Mohamed S. Farsi Foundation's Arab Women Filmmakers scholarship is aimed at promoting voices of women across 22 Arab League countries and giving them a leg up in an industry where diversity can be lacking.
While it's still a relatively new concept, it's an ambitious one that grants three Middle Eastern women a full ride to UCLA's world-renowned School of Theatre, Film and Television. Recipients are granted a place on UCLA TFT's competitive Master of Fine Arts in Directing, a four year programme that the first intake of scholars will be wrapping up in autumn this year.
It's an issue desperately close to Teri's heart, as she's seen firsthand the obstacles that women in film generally must overcome.
She said, 'To not have stories told by women and with a woman's perspective, from any culture, robs the world of the richness of stories that all people should experience, and be inspired and entertained by….Arab women have extraordinary stories to tell and must be afforded the opportunities to add to the richness of the global film-going experience, as well as to have the opportunity to add a deeper dimension, perspective and understanding of our common humanity.'
That's not to say that there aren't already Arab women in the scene carving a corner for themselves on the silver screen. The few female film directors who hail from the Middle East have slowly but surely made their mark on the world, with American-Egyptian Jehane Noujaim's film The Square earning her an Oscar nomination and Annemarie Jacir breaking barriers as the first Palestinian woman to ever have a feature film release.
Director Annemarie Jacir said, 'I think people in the Arab world need to see their own stories on screen. It's all very well making films about beautiful people who live far away, but to be able to see a film about your own life, and the kind of people you know and hear your own accent, it's equally important. It tells you your life is worthy too, your small stories count, your life counts. Cinema is not something for people in other places.'
For aspiring film directors like scholarship recipient Hanadi Elyan, expressing herself and her vision of the Middle East honestly is at the core of her work. With years of filmmaking experience under her belt and even a production company based in Dubai called Reel Arab Productions, her previous films Nadia's Visa, Mariam's Chance and The Beach Trip revolve around Arab women and girls navigating their place in the modern world. Rather than playing to the script Hollywood has laid out for the region with controversial representations in films such as Indiana Jones and the Last Crusade or more recently the show Homeland, Jordanian-Palestinian Hanadi is determined to forge her own path.
She said, 'I think the real problem lies in the recurring stereotypes we see on TV and movies constantly, the radical, the uneducated and the extreme. Knowing that this image is of a tiny minority that represents itself only, out of all the peaceful hard working earnest hundreds of millions of Arabs or over a billion Muslims...For me, breaking stereotypes has become a personal mission that I attempt to chip at one film at a time.'
A crucial element to that is learning how to tell her own story however, something that Teri mentions is as the heart of the scholarship's application requirements. Beyond looking for women who 'are fully aligned with the UCLA School of Theatre, Film and Television vision and mission', having a powerful point of view is a major consideration when she and Hani handpick successful recipients.
She said, 'We look for the most interesting women who have unique, personal, humanistic, courageous, meaningful stories to tell – stories that can entertain; illuminate our human condition; build bridges of understanding; and even inspire social impact.'
It's something that bleeds through into Hanadi's time on the programme too. When we ask her what the most significant thing she's taken away from her Masters so far is, she immediately responds, 'If I had to pick one only, then I would thank [UCLA] for teaching me to trust my instincts in the big world of storytelling. Every single person in the world can tell a story in one way or another, and a particular story can be told in so many different ways, I [have] learned to trust my voice and appreciate that it will be always unique if I listened closely.'
Another major barrier that Teri identifies is the difficulties aspiring female Arab creatives have in 'gaining the necessary funding and access to the highest levels of film education, mentoring and training that will prepare Arab women filmmakers to enter the industry with the artistry, skill, confidence and real-world experience that a rapidly evolving industry demands'.
Which is where Hani Farsi and his foundation steps in. Hani, who produces independent films through his company Corniche Pictures and also served as a Donmar Warehouse Theatre Company's board of trustee member for several years, and his foundation carries the full weight of the scholars' tuition and accommodation.
He said, 'I want to give women in my part of the world a voice to tell their stories. My hope is we see a great selection of films coming out of the Arab world addressing a wide number of issues. I want us to hold a mirror up to ourselves, to examine what needs to be changed and what must be preserved.'
His philanthropic streak is one that seems to be hereditary, as his father Dr. Mohamed S. Farsi (who the foundation is named after) had similar inclinations. Recognised as a Patron of the Arts for the Middle East in 2010, he had a vast love of art and for his region and worked tirelessly as a city planner to integrate modern art into public spaces - not all too different from his son's aspirations to help bring diverse cinematic works into the mainstream.
Hani cites the Arab Spring, a series of democratic protests that spread like wildfire across the Middle East in 2010, as the catalyst for the setting up the scholarship programme. As a cultural shift swept through the region and voices were raised, Hani wanted to do his part to help those who had a lot to say - but needed a platform.
He said, 'I want to give women in my part of the world a voice to tell their stories. My hope is we see a great selection of films coming out of the Arab world addressing a wide number of issues. I want us to hold a mirror up to ourselves, to examine what needs to be changed and what must be preserved.'
And the world appears to finally be listening, if the past 2018 Oscars are anything to go by. Two Middle Eastern films were nominated at the career-making ceremony, including The Insult directed by Ziad Doueiri for Best Foreign Language Film and Syrian film director Feras Fayyad's Last Men in Aleppo for Best Documentary.
While neither of the male directors won, it was a grand stride forwards for Middle Eastern film. Fayyad told Reuters at the time, '[Being nominated] opens the road for other filmmakers and artists to think that there's nothing impossible, especially in a time (when) your country is destroyed, your resources are less, and the people who could stand with you are less.'
For Arab women in film and UCLA's upcoming female graduates, it won't be long till they find themselves edging out the competition on the roster. In fact, a spokesperson for the Mohamed S. Farsi foundation confirmed that the scholarship programme could soon open doors for even more new talent. Since launching in 2015, the scheme has garnered a lot of attention and expansions will be announced at the prestigious Cannes Film Festival on May 14.
The first intake of scholars is set to graduate this year and they'll be launched into the scene as fully fledged professionals, including Hanadi who will take into future projects her love of her home, a passion for storytelling and an arsenal of tools from one of the most prestigious film schools in the world. Beyond breaking stereotypes and offering something new and exciting to the scene, there's something else that resonates deeply within her though.
'It gives me a big thrill when I have people come to me after a film screening to tell me that they too know exactly how the characters that I wrote felt. And [that] they can easily relate,' she said.
At the end of the day, reaching across the table to all kinds of people, to have your story seen and be deeply understood is what's at the core of the our little human experience. With voices like Hanadi's on the scene, it's a small step towards tearing down the barriers that divide us - replacing them instead with silver cinema screens and rooms full of people ready to listen.
To celebrate the MSFF Foundations 10th Anniversary and the Arab women film makers Scholarship at UCLA, the foundation will be celebrating the incredible women that are helping to redefine the film industry on October 17th, where the Dean of UCLA film, theatre and television, Teri Schwartz, and film Director Lord David Puttnam, will be giving a speech about the importance of giving voice to the unique perspective of Arab women.
Celebrity news, beauty, fashion advice, and fascinating features, delivered straight to your inbox!
Megan is a freelance journalist who covers entertainment and all things lifestyle, with a particular passion for fashion, beauty, travel and Keanu Reeves stories. She has previously worked on staff for titles including Marie Claire UK, CNN Style and The Evening Standard and has written for titles such as Bustle UK, Wallpaper*, Forbes and Hong Kong Tatler. She splits her time between London and her hometown Hong Kong, where she currently lives with the love of her life - an elderly dog named Poppy - and her husband.