11 Reasons Why We Really, Really Love Olivia Colman
To celebrate the return of Broadchurch tonight, here are just a few of the reasons why we adore Olivia Colman.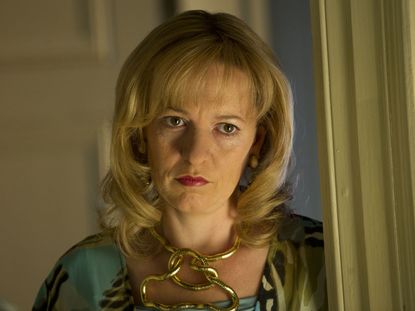 (Image credit: Rex Features)
To celebrate the return of Broadchurch tonight, here are just a few of the reasons why we adore Olivia Colman.
1. She's Adorably Awkward
The next time you're forced to sit too close to your crush, you've just got to ask yourself, 'What would Olivia Colman do?' Like us, Olivia turns to jelly at just the mention of Luther hunk Idris Elba, but on a recent TV appearance, where she sat on a sofa next to him, all she could say is that she nearly weed herself… (Please note her timorous giggle and the way that she can't keep her hands still.)
2. She Gives A Cracking Acceptance Speech
3. She Will Forget The Name Of Her Character In An Interview
If there ever was a piece of prep actors are briefed on, pre-promo appearance, it's to remember your character. Being the ultimate self-effacing actor, Olivia will never talk up her role in a movie, she'll claim she didn't prepare and laughs in the face of compliments about her work. Modest, much?
4. Because She Has The Cheekiest, Most Mischievous Face
Like a naughty school girl, Olivia always looks as if she's said something a little bit wrong. This one's just a big kid at heart…
5. She Can Do Comedy Chicks AND Ballsy Women
The juxtaposition between Broadchurch's DI Ellie Miller and Peep Show's Sophie Chapman couldn't be bigger, but it seems Olivia can turn her hand to anything the acting world throws at her. She says, 'I suppose I have played a lot of put-upon women, but it's never bothered me. They've never been weak – they've always got steel in them. Mind you, one day I'd like to play an absolute bitch.'
6. She Rewinds Meryl Streep's BAFTA Speech Again And Again
While most of us might watch Meryl Streep's 2012 BAFTA acceptance speech a second time to see her lose her shoe on the stairs and be rescued by the delectable Colin Firth; Olivia recalls the special mention she received from gal pal co-star Meryl...
7. Just Because We Remember This…
8. She Could Send You Off To Sleep With The Sound Of Her Voice
Like many character actors, Olivia Colman has exactly the kind of magical tone that could send us off into a blissful slumber. That's right, she reads children's audio books in her spare time. Cute.
9. She Says Lovely, Nice Words.
Yes, Olivia Colman, is in fact the sweetest actress on TV. Bitching? Not a chance. In fact, the notion of 'celebrity' rather embarrasses the humble actress: 'I'd feel bad pretending my life was anything other than pretty good, so I do the role as well as I can and then I go home, have a cup of tea, see my family and friends and appreciate what I've got,' she explains.
10. Her Face Is About The Most Lovely Thing We've Ever Seen
She's been praised for being able to switch on the waterworks (convincingly) at the flick of a switch but we're rather fascinated by the many faces of Olivia Colman. If you hadn't noticed she smiles A LOT. She says, 'I was never one of those surly teenagers who doesn't smile. My lovely godfather said it was always lovely to see me because I was the only teenager who smiled. And I was so in awe of him, I thought it was one of the best things anyone had ever said to me. So it made me want to live up to what he said.'
11. We'd Just Really Like To Share A Cup Of Tea With Her
Olivia Colman couldn't really get much more down to earth if we were sharing tea with her on the actual floor. She admits she's just a normal woman with hang ups - and so what if Hollywood hasn't called yet? 'I eat a bit too much; my teeth aren't perfect; I've got eye bags. I look like a normal 39-year-old woman – but in England no one minds that,' she says. Just our cup of tea.
Broadchurch returns to ITV on 5 January at 9pm. Watch the trailer below...
Celebrity news, beauty, fashion advice, and fascinating features, delivered straight to your inbox!