#savethearts Jade Anouka: 'It took a while for me to stop, to breathe, to feel the loss'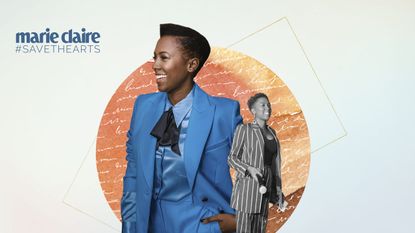 Currently appearing as witch queen Ruta Skadi in BBC1 hit His Dark Materials, Jade Anouka is also a celebrated poet and playwright. Contributing to Marie Claire's #savethearts campaign, Jade explains why creatives must now lead with their hearts, as the arts industry starts on its long road of recovery from the pandemic
I can't wait for theatre, music and all live performance to come back with a bang. But we need to use this time to reconfigure the structures that were in place and have been for so long. We also need to be kind to each other, knowing to varying degrees, that these last months have been difficult for all. You don't know how tough it's been for the next person, let's lead with our hearts.
I'm very much the kind of person that wants to fix things. As soon as the theatres closed I eagerly began to look for ways to keep performance and creativity alive. I pushed my feelings to the side and went into action mode. While many people were throwing Zoom parties, baking sourdough loaves and learning to knit I was furiously writing, scheming, making, DOING!
We're social beings
It took a while for me to stop, to breathe, to feel the loss. I can't speak for everyone but I know what it feels like to be one of thousands at an arts festival dancing under the moonlight, I know what it feels to be one of hundreds in a theatre collectively gasping, I know what it feels to listen to a poet pour their heart out with the rhythm of a jazz beat and the intelligence of a scholar, and I know what it feels like to have lost that. It hurts. Humans are social beings whether that's anonymously within a shared experience or in the embrace of friends. It's been an isolating time and I'm sure that's had an effect on all of us to some degree.
As a writer, I had my debut play, Heart, due to premiere this June. It's is a semi-autobiographical one-woman show told through poetry. That not happening hit me hard and finding a new and right time for it is going to be difficult. Despite that, I've spent a lot of the year writing. I finished a third draft of my second play and began developing my third with theatre company, Paines Plough, over Zoom. I also wrote and directed my first short film: Her & Her.
Mentoring makes a difference
Although lockdown ended up being quite busy, I found it difficult, not being able to collaborate in the same way, getting in a room and sharing ideas with others. But I wrote a short monologue and a couple of young new actors performed it at separate online events. One of whom was my National Youth Theatre mentee. I was also asked to be on the board of a brilliant new part-time drama school called All In Actors, based in South London. Working with that team and being able to offer support to students is something I've enjoyed and hope to do a lot more. It's not easy being a new creative coming into the industry at this time.
There needs to be an acknowledgement of what the arts do, not just financially (which is a huge amount), but also how it feeds the very essence of us as humans. It helps us understand ourselves and others, it encourages conversation and access to our feelings, it connects us. It's vital and government policy should reflect that.
* During a lockdown Jade was commissioned by the BBC and the Arts council to create a short film which she wrote, directed and starred in alongside Grace Savage, it's called Her & Her and is still available to watch on iPlayer or Jade's YouTube channel. Anouka recently did a TEDxTalk titled Being Black, being a Woman, being 'Other'.
* Follow @JadeAnouka on Twitter, Instagram and YouTube
* Get involved with our Save The Arts campaign this week via our social media platforms @marieclaireuk #savethearts
Celebrity news, beauty, fashion advice, and fascinating features, delivered straight to your inbox!
Maria Coole is a contributing editor on Marie Claire.
Hello Marie Claire readers – you have reached your daily destination. I really hope you're enjoying our reads and I'm very interested to know what you shared, liked and didn't like (gah, it happens) by emailing me at: maria.coole@freelance.ti-media.com
But if you fancy finding out who you're venting to then let me tell you I'm the one on the team that remembers the Spice Girls the first time round. I confidently predicted they'd be a one-hit wonder in the pages of Bliss magazine where I was deputy editor through the second half of the 90s. Having soundly killed any career ambitions in music journalism I've managed to keep myself in glow-boosting moisturisers and theatre tickets with a centuries-spanning career in journalism.
Yes, predating t'internet, when 'I'll fax you' was grunted down a phone with a cord attached to it; when Glastonbury was still accessible by casually going under or over a flimsy fence; when gatecrashing a Foo Fighters aftershow party was easy-peasy-lemon-squeezy and tapping Dave Grohl on the shoulder was... oh sorry I like to ramble.
Originally born and bred in that there Welsh seaside town kindly given a new lease of life by Gavin & Stacey, I started out as a junior writer for the Girl Guides and eventually earned enough Brownie points to move on and have a blast as deputy editor of Bliss, New Woman and editor of People newspaper magazine. I was on the launch team of Look in 2007 - where I stuck around as deputy editor and acting editor for almost ten years - shaping a magazine and website at the forefront of body positivity, mental wellbeing and empowering features. More recently, I've been Closer executive editor, assistant editor at the Financial Times's How To Spend It (yes thanks, no probs with that life skill) and now I'm making my inner fangirl's dream come true by working on this agenda-setting brand, the one that inspired me to become a journalist when Marie Claire launched back in 1988.
I'm a theatre addict, lover of Marvel franchises, most hard cheeses, all types of trees, half-price Itsu, cats, Dr Who, cherry tomatoes, Curly-Wurly, cats, blueberries, cats, boiled eggs, cats, maxi dresses, cats, Adidas shelltops, cats and their kittens. I've never knowingly operated any household white goods and once served Ripples as a main course. And finally, always remember what the late great Nora Ephron said, 'Everything is copy.'