The Christmas rules according to Rita Ora
The singer talks underwear, America's Next Top Model and her Christmas hangover cure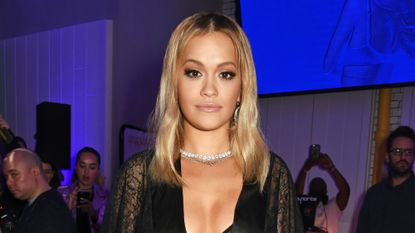 The singer talks underwear, America's Next Top Model and her Christmas hangover cure
It's been almost five years since Rita Ora first burst on to the scene, with her unmistakable vocals featuring on the chart-topping DJ Fresh track Hot Right Now. Since then, the 26-year-old has scored more number one hits, judged the X Factor, played Christian Grey's sister Mia in Fifty Shades of Grey and fronted countless high-profile campaigns. She's now collaborated with underwear label Tezenis on an instantly covetable capsule collection.
We caught up with her to find out more (and slipped in a few festive questions too, because you know, Christmas)…
What drew you to working with Tezenis? I've had a lot of offers to do lingerie lines with a bunch of different designers, massive ones, and I never really wanted to do it because I never felt like my body was appropriate. It's not the typical model's physique. Then I said to myself, "You know what? That's one of the reasons I should do it." Tezenis has never collaborated with anyone before and I love to build with a brand and create a story.
What's your favourite piece from the collection? The one I'm wearing right now, the Velvet Kiss bra.
What's your go-to everyday underwear? I'm not a thong fan. I wear them when I need to, but I'm very much more of a sexy brief or boxers type of girl. I like bikini bras.
What about on the red carpet? You have to wear what's appropriate for the dress. Sometimes you have to wear Spanx, and I do. I absolutely love them.
You've just taken over from Tyra Banks as the head judge of America's Next Top Model… I used to love the show growing up, so it was amazing to be in control of it all. We're looking for a boss, so it's all about attitude. I do this weird face thing but you'll have to watch it to find out more.
What's your best piece of advice for being a boss? Always stick with your gut.
What's on your Christmas list this year? I want a new garden, you know, normal things! I would love to visit India, too. I'm a big traveller and I'd do the whole hostel thing for sure. The most interesting place I've been so far is Vietnam.
What's the worst Christmas present you've ever received? My friend bought me a pet hamster when I was about 13, but only in a ball. There was no cage, no water bottle and no food. I was like, 'What do you want me to do with it?' I gave it away.
Worst present you've ever given? Something that someone gave to me first. I can't tell you what it was because my friend would never forgive me, but it was jewellery.
What's your favourite Christmas song? Mariah Carey, All I want for Christmas.
Christmas drink? A glass of red wine.
What about your Christmas hangover cure? A quarter chicken and chips from Nandos. Extra hot!
Celebrity news, beauty, fashion advice, and fascinating features, delivered straight to your inbox!