In honour of his birthday, here are 10 reasons Tom Hardy makes us go weak at the knees
Three words – father, dog lover, feminist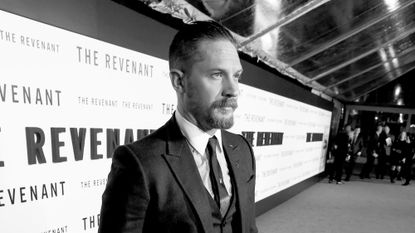 Three words – father, dog lover, feminist
Oh Tom Hardy, how do we adore thee? Let us count the ways...
Seriously though, from his love of man's best friend (his tribute to his late dog, Woody, made us weep) and his uncanny ability to shoot down sexists, there has been many a time that Mr Hardy has swept us off our feet.
Tongue in cheek aside, he is a genuinely lovely, caring guy, having helped fundraise for the victims of the Grenfell tower fire earlier this year.
In honour of his birthday, let's revisit some of our favourite qualities about one of the suavest men in the business.
When he stands up for women in the film industry
Tom has said some pretty empowering things about women in Hollywood, calling for better roles and insisting that women should be celebrated more across the arts.
He recently said: 'I think with writing for women and films for women, there could be much better material out there and could be advanced a little more, especially today.
'It'd be interesting to take crime-genre and replace men's parts and have women play them, and not even question it.'
When he stands up for women in general
Raise your hand if you love a guy who loves his mum.
'My mum is the most special woman in the world, next to my wife and hopefully, one day, maybe a daughter. Women are the most profoundly important people who supported my growth and development as a person.'
'My relationship with my mother and strong women – their support and innate wisdom have helped me carve my way through today. So, I have tremendous and profound respect for women. But I am still human. My wife would probably pick me apart for still being irritating. I'm a bloke, you know.'
Swoon.
He's a practical joker
The world fell in love with Tom's humorous side when he played the spoon trick, a well-known practical joke, on his unsuspecting stunt double, Luke Hampton.
Remember that time he rescued a kitten? The guy's an animal lover
Tom is known for being a dog-lover but it turns out he has a soft spot for our feline friends too.
He knows a lot about women's shoes
http://giphy.com/gifs/tom-hardy-the-drop-noomi-rapace-6H5UGoB74YhwY
'I have a fetish for women's heels. I went to the Cartier polo this year. It was crazy. Full of posh women in high heels and pencil skirts dancing to "Goldigger." I had no idea what to do.'
He added: 'I'm always looking out for women's shoes. I buy my agent shoes.'
We could go on...
That time he was spotted with a Tom Hardy phone case
Is there anything more inspirational than having a phone case of yourself?
No. No, there is not.
Every time he talks about his love of dogs
http://giphy.com/gifs/tom-hardy-KVHRmckMDmMXS
'There's something about the dog which is full of heart,' he once said. 'It's loyal, and you know no matter what you do to it, it will always love you.'
Tom saved his dog Woody, then a stray puppy on the streets, while he was filming Lawless. Sadly, Woody passed away earlier this year, after which Tom published a heartbreaking open letter in tribute.
He's also said that his first dog Max was his support system when he was a struggling actor: 'I wouldn't go to class unless Max was allowed in. My old drama teacher said, "I remember when you used to walk into class with your dog in one hand and a can of Coke in the other."
'I had an identity and higher self-esteem because Max relied on me and loved me constantly.'
Let's not forget his CBeebies bedtime stories
I mean, what better way to drift off to sleep than with his dulcet tones in your ears? We were all devastated when Tom Hardy's last ever CBeebies bedtime stories aired earlier this year – plus he used to take Woody on the show with him *sobs uncontrollably*.
When he shows everyone what a good father looks like
Tom has a son, seven-year-old Louis from a previous relationship, and in 2015 welcomed a new baby with wife Charlotte Riley. The couple have managed to keep their baby out of the spotlight, as their name and gender is still not known two years later.
The actor has been very open about how fatherhood changed him as a person. He told the Daily Mail in 2016: 'It changed my life. That was when the penny dropped that there was no longer time for me to think about myself any more – because there is somebody now on the planet who really needs me to get my act together, and focus on something that is more important than me.'
He's just an all-round selfless guy
Tom Hardy has spoken publicly about his own struggles with alcohol and addiction. He's now an ambassador for the Prince's Trust and carries out important work on their behalf, meeting and mentoring young people, ensuring they never give up on their dreams.
What an absolute sweetheart.
Celebrity news, beauty, fashion advice, and fascinating features, delivered straight to your inbox!