The 12 greatest speeches of all time, by 12 inspirational women
We celebrate the greatest speeches of all time, spoken by women who have changed the world for the better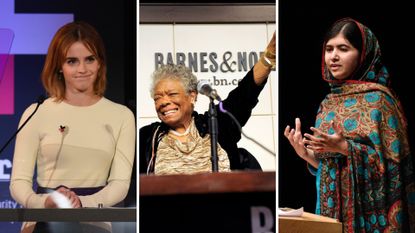 (Image credit: Getty Images)
Let these greatest speeches of all time empower you as a woman and unite us all in a quest for positive change. Words can be incredibly powerful, as is shown in these insightful, spine-tingling and, at times, revolution-inspiring speeches, spoken by great women throughout history such as Maya Angelo and Emmeline Pankhurst, as well as modern change-makers like Hilary Clinton and Emma Watson.
It's easy for women's voices to get lost in a sea of historic rhetoric. The most quoted speeches of all time are often those delivered by men, the words of many great women swept under the carpet. Swimming against the current, women have had to speak louder to get their voices heard. In the words of Virginia Woolf, they've had to create a room of their own. So we've rounded up ten inspirational women to celebrate those who found a room and encouraged others to do the same.
In a social and political landscape where women are still under-represented, many of these speeches remain relevant for women fighting for equality. Take for example Emma Watson's UN "He For She" speech—nearly a decade later we are still fighting for equal pay. Or Hilary Clinton's impassioned delivery of "women's rights are human rights"—a quote that feels more relevant than ever considering the overturning of Roe Vs Wade last year, taking autonomy away from women and their bodies in 21 states in the US.
Now more than ever, it's important for women to support other women and allow their voices to be heard. These are the greatest speeches of all time, delivered by women, and for women.
The greatest speeches of all time by women
1. Virginia Woolf, "A Room Of One's Own" (1928)
"My belief is that if we live another century or so—I am talking of the common life which is the real life and not of the little separate lives which we live as individuals—and have five hundred a year each of us and rooms of our own; if we have the habit of freedom and the courage to write exactly what we think..."
Based on a series of lectures Woolf delivered in October 1928, A Room Of One's Own has since been heralded as a feminist manifesto. Her words continue to inspire women in 2015 nearly a century after she first spoke them.
The speech strikes at the heart of patriarchy and argues that without financial independence and access to education—ideological, social and creative freedom is out of reach. Virginia knew this truth all too well: her own father believed only boys profited from schooling. As a result, she didn't go. Her strength of spirit defied even her own father: "Lock up your libraries if you like", she said, "but there is no gate, no lock, no bolt that you can set upon the freedom of my mind."
2. Emma Watson, "Gender equality is your issue too" (2014)
"I am from Britain and think it is right that as a woman I am paid the same as my male counterparts. I think it is right that I should be able to make decisions about my own body. I think it is right that women be involved on my behalf in the policies and decision-making of my country. I think it is right that socially I am afforded the same respect as men. But sadly I can say that there is no one country in the world where all women can expect to receive these rights."
In 2014, Emma Watson partnered with UN Women to launch their HeForShe campaign fighting to end gender inequality and it's still relevant nearly a decade later.
"In 1995, Hilary Clinton made a famous speech in Beijing about women's rights. Sadly many of the things she wanted to change are still a reality today." Watson continues, and speaking of Clinton...
3. Hillary Clinton, "Women's Rights Are Human Rights" (1995)
"If there is one message that echoes forth from this conference, let it be that human rights are women's rights and women's rights are human rights once and for all. Let us not forget that among those rights are the right to speak freely—and the right to be heard."
Five words that said it all: "Women's rights are human rights".
In 1995, Hillary Clinton's speech at the United Nations Fourth World Conference on Women in Beijing marked a watershed moment for women's rights. What makes this speech so inspirational isn't just the words she spoke but where she spoke them. Defying both US administration and Chinese pressure to dilute her remarks, she went for the jugular. It was a full-blown attack against policies abusing "unheard" women around the globe—not just China.
4. Malala Yousafzai's "I am here to stand up for their rights, to raise their voice" (2014)
"I am those 66 million girls who are deprived of education. And today I am not raising my voice, it is the voice of those 66 million girls. Sometimes people like to ask me why should girls go to school, why is it important for them. But I think the more important question is why shouldn't they? Why shouldn't they have this right to go to school?"
At the age of 17 Malala Yousafzai was awarded a Nobel Peace Prize for her work fighting for every child to receive an education. As the youngest winner of the prize, the activist's powerful acceptance speech is not one to be forgotten.
"Let us become the first generation that decides to be the last that sees empty classrooms, lost childhoods and wasted potentials. Let this be the last time that a girl or a boy spends their childhood in a factory. Let this be the last time that a girl is forced into early child marriage.
"Let this end with us. Let's begin this ending . . . together . . . today . . . right here, right now. Let's begin this ending now."
5. Sojourner Truth, "Ain't I A Woman" (1851)
'I have as much muscle as any man, and can do as much work as any man. I have plowed and reaped and husked and chopped and mowed, and can any man do more than that?'
Named Isabella Baumfree, it says a great deal about Sojourner that she called herself Truth. She spoke it. An African-American abolitionist and women's rights activist, Truth was born into slavery in New York, sold at auction with a flock of sheep for $100 in 1806, escaping with her baby daughter in 1826.
Oprah Winfrey has recited Truth's inspirational speech many times since.
6. Nora Ephron, "Commencement Address To Wellesley Class Of 1996" (1996)
"Whatever you choose, however many roads you travel, I hope that you choose not to be a lady. I hope you will find some way to break the rules and make a little trouble out there. And I also hope that you will choose to make some of that trouble on behalf of women."
Nora also spiked her speech with words of caution: "Understand: every attack on Hillary Clinton for not knowing her place is an attack on you," she rallied. Her words still echo today and one sentence rings eternally true: "Above all, be the heroine of your life, not the victim."
7. Aung San Suu Kyi, "Freedom From Fear" (1990)
"Fearlessness may be a gift but perhaps more precious is the courage acquired through endeavour, courage that comes from cultivating the habit of refusing to let fear dictate one's actions, courage that could be described as 'grace under pressure'—grace which is renewed repeatedly in the face of harsh, unremitting pressure."
Burma's "woman of destiny" has inspired millions during her lifetime of political activism and captivity, held under house arrest for 15 of the past 21 years in Burma. Receiving the Sakharov Prize for Freedom of Thought in 1990, this now-famous speech followed in acceptance appeals to the spirituality of human nature: it's bravery, compassion and conviction.
8. Gloria Steinem, "Address to the Women of America" (1971)
"This is no simple reform. It really is a revolution. Sex and race, because they are easy, visible differences, have been the primary ways of organizing human beings into superior and inferior groups, and into the cheap labour on which this system still depends. We are talking about a society in which there will be no roles other than those chosen, or those earned. We are really talking about humanism."
In 1971 Gloria Steinem delivered an inspiring Address to the Women of America. It would soon be regarded as one of the most memorable speeches of the second-wave feminist era. What made her speech so powerful wasn't just its attack on sexism, but its focus on the intersectional issues of racism and class.
9. Greta Thunberg, "We'll be watching you" (2019)
"I shouldn't be up here. I should be back in school on the other side of the ocean. Yet you all come to us young people for hope. How dare you? You have stolen my dreams and my childhood with your empty words, and yet I'm one of the lucky ones. People are suffering, people are dying. Entire ecosystems are collapsing. We are in the beginning of a mass extinction and all you can talk about is money and fairytales of eternal economic growth."
Greta Thunberg was only a teenager when she gave one of the most powerful speeches on climate change. Thunberg's United Nations speech in 2019 is the one everyone remembers when the name Greta Thunberg comes to mind. Albeit only a teenager, she has made many a powerful speech since, including asking world leaders to stop delivering 'empty promises'.
10. Maya Angelou, "On the Pulse of Morning" (1993)
'"Here on the pulse of this new day, you may have the grace to look up and out And into your sister's eyes, Into your brother's face, your country And say simply Very simply With hope Good morning."
Maya Angelou was only the second poet in history to read a poem at a presidential inauguration, and the first African American and woman. Touching upon the themes of change, inclusion and responsibility, it has since been called Angelou's "autobiographical poem".
Maya Angelou was an extraordinarily wise woman. One of her most inspiring quotes to live by?
"If you don't like something, change it. If you can't change it, change your attitude."
11. Ruth Bader Ginsberg, "The Value of Diversity" (2009)
"As you leave here and proceed along life's paths, try to leave tracks. Use the education you have received to help repair tears in your communities. Take part in efforts to move those communities, your Nation, and our world closer to the conditions needed to ensure the health and well-being of your generation and generations following your own."
Ruth Bader Ginsberg delivered this passionate keynote speech to graduates at Sciences Po in 2009. Nicknamed the 'notorious RBG' for her fighting spirit and tireless pursuit towards equality, in terms of both gender and race, this speech emphasises the importance of 'repairing the tears' in communities and coming together to build a stronger world for the generations after us.
She explains earlier in the speech: "We will all profit from a more diverse, inclusive society, understanding, accommodating, even celebrating our differences, while pulling together for the common good."
After her passing in 2020, former President of the United States Barack Obama published a statement that read: "She was someone who believed that equal justice under law only had meaning if it applied to every single [individual]."
12. Julia Gillard "Misogyny speech" (2012)
"I rise to oppose the motion moved by the Leader of the Opposition, and in so doing I say to the Leader of the Opposition: I will not be lectured about sexism and misogyny by this man. I will not. The government will not be lectured about sexism and misogyny by this man—not now, not ever.
"I hope the Leader of the Opposition has a piece of paper and he is writing out his resignation, because if he wants to know what misogyny looks like in modern Australia he does not need a motion in the House of Representatives; he needs a mirror. That is what he needs."
In an iconic moment in feminist history, Australian Prime Minister Julia Gillard gave an impassioned speech on misogyny that has continued to hold its power to this day. Julia's speech was in response to opposition leader Tony Abbott accusing her of sexism, calling for her to sack Speaker Peter Slipper following an accusation of misogynistic text messages.
Julia later said of the speech: "After every sexist thing directed at me that I'd bitten my lip on, now I was going to be accused of sexism – the unfairness of that. That anger propelled it."
---
If you're searching for more inspiration on the themes in these speeches, we've rounded up all the best feminist books to add to your reading list and four feminist petitions to sign.
Celebrity news, beauty, fashion advice, and fascinating features, delivered straight to your inbox!