'When you're arrested, you realise no one can save you' Shailene Woodley on being a Hollywood eco warrior
Most actors are calling themselves activists these days, but few would put their career on the line for a cause they truly believe in. Thankfully, Shailene Woodley isn't most actors. In this exclusive interview, she tells Mickey Rapkin about getting arrested, giving away her personal possessions and popping her political hymen (Susan Sarandon's words, not ours)…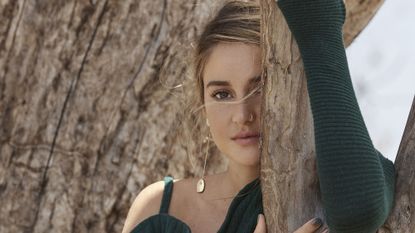 (Image credit: Olivia Malone)
Most actors are calling themselves activists these days, but few would put their career on the line for a cause they truly believe in. Thankfully, Shailene Woodley isn't most actors. In this exclusive interview, she tells Mickey Rapkin about getting arrested, giving away her personal possessions and popping her political hymen (Susan Sarandon's words, not ours)…
Last October, Shailene Woodley found herself at the Standing Rock reservation in North Dakota, America, protesting against the Dakota Access pipeline, a controversial piece of infrastructure built atop the Sioux tribe's sacred ground. This protest wasn't simply about respecting Native American sovereignty, though that was certainly top of mind for the actress-turned-activist, who is horrified by 200 years of oppressive treatment of indigenous people. This was also a sustainability issue that threatened 18 million people's drinking water.
Woodley, an outspoken critic of the crude oil pipeline and a frequent visitor to Standing Rock, was walking to her RV for lunch when she spotted two US military tanks. 'I'm like, "This is some Divergent shit,"' she recalls, referencing the post-apocalyptic trilogy she's best known for. 'The only time in my life that I saw a tank like that was on set in Atlanta.'
The moment of Shailene Woodley's arrest
Minutes later, Woodley was arrested for criminal trespassing and engaging in a riot. Some 40,000 people watched on Facebook Live as her hands were zip-tied behind her back. At the Morton County jail, she reveals, 'I was strip-searched. Like get naked, turn over, spread your butt cheeks, bend over. They were looking for drugs in my ass.' She recently joked with US comedian Stephen Colbert about her mugshot ('I wish I'd known this was going to be as public as it was. I would have made, like, a face.') But there was nothing funny about her arrest. 'When you're in a jail cell and they shut that door, you realise no one can save you. If there's a fire and they decide not to open the door, you'll die. You are a caged animal.'
Anyone can call themselves an activist these days (and many actors do), but with Woodley, 25, actions speak louder than words. She's telling me this harrowing story over breakfast at one of her favourite organic LA spots, Sqirl (run by another badass woman concerned with sustainability, chef Jessica Koslow). Shai, as her friends call her, looks the part of the optimistic, millennial game-changer – hair California blonde (for a role), nose ring firmly in place.
But what you notice most are her eyes. They're kind but determined. Woodley's eco-friendly lifestyle is well documented; this is the girl who makes her own toothpaste, and who once told an American women's magazine that 'cramp bark is the best thing for menstrual cramps'. In the final season of Girls, Hannah (Lena Dunham) extols the virtues of one of Woodley's most talked about self-care routines: 'Shailene Woodley likes to go to a private area, open her vagina, and let the sun in. And that's how she gets her glow. So, when she goes to, like, the Insurgent premiere, that's not make-up. That's sun in her pussy.'
While I fumble with a way to artfully discuss that Girls moment, Woodley saves me from myself: 'The vagina thing? For like, two weeks I had so many people sending it to me. I loved it so much. I thought it was amazing.' Which is to say, she has a sense of humour about herself. But not about what she believes in. 'This world isn't something to take for granted,' she explains. 'The only way to address climate change and these radical, detrimental policies is for us, as citizens, to shift our lifestyles. People are too comfortable. We're complacent in many ways. We need to be willing to get uncomfortable.'
Shailene's tips on how to be an environmental activist
As Marie Claire launches its sustainability campaign, #startsomewhere, here's how our cover star does it…
Woodley has been concerned with sustainability and climate change since she was a teenager. 'I was the weirdo girl in high school who tried to get everyone to recycle.' That doesn't sound so weird, I say. 'It was weird at the time,' she insists, reminding me how cruel kids can be, and how strong one needs to be to challenge the Establishment.
While her career exploded – a Golden Globe nomination for The Descendants (2011), a coveted role leading the resistance movement in Divergent (2014) – Woodley went minimalist, eschewing the trappings of young Hollywood and even giving away most of her possessions. She stashed what little remained at friends' houses around town – 'Shai piles,' they called them. The girl didn't have a home, let alone a mobile phone. Lionsgate, the studio behind the Divergent series, eventually had to force a phone on her just so they could track her down. Still, Woodley turned that phone off for three months this year due to the post-traumatic stress disorder symptoms she and her friends were experiencing post-Standing Rock. 'There was so much trauma,' she explains. 'Mine was like, "What do I do now?" Kind of like a little bit of depression.' This perhaps explains how Woodley was the last person in the world to find out George and Amal Clooney had welcomed twins (George played her father in The Descendants). (When I mention the recent birth, she says: 'They did? That's amazing. I don't know what's going on.')
Woodley's passion for the environment evolved into something more vital, more actionable when she went to Hawaii (which she now calls her spiritual home) to film The Descendants. She recalls watching an elder fight to save Mauna Kea, a dormant, skyscraping volcano on the Big Island where the US government planned to install an 18-story high, $1.5 billion telescope on sacred ground. Two years of protests resulted in a voluntary halt of the project in 2015. 'They stood on the mountain for months and held down the fort,' she explains. 'And they ended up winning the battle.'
The struggle at Mauna Kea taught her the power of showing up, of what happens when the few become the many – a philosophy she put to good use in 2016 when she organised a caravan to the Democratic National Convention in support of Bernie Sanders. More than 1,000 people joined her in driving across the country. While Sanders may not have won the nomination, he inspired a revolution. These fiercely determined young people were all looking at Woodley and asking: Now what? So the actress and some friends started the organisation Up To Us, which provides infrastructure for community organising and helps make introductions between organisations. 'There's a misconception that, in order to start a movement, you need to have gone to college, or have a "name", or look a certain way. But you don't. We want to eradicate that narrative,' she says.
What can you do to make a difference? This is something Woodley thinks about daily. While this next step isn't as sexy as attending a rally, she says, the biggest power you have is in your pocket. 'Look at your wallet and recognise that every dollar you spend is either a vote towards the destruction of our planet or towards its empowerment.' She recommends downloading an app called Buycott, which lets you scan an item's barcode with your phone to find out who the parent company is and whether their investments align with your beliefs, or HowToDivest.org, which tells you where your bank currently invests its money.
Start by looking at these issues from a macro level. Take, for instance, genetically modified food. 'Eating organic is obviously healthy for the longevity of our bodies,' says Woodley. 'But when we talk about GMOs, we have to address every aspect of what corporate dominion over our agriculture really means.' Watch documentary GMO OMG, which looks at the issue with equal parts humour and edification, and take it from there. When visiting a restaurant for the first time, ask the chef what farm the meat comes from. For news on fracking, follow voices like Mark Ruffalo, and Josh Fox, who directed Gasland, the Sundance award-winning documentary. She also cites Food & Water Watch (@foodandwater), which 'goes into communities that often get overlooked and gives them legal platforms to stand up to the oil and gas industry'.
If you do nothing else today, buy a reusable water bottle from a company such as Hydro Flask ('I like it because it keeps my water very cold for a long time') or LifeStraw, whose bottles come equipped with a built-in filter, which helps 'when you're at the airport filling it from a drinking fountain and there's chlorine and heavy metals'. Yeah, sometimes it's inconvenient, but that's the point.
Shailene's fight against Donald Trump
It has been a rough few months for environmental activists. President Donald Trump withdrew from the Paris climate agreement and, a few days before Woodley and I meet, news reports surface of a 120-mile crack in the Antarctic ice shelf, which can contribute to dangerously high sea levels. Two days earlier, Trump stood in front of the Dakota Access Pipeline – now pumping oil – and bragged about how he made it happen. 'The sun is still shining,' he said. 'The water is clean…'
'Yeah, everybody still has water,' says Woodley, 'except for the three leaks that have already happened...' She steels herself to focus on what matters. 'There's nothing worth fighting for more than each other. The planet is going to be fine. It's humans who aren't going to be OK. We're broken. That's why the world is where it is. The way you heal is with love and empathy and compassion. Take politics out of it. Vote with your money.' Do you ever miss those days when reporters used to ask you about kissing Ansel Elgort? I ask. She laughs. 'Not really, it's kind of nice to talk about something of substance.'
'I signed a plea agreement,' says Woodley as we're finishing breakfast and a girl walks past wearing a Standing Rock T-shirt Woodley designed to raise money for the cause. Naturally, she pauses to stand up and hug this stranger – that's the kind of person she is. After her showdown at Standing Rock, Woodley's lawyer negotiated for her to plead guilty to a lesser charge. 'I'm on a year's probation,' she says with a smile. 'I've gotta watch my ass.'
The first time Woodley got overtly political was when she was working for the Bernie Sanders campaign, after Susan Sarandon said to her: 'We could use your voice in the political movement. I think it's time to pop your political hymen.' And it certainly won't be the last. She's on the board of Our Revolution, a progressive political organisation born from the ashes of Sanders' campaign. Of politics, Woodley says, 'I got addicted and stayed addicted.' Her philosophy? Be the change you want to see in the world.
Shailene on the rumoured Big Little Lies season two
She may be laser-focused on sustainability, but fear not Big Little Lies fans, Woodley promises to make time for a second season, should those rumours prove true. Though right now, she insists that's all they are. 'I haven't heard anything, but of course I'd do it. It would be so fun.'
On the surface, Big Little Lies may not seem like something a 'woke' actress would be interested in – the show, co-starring Reese Witherspoon and Nicole Kidman, was sold as a real-estate porn soap opera – but beneath the surface, BLL was a searing look at domestic violence and the inner lives of a diverse group of women. In the explosive finale, her character Jane, a single mother, finally comes face-to-face with the man who sexually assaulted her. If there's a second season, she says, 'I think it would be interesting to explore the psychological trauma she's undergoing post seeing him. I think there's an assumption that these things are quick to heal once you begin therapy or once you have that closure. But these are lifelong pains that you're constantly working through.'
Like the women on Big Little Lies – and those of us who covet their cars and clothing – Woodley understands that we crave creature comforts. She even recently tweeted: 'Can't they just make Snickers or Twix without any genetic engineering? I really miss them.'
'None of us are perfect,' she continues. 'I use more plastic than I need to. I'll buy products from corporations that I don't agree with. To me, the biggest shift we can make is the mindfulness around these things. That's the catalyst for change. We must wake up every morning and ask ourselves, "How can I do more? How am I willing to shift my lifestyle to actually create the change I complain about?" Now, all of a sudden you're empowered, you're passionate, you have a fuel beneath your feet to move forward in a way that's conducive not only for your own personal life but also for the world as well.'
Celebrity news, beauty, fashion advice, and fascinating features, delivered straight to your inbox!
The leading destination for fashion, beauty, shopping and finger-on-the-pulse views on the latest issues. Marie Claire's travel content helps you delight in discovering new destinations around the globe, offering a unique – and sometimes unchartered – travel experience. From new hotel openings to the destinations tipped to take over our travel calendars, this iconic name has it covered.