Prince: Looking back at the life of a legend
Musical virtuoso, fashion icon, international sex symbol… Prince Rogers Nelson was no ordinary pop star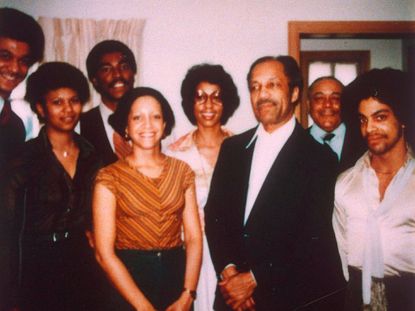 (Image credit: Rex Features (Shutterstock))
Musical virtuoso, fashion icon, international sex symbol… Prince Rogers Nelson was no ordinary pop star
On 21 July 1969, 10-year-old Denis O'Leary was at his best friend Prince Rogers Nelson's house watching Neil Armstrong become the first man to walk on the moon. Afterwards, the awestruck boys ran outside to play. 'We took turns jumping off a box and pretending we were Neil Armstrong,' O'Leary tells Marie Claire. 'Roger was a real extrovert with close friends but very quiet and shy around others.'
Those opposing sides as a child would come to define Prince as an adult – the unfathomable virtuoso. Until his unexpected death in April at the age of 57, Prince was one of the most prolific recording artists of all time, producing 39 studio albums and releasing more than 100 singles across four decades, selling more than 100 million records worldwide.
Prince (far right) with his family Known to most as Roger (his mother called him Skipper), he was born Prince Rogers Nelson on 7 June 1958 at Mount Sinai Hospital in Minneapolis. A career in music seemed inevitable: Prince was the stage name of his father, John L Nelson, who had a band called the Prince Rogers Trio (after which Prince was named), and his mother Mattie Della Shaw was a jazz singer.
But for even his closest family and friends, there was no sign he'd go on to become a globally famous superstar. 'We only ever talked about being athletes when we grew up,' O'Leary says. 'He tried to teach me some notes on the guitar but he was still learning the chords himself, so it wasn't great.'
As he approached his teens, Prince's interest in music became an obsession. He taught himself the piano, guitar and drums, rehearsing for hours at a time. Music was a passion matched only by sex, which he discovered around the same time – he was 12 when his dad first caught him in bed with a girl.
Sex and music would prove a potent combination for the diminutive star (he was 5ft 1in). Forming a band called Grand Central, he was a pioneer of what was known as the 'Minneapolis sound' – Rolling Stone described it as 'a hybrid of rock, pop and funk, with blatantly sexual lyrics'.
At only 17, he signed a solo contract with Warner Bros and promptly stunned label bosses by insisting he produce his albums himself and play every instrument on them. Yet for all his bullishness, Prince remained shy. 'When anybody came into the studio while he was singing, he wanted me to turn the light off because he didn't want anybody to look at him,' recalls producer David Z.
Prince's debut album For You was released in April 1978 and achieved modest sales. By his third, 1980's Dirty Mind, his reputation as pop's new libertine was assured: it included songs about oral sex and incest. He exploited his raw sexuality for all it was worth, wooing audiences with his come-to-bed sideways glance and sly, half-smile.
His relentless musical output was matched only by his potent sex drive. Prince seemed to collect beautiful girlfriends the way other musicians collected guitars, counting Kim Basinger, Madonna, Apollonia Kotero (his co-star in Purple Rain) and actress Carmen Electra among the many. His most memorable lovers included Vanity (real name Denise Matthews), his protégée in the 80s girl band Vanity 6, plus collaborators Sheila E and The Bangles' Susanna Hoffs (he wrote their hit Manic Monday). Years after his affair with Madonna, he played guitar uncredited on Like A Prayer. He was also briefly engaged to his backing musician Susannah Melvoin, said to be his inspiration for Nothing Compares 2 U, the song that was a hit for Sinead O'Connor in 1990.
Two more platinum-selling albums followed: 1981's Controversy, featuring songs that teased fans about his sexuality, and a year later, 1999. Then, in 1984, he released Purple Rain. The album soundtracked a film of the same name in which Prince made his acting debut as a singer trying to make it big. His elfin, androgynous features translated well to screen, propelling the movie to number one at the box office, while the album, featuring the hits When Doves Cry and Let's Go Crazy, sold 22 million copies worldwide and won Best Original Song Score at the 1985 Oscars.
Purple Rain was a worldwide hit
But with global success came intense scrutiny. Tipper Gore, wife of then senator Al Gore, denounced Prince for the Purple Rain track Darling Nikki, which was about a young girl masturbating in a hotel lobby. Her outcry led to the introduction of the Parental Advisory label being stickered on to albums containing explicit lyrics.
In 1985, Prince was also criticised for refusing to join Michael Jackson and a host of stars to record the USA For Africa single We Are The World – their answer to Band Aid's Do They Know It's Christmas? He was branded arrogant beyond reproach, despite explaining that, due to his shyness, 'I would probably have clammed up with so many great people in the room.'
But you can see why some struggled to believe Prince was shy – his on-stage performances were, after all, a masterclass in exhibitionism. And then his image was battered even further when an exposé in the National Enquirer by his former bodyguard, Chuck 'Big Chick' Huntsberry, painted him as a freakish 'insomniac workaholic' who lived like a hermit.
As the bad press mounted and his next album, Around The World In A Day, struggled to set the charts alight, Prince quit touring and retreated to Minneapolis, where he spent around $10 million (about £6.8 million) building a studio complex and home he named Paisley Park. For a time, his reputation as a recluse kept even his friends at bay. 'Sometimes it gets lonely here,' he said in one interview. 'I wish more of my friends would come by. A lot of the time they think I don't want to be bothered.'
The self-imposed break saw a return to form with the 1987 release of Sign O' The Times, featuring the Sheena Easton duet U Got The Look, and Lovesexy in 1988. The soundtrack to Tim Burton's Batman followed. It would catapult him back into the public eye, and see Prince embark on a relationship with the film's star, Kim Basinger. She quit Hollywood to move to Paisley Park and the pair provoked outrage when it was reported that the vocals she had provided for his EP The Scandalous Sex Suite were recorded while they had sex. (When asked about the song last year, Basinger said, 'I don't really have boundaries, so I enjoyed that time of my life.') The relationship ended after a year and in the biography Prince: Chaos, Disorder And Revolution, author Jason Draper said it was rumoured that Basinger's family were so concerned about Prince's 'hypnotic' influence over her they 'had to kidnap her from Paisley Park' while he was out of town.
Prince's next serious relationship resulted in marriage and coincided with the most tempestuous period of his career. Disenchanted with the way Warner Bros was releasing his music, in September 1993 Prince provoked ridicule when, in protest, he changed his name to an unpronounceable symbol and began releasing songs independently, including The Most Beautiful Girl In The World. He did return to Warner Bros in 1996 but waited another three years to revert back to calling himself Prince – as much to annoy his critics as anything else.
Prince with Mayte
On Valentine's Day 1996, the then 37-year-old married 22-year-old Mayte Garcia, a former belly dancer who had first met Prince when she was 16. Two months later she was pregnant, but the couple were devastated when their son, Boy Gregory, was born with a rare skull defect called Pfeiffer syndrome and died a week later. In a bizarre move, Prince and Mayte appeared on The Oprah Winfrey Show days after his death to pretend the baby was fine (rumours had begun to circulate that something was wrong). 'It's all good – never mind what you hear,' he said. Mayte believed the interview was Prince's way of processing his son's death. 'We had to show people that we were strong, that we had faith, and that we would try again,' she said.
Six months later, Prince opened up to British journalist Susie Boone about how traumatic that time had been, and how he was trying to remain optimistic. 'Contrary to what has been said about me, I feel very positive,' he told her. 'I feel God has a plan.' Boone says she remembers being taken aback when the intensely private star addressed the subject. 'I'd heard stories about him being evasive and difficult in interviews, so his warmth and humour were a big surprise,' she tells Marie Claire. 'That was a side of him we didn't really see. He wanted tell the world "I'm happy."' The ordeal of losing their son led to Prince and Mayte divorcing in 1998. She claimed in an interview afterwards that they never really got over the loss of their two children (their second attempt ended in miscarriage, which left the pair distraught).
In 2001, then 43 and having become a Jehovah's Witness, Prince married charity worker Manuela Testolini and seemed happy. But she filed for divorce five years later, with Prince claiming it was not what he wanted but that he was resigning himself to the split. She went on to marry and have a child with Halle Berry's ex-husband Eric Benét. Prince remained childless.
Throughout the noughties, Prince continued to record music, but his albums failed to replicate his earlier success. In fans' eyes, it didn't matter: from his 2004 Grammys appearance with Beyoncé, where they performed a medley of his songs including Purple Rain, to the Hit And Run gigs that electrified London in 2014, Prince's performances never waned. Nor did his cultural impact. In 2010 he was named one of Time's 100 Most Influential People In The World and was also inducted into the American music industry's Hall Of Fame. He remained an enigma on a personal level, however, still choosing Minneapolis over the bright lights of LA or New York.
On stage in November last year
It's because he spent so much time out of sight that his death on 21 April was all the more shocking. Tributes poured in from across the world, with some of the biggest names in music from Lady Gaga to Rihanna crediting Prince with inspiring their careers. Justin Timberlake went even further. 'It would be silly to say that he has inspired our music,' said Timberlake. 'It's beyond that. He's somewhere within every song I've ever written.'
Prince was found dead at Paisley Park and it has been reported – but not substantiated – that he was suffering from AIDS and overdosed after becoming reliant on illegally obtained painkillers to alleviate his symptoms.
While his estate – worth an estimated $800 million (about £553 million) – is likely to be shared between his sister Tyka and his five half-siblings from his father's second marriage, it's not known what will happen to the thousands of recordings Prince kept hidden in a room at Paisley Park known as the 'vault'. According to reports, there is enough material to release an album once a year for the next century. 'He could put out music for the next generation and it would still be relevant,' says composer Brent Fischer, who worked with Prince for 30 years. 'It would certainly confirm his legacy for ages to come.'
Celebrity news, beauty, fashion advice, and fascinating features, delivered straight to your inbox!
The leading destination for fashion, beauty, shopping and finger-on-the-pulse views on the latest issues. Marie Claire's travel content helps you delight in discovering new destinations around the globe, offering a unique – and sometimes unchartered – travel experience. From new hotel openings to the destinations tipped to take over our travel calendars, this iconic name has it covered.