Alex James Presents His Perfect Cheese And Wine Pairings
Blur's Alex James has traded in the bass guitar for some sophisticated cheese and wine pairings with Hardys wine.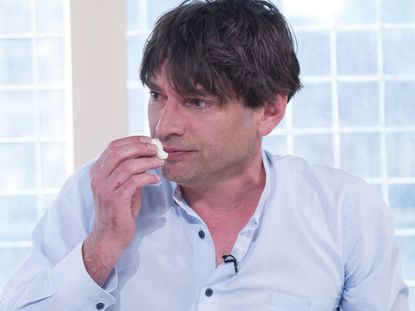 Blur's Alex James has traded in the bass guitar for some sophisticated cheese and wine pairings with Hardys wine.
Blur's Alex James is paving the way for the foodie in us all. Since his 'Song 2' days, he's ditched his bass guitar for something totally unexpected: cheese.
When he and director Claire Neate got married, they swapped their cosmopolitan digs for a rundown Cotswold farm where he started up Alex James Presents.
'I just love cheese. People used to throw it at me and they still do actually,' Alex explains. 'I think that whenever you really love something, you've got to just hang onto it and give it everything you've got.' And thus began his love affair with cheese.
'I still find something new about cheese every day but if I didn't like cheese I wouldn't feel inclined to bother. Really, there comes a point every day when I really fancy some cheese. So I just love the stuff basically.'
It made sense that the wine would soon follow, so he joined up with Hardys to find which wines went best with his artisanal, and often experimental cheeses.
'I'd not really tried white wine with cheese before as traditionally it's put with red wine, with fortified wines … by the time we got to the end, this boardroom was completely full of people sipping chardonnay in ecstasies of delight … it was really, it was wonderful actually,' he said of the Hardys tasting.
Here are his top cheese and wine pairings:
1. Hardys Stamp Sparkling Pinot Chardonnay 2012, £9.75 Made from premium sparkling grapes Chardonnay & Pinot Noir, Hardys Stamp shows complexity, flavour, softness and elegance. Try a chilled glass of these bubbles with Alex James Presents' Little Wallop goats cheese, with its uniquely complex flavour and strong nutty and lemony overtones, this particular cheese works perfectly with this wine.
2. Hardys Stamp Chardonnay Semillon 2012, £7.49 For a more subtle cheese option, try Alex James Presents Farleigh Wallop with a smooth glass of Stamp Chardonnay Semillon. This medium-bodied wine, exhibits fresh citrus and tropical fruit flavours with a creamy texture, delicate oak and a smooth finish makes it an ideal match with the thyme-dusted cheese.
3. Nottage Hill Chardonnay 2012, £8.00 This full-bodied dry white wine, displays rich tropical fruit and melon flavours, complemented by a touch of subtle oak with a crisp, elegant finish. If Chardonnay Semillon isn't your style, try a glass of Nottage Hill Chardonnay with Alex James Presents' Farleigh Wallop, which works perfectly with the gentle aroma of this smooth and creamy goats cheese.
4. William Hardy Chardonnay 2012, £9.99 Each glass of William Hardy Chardonnay boasts pronounced lemon zest and white peach flavours complemented by subtle, spicy oak to give it a creamy texture and a long, crisp finish. Pair it with a slice of Alex James Presents' rich, indulgent, semi-soft Goddess cheese with rind washed in cider brandy, for that lazy summer afternoon picnic snack.
5. HRB Chardonnay 2011, £16.00, Hardys HRB Chardonnay displays wonderfully zesty, citrus flavours with a hint of cashew, which produces a full-flavoured yet restrained and elegant cool climate Chardonnay. It's natural acidity makes it the perfect partner for the luxurious creamy and sweet Blue Monday cheese from Alex James Presents.
Celebrity news, beauty, fashion advice, and fascinating features, delivered straight to your inbox!