11 incredible films that will make you proud to be a woman
What better way to celebrate International Women's Day, than to recognise some of the most outstanding portrayals and directorial accomplishments of women on the silver screen. Here's our round-up of the best: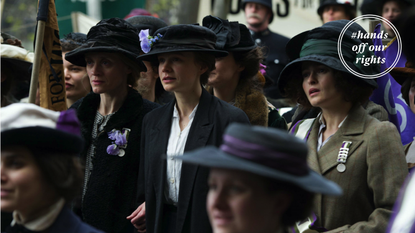 What better way to celebrate International Women's Day, than to recognise some of the most outstanding portrayals and directorial accomplishments of women on the silver screen. Here's our round-up of the best:
Words by Emily Hollings
Suffragette directed by Sarah Gavron (2015)
When this film first hit our screens back in the autumn of 2015, audiences were struck by how masterfully Gavron depicted the Suffragette Movement, and how she managed to juxtapose the struggles experienced by the women of early 20th century Britain with issues still faced by women today. The film tells the compelling, fictionalised story of a group of working-class women in London, described by commentators as 'the real foot-soldiers of the movement'. Although the characters are not based on real women (with the exception of the notable Emmeline Pankhurst, played by the wonderful Meryl Streep, and Emily Davison, played by Natalie Press) as viewers we feel more connected to the women who's names never made it into the history books. As the final scene of the film fades to black, we are confronted with a list of shocking statistics from countries across the world showing just how far we have yet to go. A definite must-see if you're a lover of Carey Mulligan (who plays a working class mother whose life is changed when she discovers the movement) and if you want to be inspired to make a difference.
Still Alice directed by Richard Glatzer (2014)
Praised as one of the first films to truly tackle the issue of Alzheimer's in a real, compelling and unapologetic way, 'Still Alice' features Julianne Moore as the titular character, a notable linguistic professor whose life changes when she discovers she is suffering from early on-set dementia. In her diagnosis, Alice is forced to fight to hold onto all that she is - her career, her family and her identity. Moore spent for 4 months preparing for the role, by interacting with sufferers and working alongside researchers and campaigners of notable Dementia charities. Her performance gained her an Academy Award for Best Actress. The producers of the film, who consulted with sufferers of the disease stated that they wish to 'inspire hope and ignite change' in the fight to raise awareness.
The Help directed by Tate Taylor based on Kathryn Stockett's novel (2011)
Based on the hugely popular novel of the same name, 'The Help' won fans (and countless awards) across the world for its message of unity and hope in the face of prejudice and discrimination. Seeing how the strong female characters unite, despite their apparent differences, shows that there's nothing stronger than women standing together. Made up of an amazing female ensemble cast - including last week's Academy Award winners Emma Stone and Viola Davis - this is one film you simply can't miss.
Wadjda directed by Haifaa al-Mansour (2012)
'Wadjda' is one for the history books. Not only is this is the first feature-length film to be made by a female Saudi director, it was also the first Saudi Arabian entry to be selected for Best Foreign Language Film at the Academy awards...ever. Haifaa al-Mansour tells the story of a young girl named Wadjda who wants nothing more than to own and ride her own bicycle (something frowned upon for girls), all whilst her mother comes to terms with her husband's choice to marry a second wife. The final scenes of the film are truly moving, and show us that it's important to have courage and take control even in the most difficult circumstances. We can't overlook just how badass director Al-Mansour is too: she often had to direct the film from the back of a van, and communicate via walkie-talkie in order to not be seen mixing with male crew members on the streets of Riyadh. A truly inspiring movie in both the way it was made and the story it tells.
We Are the Best! directed by Lukas Moodysson (2013)
In this coming-of-age Swedish drama film, we meet 3 young girls living in 1980's Stockholm who are ostracised by their peers for their love of Punk music. Despite not knowing how to play any instruments, the girls start their own band in an effort to provoke a rival band of boys. [Spoiler alert!] Don't be mistaken in thinking that the girls will somehow miraculously become musical prodigies and gain the recognition they deserve... this film urges us to remember that sometimes, belief in yourself is all you need.
Wild directed by Jean-Marc Vallee (2014)
Based on Cheryl Strayed's incredible memoir 'Wild' tells the inspiring true-story of one woman's journey to find herself and to overcome her demons. Reese Witherspoon plays Cheryl in a performance so powerful she received her second Academy Award nomination for Best Actress. To many, this is a beautifully shot film with an important message, but to women, its about being liberated by your own independence.
Mad-Max: Fury Road directed by George Miller (2015)
In recent years, 'Mad Max' has become a staple in the lists of kick-ass, feminist movies. If you're not usually a fan of fast-paced, action-packed blockbusters, this film promises to deliver more than just car chases and explosions. Charlize Theron plays Imperator Furiosa, an amazing example of a fearless girl-warrior, and she's joined by her gang of (equally) impressive women (Zoe Kravitz, Rosie Huntington-Whiteley and Riley Keough to name a few) as they band together to escape from the tyrannical Immortan Joe. A must-see for audiences who like being on edge of their seats. (Warning: you may develop an urge to clap every time a bad guy dies.)
Legally Blonde directed by Robert Luketic and based on Amanda Brown's novel (2001)
Would this list be complete without the all-time classic 'Legally Blonde'? (That's a trick question, the answer is no.) We get to see Reese Witherspoon on our screens again, whose iconic performance delivers the message - forget the guy and focus on your dreams. Who can forget the iconic scene where Elle successfully wins the case (blonde hair, pink suit and chihuahua in tow), all whilst staying true to herself and her morals? And although the film begins with Elle chasing her former boyfriend all the way to Harvard Law, it's clear on (a very pink) arrival to the school that she is capable of so much more than chasing her 'bonehead' ex. Elle endeavours to prove herself to her professors and to any nay-sayers and along the way finds new love and unexpected friends. There's a reason this film is still considered a perfect example of ultimate girl-power.
She's Beautiful When She's Angry by Mary Doe (2014)
An eye-opening documentary which chronicles stories of the various women who helped to found the second wave feminist movement in the USA from 1966 to 1971. It's easy to forget how much their efforts propelled the issue of sexism into the forefront of our minds. Sure, it may make you angry to see the injustice of the sexism experienced during this time (just 50 years ago) but the documentary highlights the tremendous work that these women did, and how they paved the way for equality today.
Audrie and Daisy on Netflix (2016)
This Netflix documentary highlights just how relevant and important the issues of rape and online-bullying is for the girls of the modern generation. Through interviews with victims and family members, and clips from news reports and courtrooms, we are told the appalling (and sometimes tragic) stories of young girls who have experienced rape at the hands of 'school friends', and have then suffered further at the hands of bullies on social media. Although not an easy watch, the 90 minute film also illustrates how women stand by one another through incredible hardship. Female victims from across the U.S reach out to one another in an attempt to find comfort through friendship, and also in an effort to raise awareness of this terrible and sadly all too common crime.
Bend it like Beckham directed by Gurinder Chadha (2002)
From the director behind 'Angus Thongs and Perfect Snogging' (what a film), 'Bend it Like Beckham' is arguably one of the most successful films about football ever made. Even more mind-blowing is the fact that Chadra was the first British Asian woman to direct a feature length film - 8 years prior to filming this movie. Football-mad Jess, whose strict family and Punjabi Sikh religion restricts her from playing football because she's a girl, had to learn to bend the rules in order to realise her goal (no pun intended) of playing professionally. With its overriding messages of girl-power, teamwork and determination, 'Bend it like Beckham' is just as relevant today as it was 15 years ago.
And of course, we couldn't miss Marie Claire's International Women's Day film
Celebrity news, beauty, fashion advice, and fascinating features, delivered straight to your inbox!
The leading destination for fashion, beauty, shopping and finger-on-the-pulse views on the latest issues. Marie Claire's travel content helps you delight in discovering new destinations around the globe, offering a unique – and sometimes unchartered – travel experience. From new hotel openings to the destinations tipped to take over our travel calendars, this iconic name has it covered.