The books to read now (before the TV show)
Before you stream the box set, be a smug book reader and soak up the original words first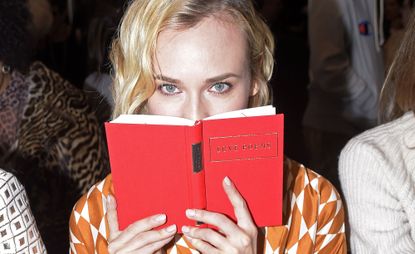 (Image credit: Swan Gallet/WWD/REX/Shutterstock)
Before you stream the box set, be a smug book reader and soak up the original words first
Words by Julie Vuong
The Handmaid's Tale by Margaret Atwood
Due for a major adaptation for the screen (it even gained a coveted ad slot during the Super Bowl), Margaret Atwood's classic dystopian novel is ripe for reading in 2017's Trump era. Sentences from Atwood's seminal 'speculative fiction' tale, released in 1985, emblazoned countless signs during the recent Women's March – and for good reason. It follows a young woman called Offred as she begins a new life in Gilead, a place in North America where the world as we know it has crumbled and women's bodies are controlled by the patriarchy. If it sounds scarily prescient, you won't have to look far for current-day policies that have perhaps taken the book too literally. Make it essential reading, or at least one of your gifts for book lovers.
Published by Virago.
The 10-part TV show starring Elisabeth Moss and Joseph Fiennes is released on Hulu on 26 April.
Sharp Objects by Gillian Flynn
If Gone Girl hit your 'grip-lit' spot, then let us introduce you to Gillian Flynn's lesser-known novel, Sharp Objects, which is about to get the HBO treatment. The book, released in 2006, bears all the hallmarks that got us glued to Gone Girl, with enough twists and turns to keep you guessing. The premise is dark: a troubled newspaper reporter is sent to her hometown to cover the murders of two girls who are found strangled and with their teeth removed. Fans of Game of Thrones and Westworld will know HBO doesn't do things by halves. They're throwing their weight behind this dramatisation – and with Amy Adams on board for the lead role, it's got event TV written all over it.
Published by Orion.
Released on HBO, date to be confirmed.
The Cuckoo's Calling by Robert Galbraith
If there's a Sherlock-shaped hole in your TV life, we've got good news. Robert Galbraith, aka J.K. Rowling, is here to fill that vacant space if you're thirsty for crime-solving duos running into all sorts of scrapes in London town. Swot up before the show and dive into the Rowling's addictive crime series. Written under a male pseudonym, it features Cormoron Strike and his sidekick Robin Ellacott. Three books have been released so far and the TV rights have been snapped up by the BBC. The Cuckoo's Calling kicks things off with the former military man and his secretary out to solve the death of Lulu Landry, a celebrity model who is found dead below her apartment balcony. Did she fall or was she pushed?
Published by Little, Brown.
The Cuckoo's Calling is set for three one-hour adaptions on the BBC, staring Tom Burke and Holliday Grainger. Airing date to be confirmed later this year.
The Miniaturist by Jessie Burton
Love, intrigue and sexual politics in 17th century Amsterdam – Jessie Burton's 2014 debut took the title of Waterstone's Book of the Year while the author herself was named New Writer of the Year (as well gaining book royalty status). The Miniaturist was a hit in both a literary and commercial circles and filled train carriages everywhere with its gorgeous doll's house cover. Rich in detail, even non-historical fiction fans will find it hard to resist Nella Oortman's world. A newlywed, she is taken to live with her new husband in the city but things take a strange turn when a wedding gift of a doll's house takes on a life of its own. The TV series is being produced by the same team that gave us Wolf Hall, so watch out for some big thesps in the main leads.
Published by Picador.
The Miniaturist will be a three-part series screened on BBC1 later this year.
When We Rise by Cleve Jones
It was about time gay rights activist Cleve Jones's incredible memoir reached a bigger audience. Before the new mini series based on his book kicks off, read Jones's own words and let him lead you to 1970s San Francisco. It's a fascinating account of gay rights at a pivotal moment in history, and brings in key LGBTQ figures at the height of the AIDS epidemic. Jones vividly captures the changing times – taking in Harvey Milk's election as the first openly gay person to be elected to public office in California, as well as his own personal struggles and triumphs.
Published by Little Brown.
When We Rise will be a six-part adaptation by ABC, staring Guy Pearce. Released later this year.
Noughts & Crosses by Malorie Blackman
The much-loved former Children's Laureate Malorie Blackman is soon to find screen fame as her hugely popular 2001 YA novel Noughts & Crosses gets set to grace our TV sets. But you'll want to read the source material first, trust us. Blackman flips racism on its head by creating an alternative world in which black people are the ruling classes and white people are the slaves. Hooked already, right? Read about Sephy, a cross (black), and Cullum a nought (white). They shouldn't mix, but do – sparking a story of violence, prejudice and romance.
Published by Random House Children's.
Noughts & Crosses is set for a BBC adaptation. Date to be confirmed.
Alias Grace by Margaret Atwood
If you want a whodunit with a twist, make sure Alias Grace is at the top of your TBR pile. Yes, we have another Atwood on the list – and it's another literary humdinger. But this time Atwood takes us to 19th Century Canada, and fleshes out the individuals involved in one of the country's most infamous crimes. Grace Marks, the central character, has been condemned to life imprisonment for the murder of her master and housekeeper. But as she proclaims her innocence to a young doctor from prison, how much can we trust her version of events? It's gripping and you'll want to read it before some superior friend spoils it for you.
Published by Virago.
Alias Grace comes to Netflix in 2017, date to be confirmed.
American Gods by Neil Gaiman
Move over Marvel – it's high time you met a new set of super sonic creatures. British author Gaiman is the master of the fantastical, and his 2001 novel has gained cult status for its blend of mythology and sci-fi. Whet your appetite for the blockbuster show and dip into this thrill ride across America, packed with an unconventional cast of characters. Shadow, at the heart of the story, is released from prison and comes across Mr Wednesday who tells him a battle for America is on its way – and he's in the frontline.
Published by HarperCollins.
American Gods, starring Emily Browning and Ricky Whittle, premieres on Starz in April.
Celebrity news, beauty, fashion advice, and fascinating features, delivered straight to your inbox!