Cutting back on skincare steps is likely to deliver better results—here's why
Your simple skincare routine, explained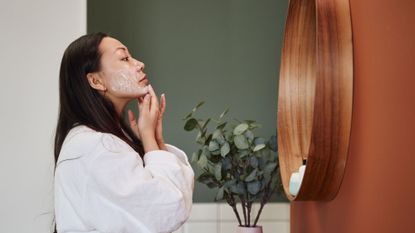 (Image credit: Getty Images / royalty-free)
Getting to grips with any skincare routine can be a challenge, but when you have sensitive or reactive skin, it can make things a whole lot trickier. The best approach in this instance is always the simplest. But even tackling simple skincare can be confusing.
That's where we, and our three experts, come in to help. Whether you want to adapt your existing routine to be a little bit more sensitive skin friendly or are starting from scratch, you'll find everything you need to know here.
What makes a good skincare routine?
If you think a good skincare routine has to include 10 steps then think again because it doesn't have to be complicated. In fact, if you ask nearly any dermatologist they'll tell you that the more pared back the better. "If you have sensitive skin it's really important to ensure you're not overloading your skin with too many products containing powerful active ingredients as you risk damaging your skin barrier and increasing sensitivity and irritation," Dr Jason Thomson, Dermatologist and Head of Medical at Skin + Me.
The skin barrier is essentially what protecting your skin; keeping the good stuff in (like moisture) and the bad stuff out (like pollution). If this barrier is in any way compromised then you're likely to experience irritation, dryness and redness.
One of the best ways to repair this is through a stripped back routine. You can break this down into an easy AM and PM routine into just 3-4 steps.
Morning routine
1. Cleanse
The first step in any routine is typically cleansing. However, before we move on, not everyone has to cleanse in the morning. If you're particularly dry or reactive, you might find that a splash of water in the morning is enough to get rid of sebum build-up overnight. Others will want to go for a gentle cleanse though. "Those with sensitive skin should opt for cleansers that are hydrating and gentle on the skin barrier, meaning they shouldn't strip your skin of all its natural oils or contain ingredients that can irritate the skin (such ingredients are often the cause of sensitive skin in the first place)," says Dr Thomson. Gentle cleansers tend to be creamy in texture vs foaming, which tend to contain potentially stripping soaps.
2. Moisturise
Every skin type needs moisture, but it's even more essential when you have sensitive and reactive skin. Typically sensitive skin presents with dryness, irritation and a tight feeling so you'll likely want to slap on plenty of cream. In the morning, you might want to choose a gel-cream texture as it tends to work well under make-up.
3. Protect
It's really important to protect your skin with sunscreen everyday—no matter your skin type. In fact, sensitive skin types need to added help from SPF even more to keep out those harmful UV rays. Come rain or shine, apply two finger lengths of SPF 30 or 50. The difficulty here is that a lot of sensitive skin types can find chemical SPF irritating. For that reason, "I'd advise looking for a product that avoids the use of alcohol and you may benefit from a mineral-based sunscreen (zinc oxide and titanium dioxide) as mineral filters are generally less irritating than chemical filters," Dr Thomson explains.
Evening routine
1. Cleanse
Cleansing in the evening is really important "to remove make-up and wash the day off," says Olya Thomson, facial practitioner and founder of Olya Thomson Aesthetics.. Use an oil or balm formula and work into dry skin before removing with warm (not hot) water using a muslin cloth. Most people like to cleanse a second time with a gel or cream cleanser to make sure it's squeaky clean without being stripped of natural oils. "Look for something that doesn't foam with no perfumes, as a lot of agents that make the cleanser foam dry your skin and strip them of moisture," says Dr Ahmed El Muntasar GP and aesthetician. It's also important to not be too rough with your skin when cleansing and drying.
2. Moisturise
If you have sensitive skin, the moisture step is probably your favourite because it gives some much needed relief for dryness. The trick here is to use a moisture "that has a texture you enjoy using," says Dr Thomson. Plus, something that works for your skin type "oily skin types often prefer a gel-based moisturiser whereas dry skin types often prefer a richer moisturising cream," he adds. Look for a moisturiser that contains a combination of hydrating ingredients like glycerin, hyaluronic acid, ceramides, and soothing ingredients like panthenol, niacinamide and ectoin."
3. Treat (optional):
It really is as simple as a two-step routine when you take it right back to basics. However, as an optional in-between step, you can use a serum to help hydrate the skin and boost the skin barrier. But it really isn't essential.
In essence: "These are really your building blocks and foundations for a good quality skincare plan," says Dr El Muntasar. It really can be that simple. Of course, if there are specific concerns you want to tackle, added skincare can work wonders but this is a fantastic place to start.
What to leave out?
There are a few things that, if you have sensitive or reactive skin, or are just starting out, that you don't need to include. Sure, these are nice-to-haves if you're stepping up your skincare game and have repaired your barrier, they're not necessary by any means.
Exfoliating acids - Exfoliating acids are a fantastic product but not typically recommended for sensitivity. Go low and slow (low on percentage, slow on usage.)
Vitamin C - Vitamin C is a fantastic product for protecting against free radicals (caused by pollution) and adding radiance to the skin, however it can cause reactivity in skin where the barrier is damaged. This is one to proceed with caution; making sure your skin sensitivity is under control first and gradually building up tolerance. If you're going to try it out, make sure to use one of the best vitamin C serums for sensitive skin.
Retinoids - Retinoids (like retinol) is one of the industry's gold standard ingredients, but that doesn't mean you should dive in and use one right away. In short: you want to get the basics of cleansing, moisturising and protecting first. This is a product you should work towards, or, if you're really keen to incorporate it into your routine, get an expert on board to guide you. If your sensitivity is a little more under control and you've used them before, Olya recommends avoiding high-strength retinols in the winter, "instead stick to 0.2-0.3% once a week," she notes.
Masks - This is nice to have, not a need to have. If you want to pamper yourself, by all means go for it on the mask front but they're not necessary.
Eye cream - Again, you may think that an eye cream is a must-have step but it really isn't, only if you want to use one. If you're dry around that area, just take a lightweight moisturiser around the eye area and it'll get the job done just the same.
Celebrity news, beauty, fashion advice, and fascinating features, delivered straight to your inbox!
Tori is a freelance beauty journalist and contributor for Marie Claire. She has written for various titles, including Allure, Glamour, Elle, Refinery29, Brides, and more. Currently training to be a nail tech, Tori is a total nail enthusiast and always has time to talk all things nail art. When she's not writing about beauty and testing products, Tori can be found walking her rescue dog Pip, drinking great coffee, and eating as many croissants as humanly possible.