This new BABTAC initiative sets out to *finally* bring some regulation to cosmetic treatment in the UK
The demand for treatments such as Botox and filler is on the rise, but without regulation in the industry, how do we know if the therapist had the correct training, qualifications, or insurance? Enter T.I.M.E...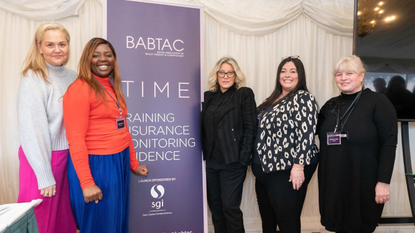 (Image credit: The British Association of Beauty Therapy and Cosmetology)
Did you know that the aesthetics industry is not regulated, meaning your therapist does not need to be qualified or insured from a legal perspective? Sobering, isn't it? Particularly with the rise of potentially problematic procedures, such as buccal fat removal. And while certificates might be hanging on the wall of a salon, it doesn't mean the therapist is qualified.
The British Association of Beauty Therapy and Cosmetology (BABTAC) launched its T.I.M.E initiative in Parliament last week in recognition that this needs to change—and Marie Claire was there to support this vital piece of work designed to protect the public from harm as well as give reputable professionals the recognition they deserve.
"T.I.M.E is a regulatory checklist that will provide the framework necessary to ensure that we are all aware of what to be mindful of and what to ask for when going for non-surgical procedures. We are aware that due to lack of regulation anyone can go out there and set up a seemingly professional, legitimate business in the beauty sector," says Lesley Blair MBE, CEO of BABTAC. "We aim to protect, regulate and promote the beauty industry and get the awareness out there to educate, while promoting experienced and highly qualified industry experts to ensure there is the highest level of professionalism in the industry."
High profile beauty supporters include Caroline Hirons, Millie Kendall OBE, who is the founder and CEO of the British Beauty Council, advanced skincare expert and founder of the Black Skin Directory, Dija Ayodele, and SGI's Candice Glanville, who are backing this campaign to help inform and to create awareness so that we can feel confident when we go to salons.
Designed to educate and inform those wanting treatments with safe aesthetic therapists, BABTAC strongly advises anyone booking a treatment asks these questions:
TRAINING – What training and qualifications, including continual professional development (CPD) do they and all their staff have?
INSURANCE – Are they insured & who by?
MONITORING – Do they carry out important pre- and post-appointment processes such as patch tests, consultations and aftercare?
EVIDENCE – Can they provide certified proof of training and insurance, and client testimonials?
"We don't want to scaremonger the consumer, but there is no legislation," says Caroline Hirons, going on to explain how to quiz your therapist: "It's a very British and generational feeling to be too embarrassed to ask questions so ask when you ring up to book the appointment so you don't have to say it to their face. What qualifications does this person have? If someone is going to hover over me with a laser, I would like to know who taught them to use it."
The therapist also has a responsibility to take their clients on their journey with them. Dija Ayodele says, "As a therapist, if you have spent thousands of pounds getting trained you should shout about it. A good therapist should make it easier for their client, put their certificate on the door, and make it known that you have the qualification. They need to fly that flag for our industry and keep experience up-to-date. What is the diversity of clientele they have worked on, do they have before and after pictures? Do they have a referral network of doctors that they can refer clients on to?"
"We want to give the right information to the consumer," says Millie Kendall: "we want to raise the reputation in the industry so this is seen as a viable, valuable career."
A good practitioner will be willing to give you all this information. If they are hesitant, don't give them your business, instead choose an ethical, well-qualified therapist.
Celebrity news, beauty, fashion advice, and fascinating features, delivered straight to your inbox!
An award-winning health and beauty writer, stylist and creative director, Lisa Oxenham is one of the UK's top beauty editors and the Beauty and Style Director at Marie Claire UK. With 20 years of editorial experience Lisa is a brand partnership expert, and a popular speaker, panelist and interviewer on a range of topics from sustainability to the future of beauty in the digital world. She recently spoke at Cognition X and Beauty Tech Live and is on the Advisory Board for the British Beauty Council's Sustainable Beauty Coalition.
A well-respected creative director she works on celebrity, model and influencer shoots with the highest calibre of photographers, filmmakers, make-up artists and hairstylists to create timeless images, attention-grabbing videos, digital events and masterclasses. Most recently Lisa has directed covers such as Lily Cole and Jameela Jamil, films such as Save The Arts featuring Francesca Hayward and sustainable fashion shoots such as Be The Change. Supporting the beauty industry over the pandemic has been a top focus, directing the British Beauty Council's six inspirational short biographical films for their Bring Back Beauty campaign.
Lisa is a wellbeing and beauty influencer with a focus on mental health and a large and engaged audience on Instagram, Facebook and Twitter.