The not so secret life of Roxie Nafousi: How to get back into exercise
Because winter changes everything...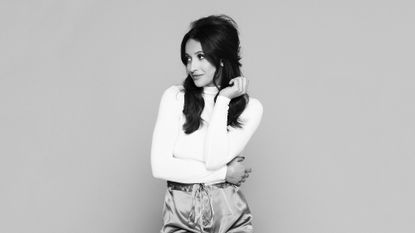 (Image credit: Joseph Sinclair)
Because winter changes everything...
Roxie is a contributing writer for Marie Claire, blogger and stylist. Follow her on Instagram @roxienafousi to join in her life journey...
I'm so excited to announce the start of my new weekly column with Marie Claire UK. Each week I'll be sharing a little piece of my life and what I've learnt along the way. I'm a health, beauty and travel fanatic but also a strong believer in living life to the full without constantly depriving yourself of things that you love!
As we approach the middle of September, I've finally had to admit to myself that summer has come and gone. I'm left with a longing to be back on the beach with the sun on my face and my feet in the water but an equal feeling of excitement for Autumn leaves, chunky knits and nights in by a log fire. When the sun is shining I find it so hard to say no to an Aperol Spritz or a club sandwich and fries by the pool. I don't regret it – that's what I believe holidays are for – indulging with no guilt. Sadly though, as I do not have the metabolism of a supermodel, my jeans have become ridiculously tight and I'm on the verge of ripping my favourite jumpsuit. After a summer of indulgence it's now time for me to get back into the gym and maybe not saying yes to my every single desire.
After a long break from exercise it can be quite hard to get back into it and the motivation that you need is so much greater! For me exercise is not so much about losing weight (although that is a great plus) but it's about giving me energy and motivation in all the other areas in my life. The endorphin rush is so essential to me for decreasing my stress levels and making me feel happier and I really believe there is no such thing as a bad workout – something is always better than nothing. That's why I love classes – the music and the atmosphere push you through the hour so that you can both enjoy it and feel that euphoric energized rush afterwards.
My biggest tip for people going to classes is to not worry about what anyone else in the room is doing – everyone has different abilities and it's about doing the best YOU can do!
Here are my absolute favourite classes to help get you back in shape after the summer!
This is hands down one of the best classes I have ever done. This TRX class is done in Tabata style (20 seconds on, 10 seconds off), which is amazing for fat burning, while the TRX resistance exercises work and tone every single muscle in your body. As you are using just your own bodyweight in the exercises you can make it as hard (or as easy) as you like. I saw a HUGE change in my shape, especially around my waist and hip area after just 3 classes. All classes at ETHOS (including Barre, Yoga and Cycling) are done in 25 degree heat so that you work up a real sweat! I walk out of this class feeling absolutely invincible. I could not recommend it enough! It is definitely challenging (maybe have a coffee before!) but worth every minute.
Introductory Offer: 2 classes for £20
I'm going to be honest here – if you asked me what a 'toxin' actually is, I couldn't really tell you. But I do know that I'm ADAMANT on getting rid of them – so working up a sweat is essential to me so that I generally feel like I've undone some of the damage from the weekend. Psycle is perfect for doing just that! Psycle is the king of spinning classes and feels more like you're in a nightclub than a workout. The music is so good and so uplifting that you are able to push yourself so much further than you ever thought possible because you're having too much fun to realize you're actually exercising. This is a great class to improve your cardio while toning your legs, arms and abs. You will leave this class feeling rejuvenated and ready for the day ahead. All the trainers are amazing but I particularly love Sal's classes.
We live in the era of the Kardashians, which means it's an era of ASS obsessions. I've seen so many pert bottoms on Instagram over the summer, I feel I owe it to myself to try and get one for myself and this is the first place to go for it. No class lifts and sculpts your derriere like this Paola's! There is also a huge emphasis on your abs, so really I like to think of this as the ultimate beach body workout. Based on ballet and pilates techniques the class is dynamic, high energy and low impact meaning your body will be toned, lengthened and sculpted.
I have a MAJOR girl crush on Gigi Hadid, so when I saw her boxing on her social media, I decided I might try it too. I went to KO BOX (a specialist boxing class) in Chelsea and I felt like a total badass! The class is split into two – half using the punching bags and half on the floor using dumbbells, resistance bands and plates to build up strength. I love using this class as a total stress buster! Perfect for all levels, from beginners to experienced fighters!
I'm a little bit obsessed with Core Collective, not only for the fantastic range of classes but also because it just oozes cool: the trainers are all GORGEOUS, and the comfy sofas upstairs are a perfect chill out area to catch up with a girlfriend with a juice after class, and to top it off the food in the café is delicious. I highly recommend the buckwheat waffles!!
Whether you go to their Velocity (HIIT), Accelerate (spinning), Resistance (TRX) or Power Yoga class – you're sure to come out feeling fantastic!
Bargain Hunt
I've recently started going to the 'community classes' at Barre Core where trainee teachers offer free classes! I particularly love Chloe Bellas!
I'd love to hear how you get on so please tag me using the hashtag RoxieXMC !
Celebrity news, beauty, fashion advice, and fascinating features, delivered straight to your inbox!