Tools Of The Trade: Making The Most Of Your Make-Up Bag
To create a masterpiece you need the right tools, so ditch those iddy-biddy applicators that come free with eyeshadow palettes and compacts and swot up on the make-up tools every girl should own.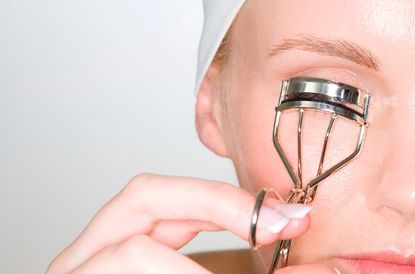 (Image credit: Rex Features)
To create a masterpiece you need the right tools, so ditch those iddy-biddy applicators that come free with eyeshadow palettes and compacts and swot up on the make-up tools every girl should own.
Eyelash curler: There's a reason every make-up artist has one of these in his/her kit, and if you don't yet own one yourself (especially if you're over the age of 30) shame on you. This slightly daunting-looking contraption is actually your one-stop shop to cheating tired eyes.
Go for one that fits your eye shape, get as close to the lashes as possible and squeeze gently, moving along the lashes and repeating to ensure a curl rather than a bend and, voila – eyes that look perkier and lashes that look longer.
Tweezers:
Brows may be big news, but the mono-brow is never going to make a come-back (as much as we loved Frida Kahlo for hers). Leave initial shaping to the professionals before relying on tweezers to keep your facial topiary in ship-shape. Go for a slanted tip to ensure you are able to grab even the smallest hairs.
Brushes: Having the right make-up brushes can make the difference between magnificent and mediocre. Brushes come in a variety of finishes from natural fibres, such as sable or pony hair, to synthetic. Natural bristles can be pricey but as tools are often more important than the formulations themselves, they're worth investing in. But don't dismiss synthetic fibres altogether, as they're best for applying wet textures such as creams and liquids. You may not need to go as far as knowing your Kabuki from your Contouring Brush, but the following are non-negotiable:
Powder Brush Large, round and fluffy, this is the ideal brush for applying loose powder in order to mattify the t-zone and set your make-up.
Blusher/Bronzing Brush A soft, dome-shaped brush, slightly smaller and tighter than a powder brush, but essential for creating the perfect healthy glow.
Foundation Brush Usually synthetic, this flat brush has a rounded head to ensure a smooth, flawless application.
Eyeliner/Brow Brush This small, multitasking, angled brush is perfect for applying gel eyeliner close to the lashline or for strengthening and shaping the brows using powder.
Brow Shaping Brush Help tame unruly brows by spritzing a touch of hairspray on the brow brush and combing through (a toothbrush will work just as well.) Go for a double-ended version with a comb to ensure lashes are also kept clump-free.
Eyeshadow Brush This brush is small and stiff-bristled with a flat, square head for applying both powder and cream eyeshadows seamlessly.
Blending Brush Blending brushes can come in a variety of shapes and sizes depending on the task in hand but in terms of perfecting that elusive smoky it's a must. Go for a small dome brush with soft bristles to get right into the crease and eliminate any hard lines.
Concealer Brush This is the same shape as a foundation brush but smaller and the bristles are usually stiffer in order to work with heavier textures. Ideal for covering blemishes and getting right into the corners of the nose and inner corners of the eyes.
Lip Brush Precision pouts, especially if they're a bold colour require a lip-brush. Generally small, flat and round-tipped, use it to define and perfect the lip-line.
Brush Husbandry: Brushes are a breeding ground for bacteria so ensure yours are kept clean and conditioned by using a brush cleanser regularly (you can also use a mild baby shampoo). This will also help the brushes to do their job properly as bristles clogged up with make-up aren't going to result in a flawless finish.
Individual Lashes Like a push-up bra for your lashes, these offer a bit of va va voom for special occasions that no one need know about. Simply apply a few at the outer corners of the eyes and flutter away.
Q-Tips Whether you've messed up your mani or botched your Bardot eyeliner, a q-tip is like the delete button in your make-up bag. We won't tell if you don't.
Celebrity news, beauty, fashion advice, and fascinating features, delivered straight to your inbox!