After struggling with hair loss, I opted for hair transplant surgery—four months later, here's what I think you should know
From a beauty editor who has tried it (and no, it's not just for men)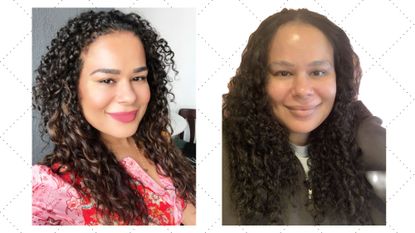 (Image credit: Amerley Ollennu)
If you'd told me a decade ago that I would end up losing around an inch of hair along the front of my hairline and getting hair transplant surgery I would not have believed you. But despite years of hair health treatments like light therapy, platelet rich plasma injections, microneedling and more, I noticed year on year that my hairline kept slowly receding. The tension caused by using hair straighteners on my 3c curly hair, wearing tight buns (when I needed a quick solution to tame my bedhead), and regularly plaiting my hair overnight, became too much for my strands and I developed alopecia.
Traction alopecia to be exact. It's a form of alopecia caused by repetitive tension, and "it presents as thinning or complete loss of hair generally on the hairline and temples (edges), but can affect anywhere on the scalp, where pulling occurs," shares consultant dermatologist doctor, Sharon Belmo. And while it's a reversible condition, if you catch it early and are prepared to change your styling habits, "it can't be reversed after long term tension, as this leads to the permanent 'death' of follicles and hair is no longer able to grow back," adds Belmo.
This is the predicament I found myself in, and so with no other option left for me to explore I opted for having hair taken from the back of my head and implanted into my edges, a.k.a. hair transplant surgery (it's not just for the boys). Here's everything you should know before doing the same.
Not all forms of hair loss can be 'fixed' by a hair transplant
Before even booking in for a consultation with a hair transplant surgeon, it's best to see a dermatologist who specialises in hair health. I waited well over a year to get an appointment with an NHS derm, so ended up seeing one privately, but I got my hormone, vitamin and mineral levels tested through my NHS GP.
You may find that you have a hormonal imbalance or deficiency which is causing you to lose more than the typical 50-150 hairs a day, in which case supplementation and/or hormone therapy might be all that's needed to restore your hair to its former glory.
If that's not the case and you have a specific form of alopecia, of which there are 12, medication to help control these conditions might be the only treatment option rather than a hair transplant. "Generally speaking, when it comes to hair transplant surgery the most compatible forms of hair loss are androgenetic alopecia (a genetic disorder) and irreversible traction alopecia," shares my hair transplant surgeon doctor Christopher D'Souza.
Choose your surgeon wisely
When it comes to picking your hair transplant surgeon, there's lots to consider. According to D'Souza, it's best to pick a surgeon who specialises in hair transplant surgery. "In the UK they should be members of the British Association for Hair Restoration Surgeons (BAHRS) and International Society for Hair Restoration Surgeons (ISHRS)," shares D'Souza. It's also worth checking if the surgeons you're considering have a specific hair transplant surgery qualification. There is currently only one qualification in hair transplant surgery and that's diplomat status awarded by the American Board of Hair Restoration Surgery (ABHRS). "Very few doctors achieve this qualification, which makes any doctor with one, a good candidate for your potential surgeon," adds D'Souza.
Thankfully D'Souza, who did my surgery, ticks all those boxes. But surgeons don't just need the right qualifications, they also have to have experience. Especially when it comes to female hair transplants and even more so if you have curly, or Afro-textured hair. When it comes to these hair types, extraction of the hair follicle can be tricky as it not only curls above the scalp but underneath the scalp too—making it imperative that your surgeon knows what their doing.
Request before and after pictures of their previous surgeries to ensure they have plenty of experience with your hair type and to make sure you're a fan of the looks they create, as where and how your hair is placed is truly an art and can make or break the final result.
FUT vs FUE
Currently the most popular surgical method for hair transplants is Follicular Unit Excision (FUE). "This is where each hair graft (a tiny piece of scalp that contains anything from 1 to 3 hairs) is removed using a small punching device. Unlike with Follicular Unit Transplantation (FUT), where a thin strip of the scalp is removed, FUE scarring can go undetected," explains D'Souza.
When I first started researching these techniques, I was excited by the thought of not having my head cut open and sewn back together. But after my first consultation with D'Souza, I discovered that a large area of hair in your donor area, which is at the back of the head, has to be shaved down in order to be extracted. So, for someone like me who has long hair and is not prepared to cut it, FUT is the most discreet option. Not only that, it tends to yield more hair follicles in one sitting, and for people with curly or Afro-textured hair, FUT surgery is also a safer bet. This is due to the fact that with FUE surgery it's imperative that your surgeon uses the punching device at the right angle to ensure they don't damage your follicles, which tend to be more angled in curly, kinky hair. However, with that said, if you wear your hair ultra-short then FUE is better suited as FUT will result in a more visible linear scar.
An FUT procedure tends to take a little longer than FUE, and you have to get stitches removed two weeks post-surgery. But either way, neither are a lunch break affair. You'll need to schedule the whole day off, and it's wise to take a week off work if you can. Though, I booked my surgery on a Friday so that I could recover at the weekend and work from bed come Monday.
Watch out for black-market clinics
There's a rise in black-market clinics all over the world, but it's not just in countries like Turkey (one of the world's cheapest and most popular hair transplant destinations), it's here in the UK too. These are categorised as clinics who use non-medical personnel, usually technicians (who are responsible for preparing and placing the grafts), to perform the surgical steps of a hair transplant. Now that's a scary thought!
"When performed correctly hair transplant surgery is very safe, and there are very few issues post-op. However, in the wrong hands there's lots that can go wrong," warns D'Souza. Excessive bleeding, infection, scarring, over-harvesting of the donor area, skin tissue death, shoddy hairline design and poor growth are just some of the risks involved.
Thankfully, it's not too difficult to spot a black-market clinic as, according to D'Souza, they tend to offer time limited discounts, package deals, unlimited grafts, guaranteed results and scarless surgery. Not only that but you'll probably only meet the surgeon on the day of your surgery, and many won't be present during the procedure—eek!
Patience is key
Signing up for a hair transplant is an exercise in patience from the word go. On the day of surgery, any hairs in the area that is receiving new hair will be shaved or cut down, which means if you have long hair like me, you'll have to wait a long time for your hair to grow as long as it was before. Not only that but the new hairs that have been implanted generally don't stick around, and you'll likely find that around two weeks post-surgery they will start to fall out—but don't be alarmed, if you've followed the aftercare guidelines to a tee the follicles will be nicely embedded. "New hair will start to appear from these follicles at 3-4 months post op with noticeable results at the six month mark," explains D'Souza.
Right now, I'm in this waiting period. I've spent far too much time staring at my scalp willing new hairs to sprout from it and I've had to remind myself that the process is a waiting game, and no amount of staring will change the fact that according to D'Souza, "initial hairs can be weak and flimsy, and 90 per cent of the result is usually apparent by 12 months post op. While the quality and thickness can improve up to 18 months post op."
One surgery might not be enough
A hair transplant can sound like the answer to all your hair loss woes, but it's not realistic to think that the areas where hair has been implanted will look like they did before your hair started falling out.
"Density with a single hair transplant can never match the existing density of the rest of the hair on the head," warns D'Souza. This means that you may need to factor in the possibility that one procedure won't be enough. You may want or need a second surgery to increase the density, but even then, there are no guarantees.
This was something I had to keep in mind, along with the fact that I will have to change my hair styling practices, otherwise another 10 years down the line I could experience irreversible traction alopecia all over again.
It's also worth noting that if your hair loss is due to androgenic alopecia, "you may continue to lose hair if it is not being treated effectively with non-surgical methods or medication, so long-term planning with your surgeon during your consultations is essential to obtaining the best outcome," stresses D'Souza.
Celebrity news, beauty, fashion advice, and fascinating features, delivered straight to your inbox!
Amerley is an award-winning beauty & lifestyle journalist who has been writing for the UK's most well-known glossies, websites and newspapers for almost two decades. Known for her ability to predict the next big trend, there is really very little she won't try for a story. From microblading and injectables, to 10-step skincare plans and breathing her way to better skin, Amerley loves to share her experiences and write relatable, informative and trend-led features for beauty novices and junkies alike. When she's not testing the next big thing, you'll find her perfecting tequila cocktail recipes, listening to female-focused financial podcasts or trying to master the art of meditation.