These unexpectedly fresh perfumes smell like rain—and in a really good way
The perfume equivalent of a breath of fresh air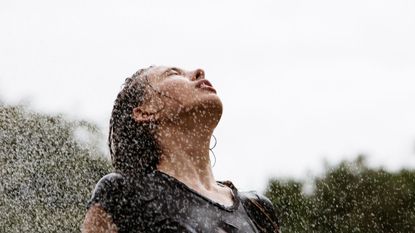 (Image credit: Getty Images/Hello World)
Outside the world of perfume, there are certain smells that provide the scent-scape to some of our most long-held memories—so enigmatic that it's almost impossible to describe them in terms of specific notes. Things like the scrupulously clean woollen carpets in my late grandad's flat, sultana-spiked scones fresh from the oven in my childhood home, the musky warmth of one of my husband's well-worn band tees.
The list is endless and ever-evolving, and it goes beyond nostalgic specifics, too. There are scents in nature that come up time-and-time again when people are asked to describe their favourite smells—freshly-cut grass, crystalline water (like our favourite new launch, Maison Francis Kurkdjian Aqua Media Cologne Forte), the head of a newborn baby and, my personal favourite, just-fallen rain. And thankfully, a whole host of modern perfumers have made it their mission to capture the very essence of rainfall in a wave of alluring, rain-inspired perfumes.
What is a rain scent?
"The first thing you think of in terms of the smell of rain is, obviously, water. So there is a cleanliness, ozonic and fresh smell to rain—but the smell is not just confined to the water droplets themselves, but whatever the rain is hitting," explains Nic Mastenbroek, Perfumer at Ruth Mastenbroek Perfumer London. "This could be grass, leaves, soil or even concrete. Each of these will bring their own character and qualities into the smell we associate with rain, so could be quite personal."
In fact, the smell of rain actually has its own name—petrichor. Without getting too bogged down in science, it's effectively the oils and chemicals produced by plants and soil-dwelling bacteria during dry weather which are then released into the atmosphere when rain hits. "The smell is a combination of fresh and watery, with an earthy, mineral note of damp soil sometimes tinged with green or herbaceous facets," describes Beckielou Brown, Perfume Creator and Co-Founder of ALTRA.
How does a rain scent differ from a classic marine perfume?
Of course, water scents are nothing new. In fact, aquatic perfumes dominated the nineties with fragrances like Davidoff Cool Water and Issey Miyake L'Eau d'Issey remaining popular today thanks to their refreshing nature. Rain perfumes dial down the marine element of these scents—stepping away from the seaweed and saltwater freshness and embracing more abstract elements. "It's more about harnessing highly emotive notes that are both optimistic and comforting," says Brown.
Rain perfumes definitely lean more into earthy notes like moss, the mineral twang of sodden soil and metallic edges that evoke wet concrete. But there's definitely lightness too. "Look out for green, herbaceous notes like chamomile and violet leaf, which themselves have a rain-like, water quality…or citrus oils like lemon, mandarin and orange which can be used to recreate the freshness of rain," suggests Brown.
Why do people love rain scents?
For me, personally, rain scents share the same subtle, comforting nature as a skin scent, but with elements that feel more grounded in my environment. As a lifelong city-dweller, I've never really found solace in traditionally green scents or been particularly enamoured by billowy florals, but the unique blend of earthiness, fresh water and concrete mean that rain perfumes really evoke the smell of my outside world. And so, while they're not aromatherapeutic in their note DNA, rain scents have that same ability to calm the senses for me—like taking a mind-clearing gulp of fresh air after a storm.
Shop the 6 best rain scents
1. D. S. & Durga Steamed Rainbow
D. S. & Durga Steamed Rainbow Eau de Parfum
Specifications
Size: 50ml
Blend: Eau de Parfum
Key notes: Red mandarin, orange, yellow elemi resin, green cedar, blue almond flower, indigo grass, violet, vetyver, vapors
I became instantly obsessed with this perfume after receiving a sample a few weeks back—in fact it was this scent that inspired me to write this piece. It was created to bottle the essence of a rainbow, and it uses ingredients of every colour in the spectrum to do so. It's almost impossible to describe—it's misty, weightless and powdery-soft, but undoubtedly captures that complex freshness of just-fallen rain.
2. ALTRA Dualist
ALTRA Dualist Eau de Parfum
Specifications
Size: 50ml
Blend: Eau de Parfum
Key notes: Mimosa, solar accord, violet leaf, galbanum resinoid, blonde woods, soft white musks
Aiming to deconstruct a classic aquatic perfume, this sophisticated scent heavily evokes the smell of rain on concrete. It's fresh and light on the skin, but also dries down into something with a woodsy warmth that gives it that grounded element that I personally love in a rain scent. To me, this is the closest thing to the smell of a raindrop that I've come across.
3. Maison Margiela Replica When The Rain Stops
3. Maison Margiela Replica When The Rain Stops Eau de Toilette
Specifications
Size: 100ml
Blend : Eau de Toilette
Key notes: Bergamot oil, vegetal accord, pink pepper essence, aquatic accord, isparta rose petal essence, jasmine grandiflorum superinfusion, pine needle oil, patchouli bali essence, moss accord
Reasons to avoid
-
A little on the sweet side
This perfectly encapsulates the optimistic feeling of the sun coming out just after a heavy downpour in a bottle of perfume. I'd describe it as more of a countryside rain shower than a city one, as it's heavier on floral notes than some of the other rain perfumes, but the addition of vibrant pink peppercorn and sharp pine needles means that it never veers into cutesy English garden territory.
4. Aesop Erémia
Aesop Erémia Eau de Parfum
Specifications
Size: 50ml
Blend: Eau de Parfum
Key notes: Galbanum, iris, yuzu
Reasons to avoid
-
Might be too heady for some
A hazy perfume that blends notes that shouldn't really work together—powdery musks, bright citruses, waxy florals and earthy undertones—to create something that really smells like concrete after the rain, in the best way. It's an urban-inspired perfume that captures the energy of an unexpected downpour in the city.
5. Clean Reserve Rain [Reserve Blend]
Clean Reserve Rain [Reserve Blend] Eau de Parfum
Specifications
Size: 100ml
Blend: Eau de Parfum
Key notes: Bergamot, chilled cucumber, waterlily, dewy white flowers, cyclamen, muguet, patchouli, rainforest vetivert, clean musks
Reasons to avoid
-
Leans towards a linen scent
This is the perfume equivalent of a clean slate—it's what's left behind after a heavy rainfall has washed away all traces of dirt and grime. It's light, verdant and impossibly fresh with the hints of zesty bergamot and watery cucumber providing that optimistic touch that makes rain scents so alluring.
6. Issey Miyake A Drop D'Issey
Issey Miyake A Drop D'Issey Eau De Parfum Fraîche
Specifications
Size: 30ml
Blend: Eau De Parfum Fraîche
Key notes: Rain accord, lilac, damask rose, sandalwood, cedarwood, musk
A leader in the aquatic scent category, it's not surprising that Issey Miyake has perfectly evoked the scent of raindrops with this invigorating perfume. It harnesses a single rain accord note to capture that earthy, uplifting nature of rain, and then reveals musky florals and creamy woods to create a comforting, warming fragrance.
Celebrity news, beauty, fashion advice, and fascinating features, delivered straight to your inbox!
Mica Ricketts is a freelance beauty editor and contributor to Marie Claire. She has written for titles including Refinery29 and Who What Wear UK, and also works with beauty brands on content messaging and marketing copy. She was previously Who What Wear UK's beauty editor. As someone that has tried basically every acne product on the market, she has a particular passion for debunking skincare myths and finding products that work. Plus, with two small children at home she is all about time-saving beauty routines that boost glow and disguise dark circles.