Fairtrade Fortnight: The beauty brands doing their bit and where to buy them
Your bananas and coffee are fair trade, now your beauty can be too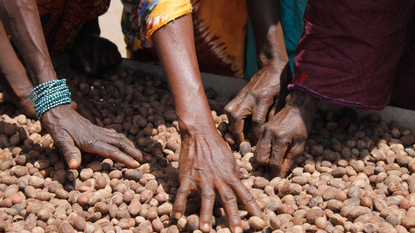 (Image credit: Getty Images)
Your bananas and coffee are fair trade, now your beauty can be too
Beauty products are made from loads of natural ingredients that are harvested by a global network of farmers and growers. Without the shea nut collectors in Ghana or the honey harvesters in Zambia, loads of our best makeup products wouldn't exist. That's why, this Fairtrade Fortnight we want to champion brands taking fair trade beyond the kitchen.
We've all seen the Fairtrade stamp a thousand times and we know what it stands for, right? Well, a quick catch-up with the Head of Responsible Business at the Fairtrade Foundation proved me wrong. Anna Barker says: "We are at 90% awareness in the UK. The Fairtrade mark is recognised by almost everyone, but most aren't sure what it means."
So, what is fair trade?
The Fairtrade Foundation breaks down its certification into three key areas: fair supply chains, minimum price guarantees, and a fair trade premium.
For a product or ingredient to be fair trade it must "pass our extensive audit," Barker explains. She goes on: "We check the whole supply chain for good practice in pay, working conditions, and sustainability. The Fairtrade Foundation trains farmers and traders to work in the right ways."
On top of the initial audit, fair trade brands must pledge to pay a fair cost for ingredients (which is often higher than usual) and set out clear purchase quantities in advance. Both of these things ensure stability and safety for farmers in the global market.
Why are more beauty brands becoming fair trade?
"There are lots of ingredients in beauty products that carry a lot of risks," shares Barker. She highlights shea butter and honey as the most threatening ingredients.
It's not just ingredients that are forcing the beauty industry to change. More consumer awareness about where their products come from and the climate crisis are vital too: "People are more aware of the vulnerability of global supply chains because of Covid-19 and Brexit. They are more likely to pay a fair trade premium which means communities can invest in reforestation programmes and solar initiatives," Barker continues.
The Fairtrade Foundation is the most recognised certification but there are lots of other bodies that award fair trade accreditations. Whether it's Fair For Life, Union for Ethical Biotrade (UEBT), or a brand's independent initiative, all of these products are perfect investments this Fairtrade Fortnight.
Where to buy fair trade beauty products this Fairtrade Fortnight:
Dr. Bronner's Cherry Blossom Pure Castile Liquid Soap, £7.60 for 240ml | Feel Unique
Family businesses are hard to come by in the beauty industry but Dr. Bronner's has stuck to its roots since the 1940s. Founded on six principles, the brand is dedicated to treating the Earth, its employees, and suppliers fairly. Certified organic, and vegan the B-corp's newest launch is a sweet-smelling soap that you can use for almost everything. From hair and hand washing to scrubbing dishes and your pets (yes, your four-legged friend will love it), Dr. Bronner's Castile soaps are versatile magic workers.
Odylique Organic Mineral Lipstick, £18 | Amazon
Say hello to the first and only lipsticks certified fair trade by the Fairtrade Foundation. Odylique by Essential Care was launched with the sole aim of creating makeup and skincare that soothes sensitive skin. Specialising in natural remedies, it's no surprise that the team behind the brand is also dedicated to great sustainability credentials. Not only are these products Fairtrade certified, but they are also housed in sustainable packaging and are 86% organic. Simply put, the brand goes above and beyond to protect the planet and its people. This lipstick combines highly pigmented mineral colour and conditioning, vitamin-rich plant oils to make a product that's long-lasting and moisturising. Check them out.
The Body Shop Shea Body Butter, £18 for 200ml | thebodyshop.com
The Body Shop has its own Community Fair Trade programme which ensures clean and sustainable supply chains across the business. Launched back in 1987, the initiative has always had a strong focus on fair trade shea, which is in around 80% of all of the brand's products. By sourcing the ingredient from the Tungteiya Women's Association in Ghana, and always paying a premium price, The Body Shop has enabled daughters of the original shea nut collectors to become lawyers. Amazing.
Lush Fairly Traded Honey shampoo, £10 for 110g | lush.com
It's incredibly difficult for brands to receive fair trade certifications and Lush is the first to admit it. Over the last 25 years, the team has worked tirelessly to seek out safe, nurturing, and sustainable workplaces for their suppliers. One of the ingredients that Lush can proudly call fair trade is its Zambian honey. The wild bees that make the ingredient forage in organic and uncultivated forests so they are free from pesticides. The honey harvesters are paid a fair price which means they can comfortably sell to Lush and make money from their local markets.
Weleda Harmonising Body Lotion, £16.05 for 200ml | Look Fantastic
One of the key pillars of fair trade is making sure that farmers and suppliers have security when it comes to their sales. On top of being certified via UEBT, Weleda adds another layer of protection by guaranteeing how much of each ingredient it is going to buy each year. This is important for planning harvests and ensuring social and environmental investment for the future. The brand has just updated their body lotion packaging so it is easier to recycle.
L'Occitane Pure Shea Butter, £32 for 150ml | uk.loccitane.com
From donating to charities to cleaning up our oceans, L'Occitane is always giving back. This is why it comes as no surprise that the brand also champions a fair trade supply chain. Through partnerships with women's cooperatives in Burkina Faso, the brand can source shea butter that they know is created with care, by women who are cared for. The collaboration has led to the growth of 33 shea parklands and 8,500 women being taught the skills needed to grow crops safely and sustainably. L'Occitane has paid 20% extra for the shea butter that makes up this dry skin saviour.
Moo and Yoo Miracle Curl Cream, £26 for 250ml | mooandyoo.com
Indie brands are always at the forefront of encouraging industries to shift towards more sustainable, planet-friendly practices. A brilliant game-changer in the beauty world is the vegan hair and body care brand Moo and Yoo. Based in Scotland, the family-run business keeps a keen eye across all of its ingredients. Working with African women's cooperatives, the brand uses Fairtrade Marula Oil is used in loads of its products. The ingredient gives your hair a boost in shine and provides a vital lifeline to female workers.
Celebrity news, beauty, fashion advice, and fascinating features, delivered straight to your inbox!
Grace Warn is the at Commercial Producer & Writer Marie Claire UK. From organising cover shoots and uncovering the latest news to creating social content, she loves the fact that no one day is the same!
Growing up just outside of London, Grace made the leap at 16 and started to intern. Juggling education, earning money, styling, producing and organising numerous fashion cupboards was as intoxicating as it was challenging and it's what's brought her here today.
After graduating in the pandemic, the only option was to take on as many freelance roles as possible. From demystifying health jargon to keeping up with the latest footwear drops, a strange concoction of health and footwear journalism became Grace's bread and butter but she always wanted a break in lifestyle journalism and production. Then she landed her dream role!
When she's not racing to deadlines, Grace can be found on anything that could pass as a dancefloor dancing to Diana Ross or scouting out vintage sales on the outskirts out South London - believe it or not, Beckenham is the place to go!