British Beauty Week is back—here's everything we think you should know
It's time to celebrate all things beauty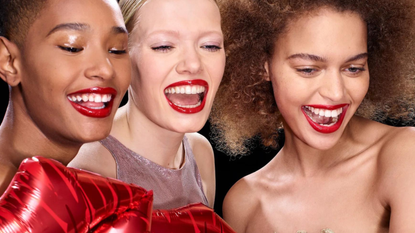 (Image credit: British Beauty Council)
British Beauty Week is back from the 26th October - 30th October. It's not just about the products—it's about recognising the monumental role the beauty sector plays in the UK economy. To start with, it's a powerhouse industry worth a whopping £25bn to our GDP. That's more than our arts, entertainment and even aerospace sectors. So, whether you're a fan of a fierce red lip or work behind the scenes, this is the perfect moment to come together to celebrate and elevate the transformative power of beauty in our lives and communities.
What not to miss
Join the conversation with the brains behind your favourite beauty brands
The Trade Hub in Covent Garden will be buzzing with free, bookable discussions and deep dives featuring the UK's most influential in beauty. There will be important discussions around sustainability, diversity, aesthetics licensing and responsible content in the world of beauty. These panel talks will be hosted on Thursday 26th and Friday 27th October, and can be signed up via Eventbrite - limited tickets are available.
Beauty Night Out for discounts and masterclasses
Mark your calendars for the 26th of October for Beauty Night Out. Brands from all over are coming together to shower us with discounts, exclusive events, masterclasses and so much more. It's a night you won't want to miss, with Space NK, Benefit, the flagship Boots on Long Acre and Neal's Yard all extending their hours. Fancy a game? Dive into a Covent Garden treasure hunt with KMI Brands. And don't forget to embark on a self-guided tour around Covent Garden's beauty hotspots like MAC, Skin Laundry, Too Faced, Kiehl's and the Experimental Perfume Club. It's a beauty lover's dream.
Take a look behind the scenes with career advice and mentoring
The week will spotlight the UK's major beauty brands, taking you behind the scenes to unveil hidden careers and innovations. Top brands will release exclusive content, highlighting their teams and offering mentoring opportunities for young enthusiasts. Don't miss a chance to join a webinar with beauty icon, Bobbi Brown, and delve into her success journey. Lucky attendees might snag a personal mentoring session with her.
Ahead of the festivities, the Council will showcase its Future Talent Programme at No10 Downing Street through a Dragon's Den-inspired event for school kids, emphasising innovation and science. This aligns with the PM's praise of the beauty sector as an "essential service" uplifting both its consumers and workers.
Millie Kendall, OBE, CEO of the British Beauty Council said: "We are so excited about this year's event. We hope this year's British Beauty Week will not only highlight the industry's success but also launch it into a whole new era of growth, prosperity and innovation. Few industries in the country are as diverse, inclusive and life-enhancing as the beauty industry – it's time people realised its power."
See here for all Beauty Night Out events.
Panel Discussions (all free)
Thursday 26th October
11.45am – 12.30pm
Female Founders and Funding, supported by Elemis
Speakers: Oriele Frank, Noella Gabriel, Nicola Maddox
Friday 27th October
10:30am - 11:15am
Stylists as brand founders: A Journey to Success
Speakers: Nicky Pope (Tribute Magazine), Adam Reed
12.00pm – 12.45pm
Encouraging Diversity, Inclusivity and Opportunity within Beauty
Speakers: Winnie Awa, Tumi Siwoku and Billie Bhatia
1.30pm – 2.15pm
Creator Collective: The Power of Influencer Education
Speakers: Zak Heath, Elise Gill, with more TBC
3pm – 3.45pm
Aesthetics: Raising the Reputation of the Industry cia Regulation
Speakers: Debbie Thomas, Alice Hart-Davis and Victoria Brownlie
4.30pm – 5.15pm
Accessible Beauty: Making A Beauty Industry That Looks Like You
Speakers: Joseph Harwood, Millie Flemington-Claire, with more TBC
Celebrity news, beauty, fashion advice, and fascinating features, delivered straight to your inbox!
An award-winning health and beauty writer, stylist and creative director, Lisa Oxenham is one of the UK's top beauty editors and the Beauty and Style Director at Marie Claire UK. With 20 years of editorial experience Lisa is a brand partnership expert, and a popular speaker, panelist and interviewer on a range of topics from sustainability to the future of beauty in the digital world. She recently spoke at Cognition X and Beauty Tech Live and is on the Advisory Board for the British Beauty Council's Sustainable Beauty Coalition.
A well-respected creative director she works on celebrity, model and influencer shoots with the highest calibre of photographers, filmmakers, make-up artists and hairstylists to create timeless images, attention-grabbing videos, digital events and masterclasses. Most recently Lisa has directed covers such as Lily Cole and Jameela Jamil, films such as Save The Arts featuring Francesca Hayward and sustainable fashion shoots such as Be The Change. Supporting the beauty industry over the pandemic has been a top focus, directing the British Beauty Council's six inspirational short biographical films for their Bring Back Beauty campaign.
Lisa is a wellbeing and beauty influencer with a focus on mental health and a large and engaged audience on Instagram, Facebook and Twitter.