Worldwide support for terminally ill teenager's 'Bucket List'
Terminally ill Alice Pyne captures the world's imagination after she posts a wish list of things to achieve before she dies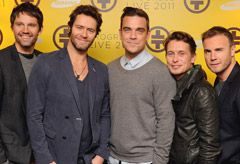 (Image credit: Rex Features)
Terminally ill Alice Pyne captures the world's imagination after she posts a wish list of things to achieve before she dies
The dying wishes of terminally ill teenager, Alice Pyne, has become one of the most talked-about topics on Twitter, after she wrote an online 'Bucket List' for her friends and family.
Alice, 15, who has been suffering from Hodgkin's lymphoma for the past four years, only posted the wish list on Monday. But by Wednesday her plight had come to the world's attention, after her story became the most tweeted subject on the social networking site.
The list, which was inspired by the film The Bucket List - in which Jack Nicholson and Morgan Freeman embark on road trip to do the things they want before they 'kick the bucket'-– includes everything Alice wants to achieve in her short time left.
'I know that the cancer is gaining on me and it doesn't look like I'm going to win this one,' writes the teenager on her blog. 'I'm hoping to write in here as much as I can and I'm also going to show my bucket list which I'm trying to get done before I have to go.'
Swimming with sharks, visiting Cadbury's World and meeting Take That are just some of the dreams Alice wants to fulfill. However, it is Alice's number two target - her appeal for everyone to sign up to the bone marrow register - which has really moved people around the world.
Her plea has touched the hearts of many celebrities, including footballer Rio Ferdinand, Hollywood actor Channing Tatum, TV presenter Philip Schofield, as well Prime Minister David Cameron, who has pledged to do whatever he can to get people to sign up.
The attention has certainly caught the teenager by surprise. 'Oh dear and I thought that I was just doing a little blog for a few friends!' she wrote on Wednesday.
However, she will be happy to know that this global attention is helping her to achieve her greatest wish by getting many more of us to join bone marrow donation schemes in order to help other sick children.
If you have been touched by Alice's story and would like more information on how to donate bone marrow click here.
Celebrity news, beauty, fashion advice, and fascinating features, delivered straight to your inbox!
Natalia is a health journalist with 14 years experience in the publishing industry. She has worked for a number of well known magazines and websites including Marie Claire, Woman&Home, Top Sante, Boots and The Telegraph. She likes to think she practices what she preaches when it comes to health and fitness. Her athletic prowess began early. A keen fencer for 13 years, she wielded an epée for Olympic Team GB during her teenage years. She likes to think she made sword-fighting cool before Game of Thrones came along! While working on her sporting performance with the team, she also participated in a lot of nutrition and psychology training, When it comes to time off, you'll most likely find her up a mountain somewhere. It seems holidays have become a time for climbing several thousand feet, rather than chilling out. She's now hiked eight of the major mountain ranges across four continents – including the Appalachians, the Smokies, the Sierra Nevadas (she spent her honeymoon hiking to the top of Half Dome), as well as hitting the summits of Snowdon, Pen-Y-Fan (Brecon Beacons), Table Mountain in South Africa, the Blue Mountains in Australia and the Atlas Mountains in Morocco. She's also passionate about all things health, particularly vaccinations, and will happily jump on her soap box at any given opportunity to talk about their benefits to anyone who will listen!